Last week we paid a visit to Leonardo's Dining Room & Wine Loft at Jalan Bangkung, Bangsar, Kuala Lumpur. Building its name on its uniquely out-of-the-ordinary concept, inspired by the spirit of the Renaissance of Leonardo Da Vinci, the restaurant immediately captured our hearts with its opulent décor. We did not know we were about to walk in an invigorating experience with a magnificent "meat-ilicious" feast. Btw, we have some surprises for you at the end of this review!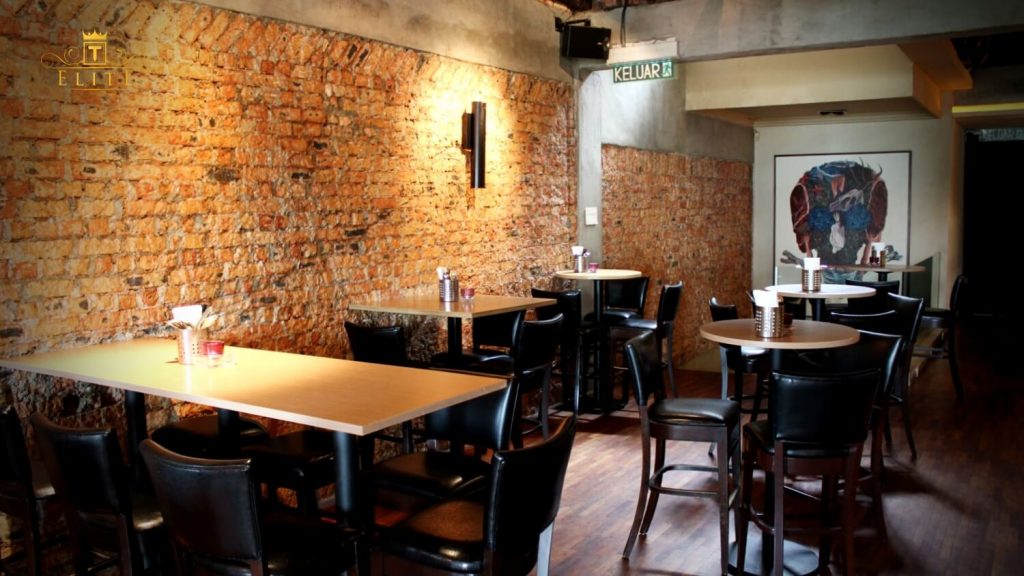 If you come to this restaurant, which named after Leonardo Da Vinci, you would possibly fall in love with all the artwork that are carefully placed on the brick walls once you entered.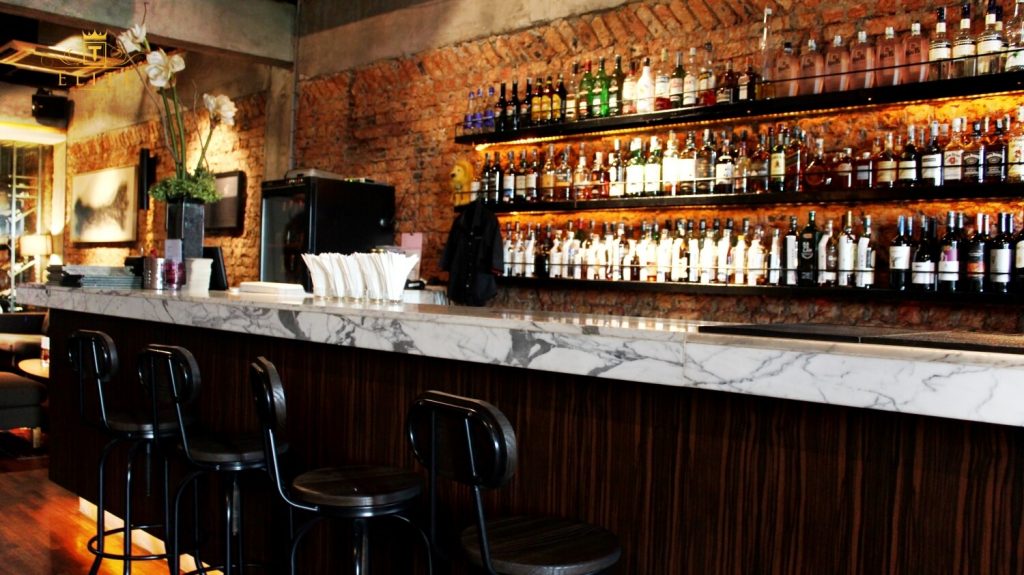 Dim light and tranquil ambience, we immediately sank ourselves into a relaxing mode and drifted back to the Renaissance. Unsurprisingly, the restaurant did not let us down with their food art.
Leo's Famous Spanish Iberico Pork Tenderloin    RM92++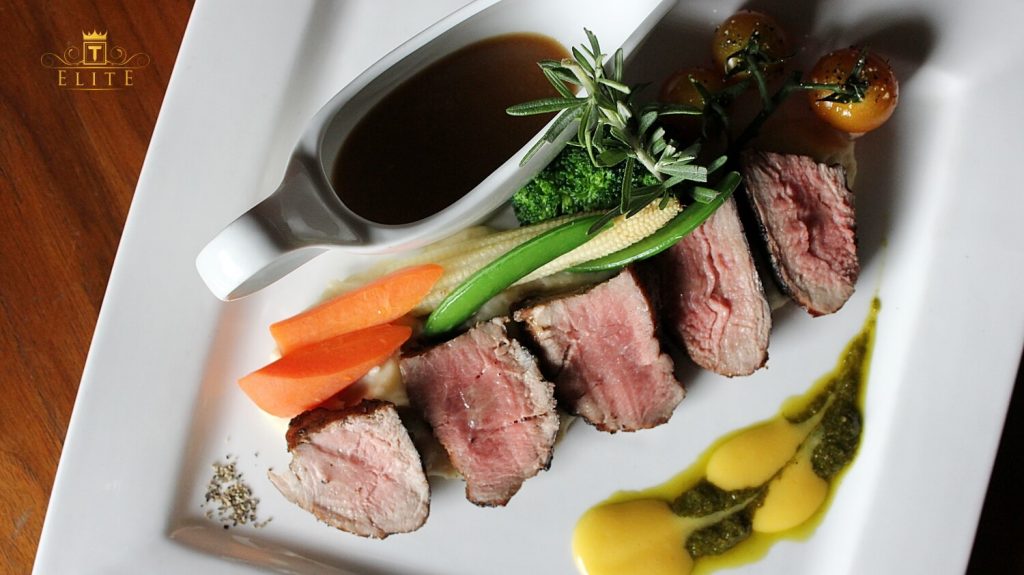 Lying were 5 pieces of well-cut pork tenderloin atop a bed of mashed potato, sided with all-natural garden vegetable and Au Jus Sauce. Wait! It has not finished yet. The dish came along with two other sauces that presented nicely on the corner of the plate and its yellow and green color blended well with each other:  Hollandaise and Chimichurri – an Argentinian parsley-based sauce.
We could not resist ourselves from getting the first piece of pork dipped into the mixture of Hollandaise and Chimichurri. The lightly-seasoned meat was moist and tender. Both sauces did well on its job: Hollandaise – one of the French "mother sauces", provided a rich, creamy and lemony buttery taste. It was an elegant touch to freshen the meat itself. Chimichurri, on the other hand, was a bit tart yet it worked wonder on the pork. It not only heightened the flavor of the meat but also played off the heavy nature of the food itself.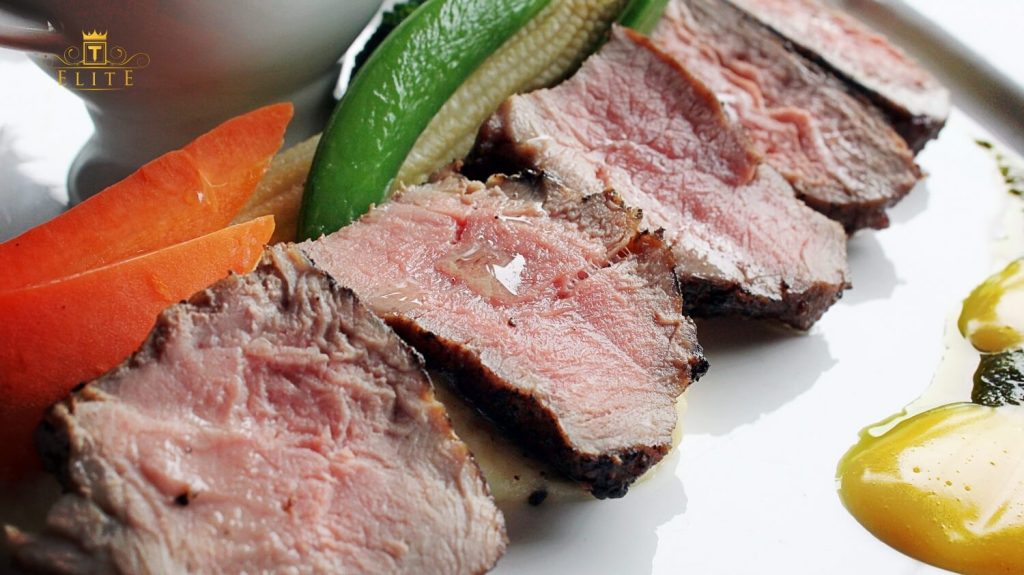 It was not there that the dish stopped astounding us. The mashed potato was a true joy of flavor: smooth and silky, fluffy with tangy sour cream and…a secret flavor-boosting weapon: truffle oil! (Oops, I guess I cannot keep a secret!). The truffle oil was added adequately so it did a good job on complementing the creamy mashed potato. The dish is really enjoyable!
Grilled New Zealand Lamb Rack    RM75++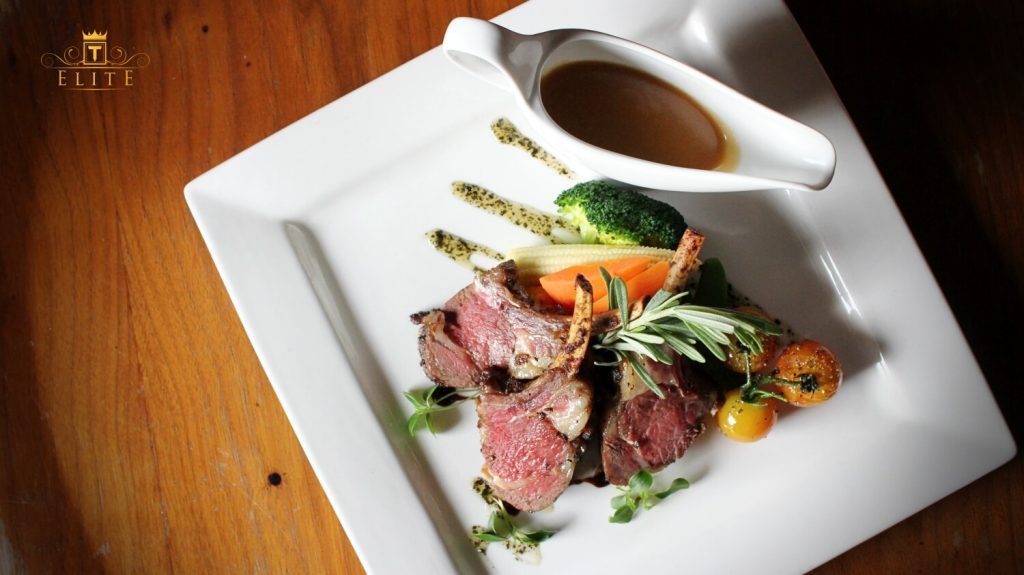 We had a quick glance at the dish: The lamb was grilled with its sides burnt but its flesh was totally a satisfying contrast – a soft pink color. The lamb was made with blackened marinade, which gave it such an outlook and kept it moisturized inside. The mint-chili sauce – which is a combination of fresh mint leaves and a pinch of dried crushed red pepper, was aromatic and it provided a tart yet fresh feeling.
We loved how nice it was when all the side vegetables were given attention as much as the mains by the chef. If you are to enjoy this dish, do not forget to take a bite into the crunchy broccoli or fresh juicy tomatoes.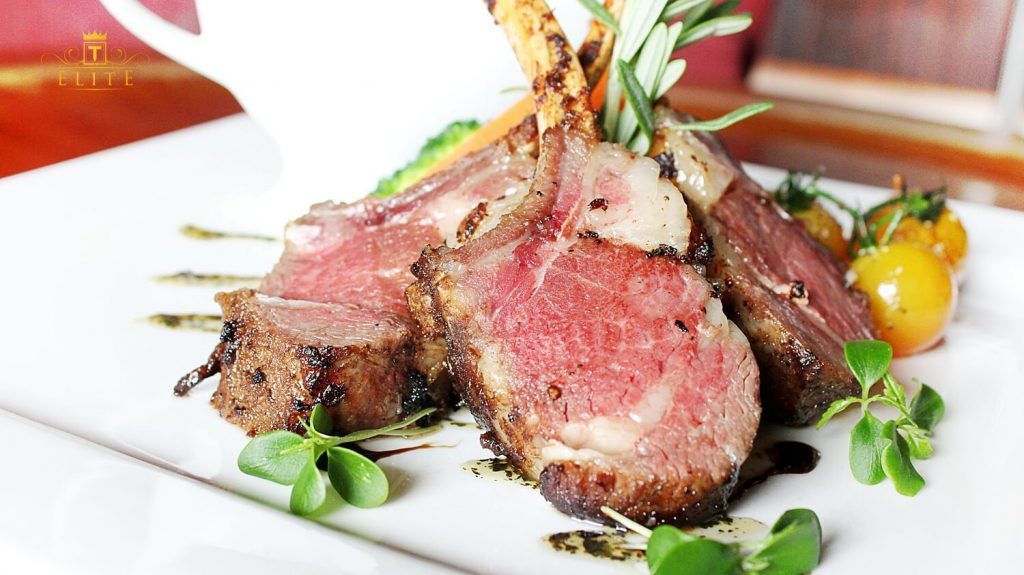 The lamb racks got a pink flesh and slightly burnt sides.
Another interesting part for me is what lies underneath the lamb racks! Guess what? It was a simple sweet potato mash! I personally think this is a good alternative choice for potato mash as it not only came with a smooth and creamy soft texture but also provided a tangy and sour flavor which blended well with the rich lamb racks.
Leo's Famous Pork Knuckle Platter     RM108++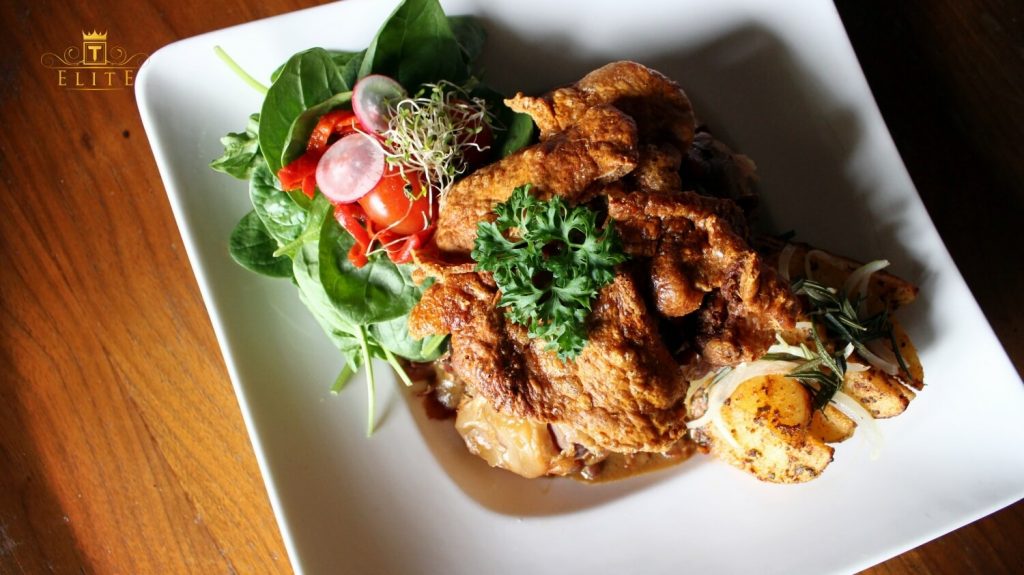 The pork knuckle was a big wow for us as it was something totally out of our imagination. Setting beside wedges of potato and a dose of salad was something special: it was golden brown and it had a crispy look! Turned out the pork skin – lying on top of the pork knuckle, was puffed up into startling little bits of crisp. It created a fascinating look for us and we, as curious as always, took a bite without any thought. You might prepare for a bit of forceful bite because the crispy skin was a bit thick, yet still incredibly interesting.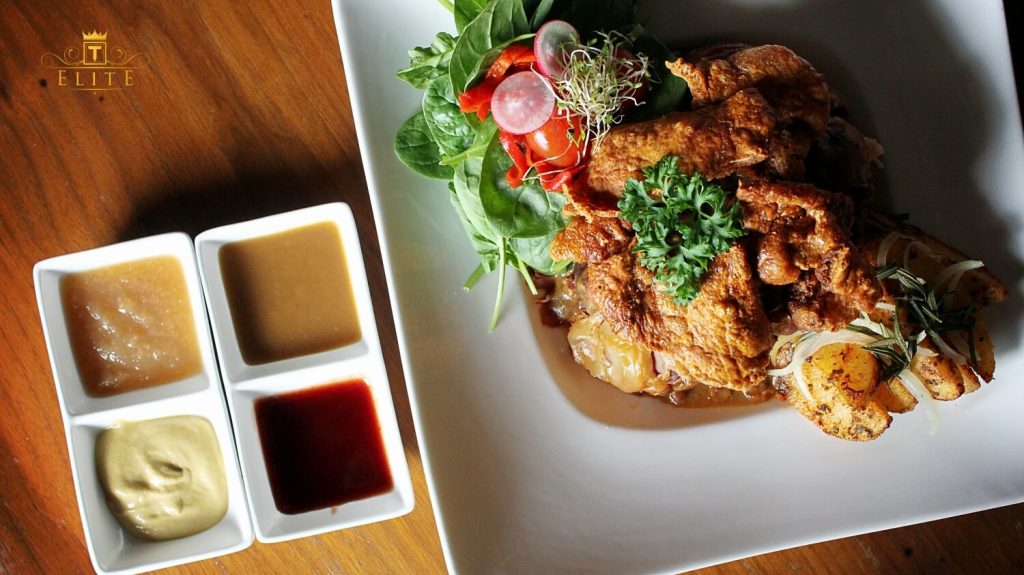 Not only amazed us by the special pork skin, the dish came with 4 types of sauces: apple cinnamon, mustard, au jus and red plum sauce. Wait, what? 4 sauces?. Yes, we were baffling with the same question: why would it need so many sauces? We believe these variation is created for the intention of creating not just a flavorful meal but also for a joyful adventure in the mouth. We are mostly impressed with the apple cinnamon sauce – which was tangy and interesting. The plum sauce also proved to be a good choice for some sweet and sour on the palate. We all agreed that this entrée would show its best when paired with a bottle of red wine.
You can now reserve a table at Leonardo's Dining Room & Wine Loft here
And more delightful news to come: if you are interested in any of the dishes above, you probably should not miss a chance of getting these 3 signature dishes for FREE along with other 300 signature dishes with TABLEAPP ELITE
Leonardo's Dining Room and Wine Loft
61, Jalan Bangkung,
Taman Bandaraya,
59100 Kuala Lumpur,
Wilayah Persekutuan Kuala Lumpur,
Malaysia.
Daily: 5:00 PM – 12:00 AM