What's it like to taste the signature dishes of Cava along Jalan Bangkung, Bangsar? We were recommended to try out Cava and as a result, we came with expectation to try their well-known authentic Spanish and Mediterranean cuisine. How did it turn out? We had more surprises than what we expected!
Located along Jalan Bangkung which is well-known for its lines of notable restaurants, Cava's exterior setting of stone walls and barrels had immediately drifted us to a cozy Spanish ambiance. The restaurant has a lush interior – candlelit chandeliers illuminating dim yellow light which matches well with the navy-blue glasses and red curtains.  
1. Specialty Arroz Negro Paella   
The first and also the most eye-catching signature dish for us was the "Specialty Arroz Negro Paella" (my heart actually danced for a second when the dish was brought out). We were all allured by its decoration – on top of the paella, prawns lined in a circle with their tails centralized towards a good dose of mayonnaise at the center – amazing! Not sure if we were too imaginative but it looked like a blossom (a rose, maybe?). A fair amount of squid ink was used to make the black paella which made a huge contrast with theprawns. The Spanish rice soaked up an oceanic flavor from the prawns. No one would want to miss the mild briny flavor of the sea which came from the fresh squid and prawns combined together in one dish. The paella is also made with garlic aioli which helps getting rid of the fishy flavor the dish might have.
The prawns are fresh-catch as your palate will instantly get a feeling of how tender and juicy it is right at the first bite. Give it a try by dipping the prawns into the spicy hot sauce that comes along. To be fair, it might be a bit too spicy but we really love its unique flavor and the heat that heightened our appetite.

2. Spaghetti Aglio Olio Pulpo a la Gallega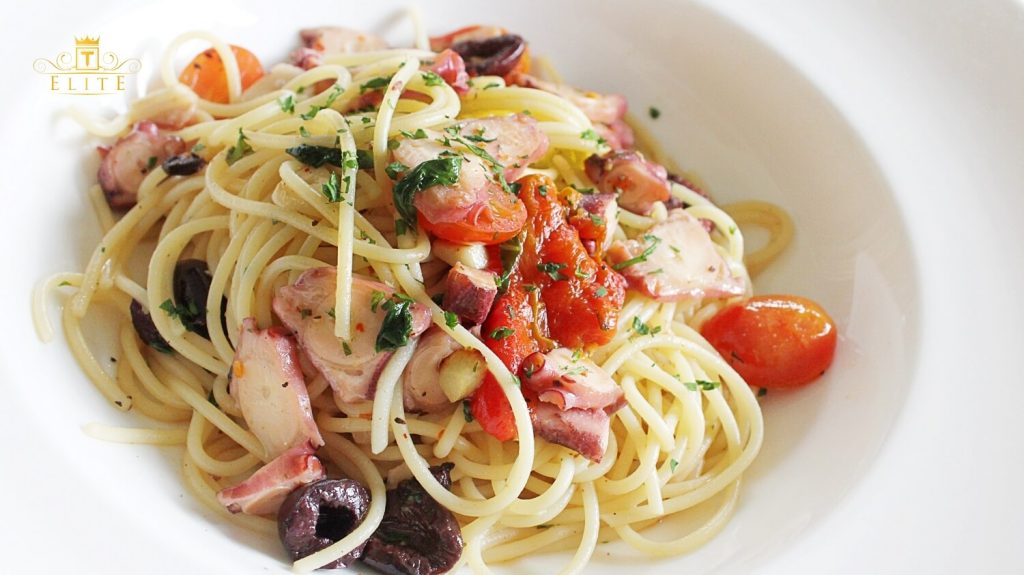 Voila! This simple dish quickly became my favorite with merely one bit. The spaghetti appeared as elegant as you can find in many dishes here. To be honest, we did not have high expectation towards it at first due to its not-so-fancy-looking but we were so wrong. Why so? The tangy yet juicy Spanish octopus tentacles went extremely well with the springy and smooth spaghetti was really soul-satisfying. The aglio olio was sprinkled with paprika which gave a lingering mild spicy flavor. It would be a loss if the paprika was not presented. Imagine you are having a bit of spice mixing with the gummy and stretchy texture of the tentacles in the mouth. Hmm…  
Spaghetti Aglio Olio Pulpo a la Gallega is a true burst! I would not add any additional flavor to the dish as it is already extraordinary and unforgettable. The spaghetti went crazily fast into our mouths and not a speck of things left behind.


3. Baked Suckling Lamb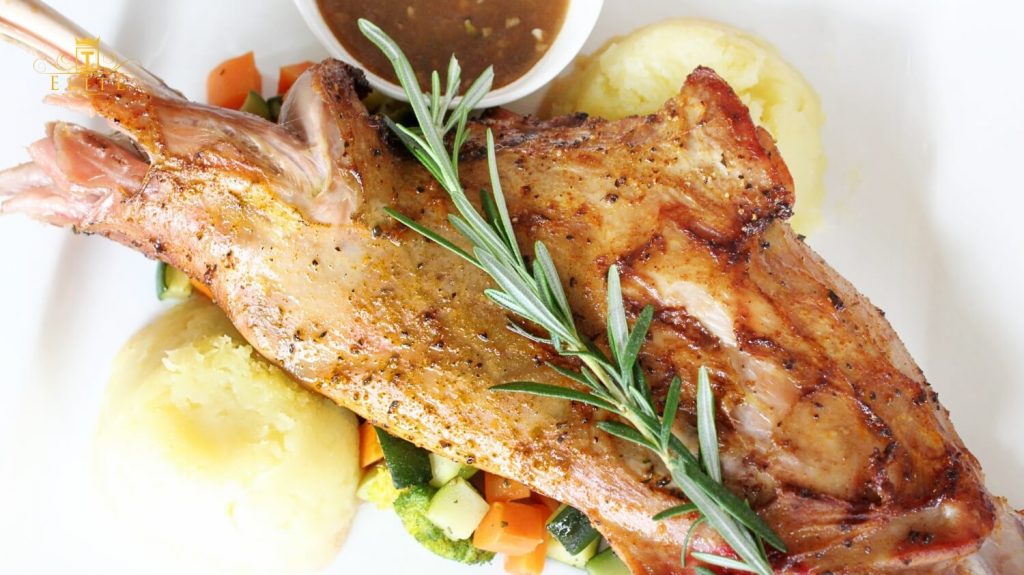 The lamb had a satisfying airy light crisp skin.

And finally, all lamb aficionados should keep yourselves calm as here comes the suckling lamb. Presented simply, the dish amazed us (we all wowed) as it was so enormous and it came along with such mouth-watering scent. What a sumptuous feast! The first cut into the lamb was delightful as we all agreed the lamb had a satisfying airy light crisp skin. A tip for anyone who wants to have an enjoyable first cut: start from the edges first as it would come with more meat! About the meat itself? I personally would love it more if the meat was a bit tenderer. Still, the lamb's juiciness and richness made it scrumptious and irresistible!
What I would love more is a bit of bursting flavor, which would make it even more outstanding. We cannot but notice some creamy mashed potato that radiating an enchanting aroma. We believed the potato was coupled with the flavorful gravy from the lamb juice which made it more flavorsome. The sides did not let us down either. Overall, the dish itself could do all the talking! 
If you love to pay Cava a visit and try these significant dishes, please notice that you can always save your time waiting by make a reservation here.
And good news for all food lovers out here, all of the signature dishes listed above are now available to be redeemed on TABLEAPP ELITE. (and yay, who would not love free food?).
Cava
Location: 71 Jalan Bangkung,Taman Bandaraya, Kuala Lumpur.
Operating Hours: Monday – Saturday: Noon: 12:00pm – 3:00pm, 6:00pm – 12:00am; Sunday: 6:00pm – 12:00am