Tips of how to be cool: Know where the coolest restaurants are in KL. Because cool people hang out at cool places.

Ever have the moment your friends look at you and wonder how you know about such cool places? Wanna be THAT cool friend? Don't worry, this is going to be a cool guide to cool restaurants for cool people like you! Check out these coolest restaurants in KL!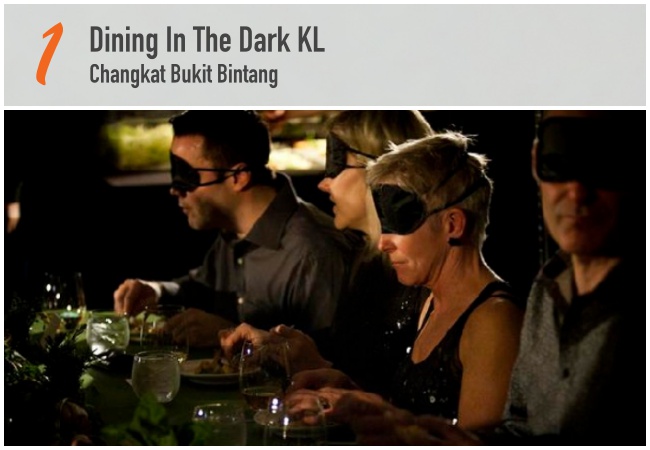 Ever imagine eating and drinking in pitch darkness? This idea might seem a little strange at first, but by suppressing the dominant sense of sight, you will enter a whole new world in which one is uncertain of their surroundings. The blind guides at Dining In The Dark KL will lead you through a gastronomical journey. At Dining In The Dark KL, guests will embark a new sensory experience where the thoughtfully designed and carefully prepared surprised menu fit for a fine dining will only be revealed after the meal.
Click here for online reservation
Keep a close watch on your table here at Atmosphere 360 because the dining table area actually revolves! Housed in the world's 7th tallest tower – the KL Tower, Atmosphere 360 is crowned as Malaysia's highest restaurant, 282m above ground. Other than having the crazy revolving experience, the 360-degree bird eye view of Kuala Lumpur surely makes the dining experience a memorable and lasting one.
Click here for online reservation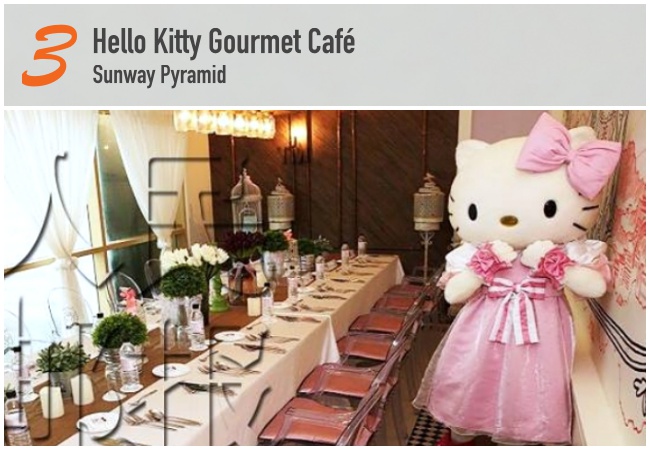 Welcome to the World's First Hello Kitty Gourmet Café! Styled on a chic Parisian café with atmospheric pastels and Kitty's iconic pink, you will be transported to a world of sweet romance and sophisticated flavours. Hello Kitty Gourmet Cafe is extravagantly decorated in Hello Kitty themes down to every detail. Their signature dishes are adorably decorated with Hello Kitty's cute character. Definitely a place of happiness for Hello Kitty fans!
Click here for online reservation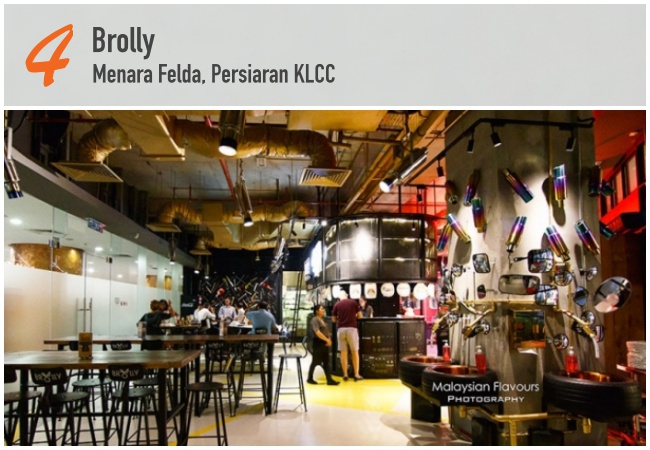 A fun, quirky restaurant that brims with colour, character & charm – showcasing nine kitchens in one venue. Inspired by the fun disco era, the entire space is decked out like a garage, with automobile paraphernalia providing much of the design cues – tyres as wash basins and surrounded by sideview mirrors, walls decorated with hubcaps and tools of a mechanic, and there's even a vintage car mounted upside down on the ceiling above a pool table, not to forget there's a foosball table and a wall of vinyl records! At Brolly, break open the Canadian red lobsters, spanner crabs and meat crabs to reveal the sweet flesh, or get busy eating the Gumbo, Southern Chicken & Waffle and more. If it is a group dining, check out their ridiculously fancy bucket of goodness – Big Bang Theory. Ideal for a group of 8-12 seafood lovers, the bucket comes with king crab, lobsters, meat crabs, prawns, yabbies, mussels, corn, chicken sausages, potatoes and button mushrooms.
Click here for online reservation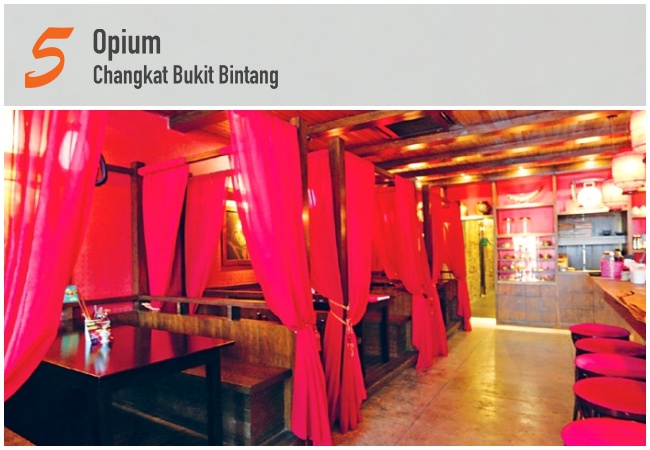 Inspired by the Opium regimes of the east, the interior speaks for itself. Furnished with age-old artifacts such as an opium bed in the Rose Room, opium pipes and huge Chinese wine pots displayed vividly at the Communal area, the outlet aspires a 1930s-1960s look and feel. At Opium, Asian Oriental cuisines are served with a twist; such as Phoenix Dumpling, Fern Leaf Salad, Crispy Duck Noodles, Wagyu Beef Rendang, and the signature Beef Brisket & Tendon Stew just to name a few. One simply must try their Signature House Cocktails, Twisted Classic Cocktails and Opium Special Mocktails. These giggle juices are served up in bowls, even water and beer are served in the traditional Chinese way… in a rice bowl.
Click here for online reservation