'Selera Kampung' Ramadan Buffet 2016
Pullman Kuala Lumpur Bangsar, a reputable 5-star hotel, presents its "Selera Kampung" fare at its anchor diner: LINK – all day dining, available from 13 June to 2 July 2016.
Inspired by reminiscence and memoirs of the balik kampung exodus during the festive season, the "Selera Kampung" fare is surely a hit with almost 300 dishes and condiments to look forward to, all prepared in their traditional best.
The special fare presents an array of delish delights which include but not limited to: traditional Malay appetisers, claypot assam pedas, kawah favourites, traditional Malay kuihs and local/seasonal tropical fruits. The special highlights of the "Selera Kampung" fare to look out for will be festive wagyu beef, onsite Turkish ice-cream maker (one of the only eight makers in Malaysia!) and Malaysian favourite spiky king of fruits – durians!
This festive buffet will take up the entire space of the restaurant, even at the terrace outside – that's going to be a huge feast – for a time of sharing and feasting with friends and family.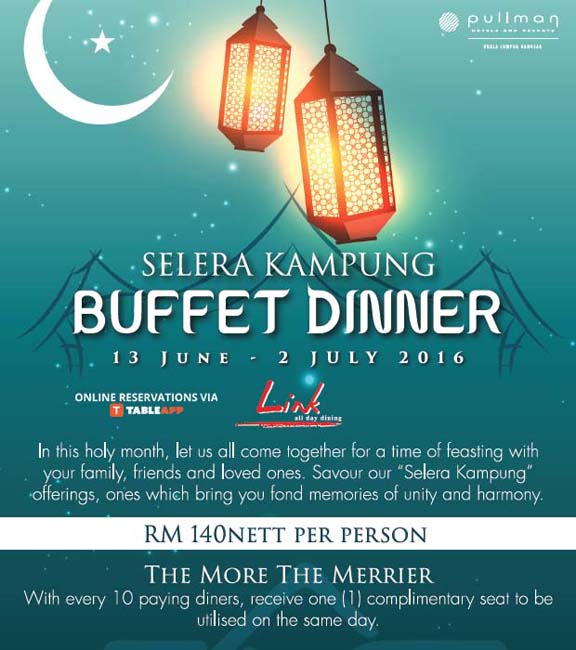 When I walked into the restaurant, I was amazed by the environment and the restaurant's decor. LINK, located at the Lobby Level, the restaurant exudes a warm contemporary feel with a culinary drama. The 360-seat new attitude all-day dining revolves around the interactive show kitchens displaying a sumptuous array of food, a dining concept that brings the excitement of cooking from behind the scenes to your table. High ceiling, well-lighted, large tables, spacious environment, beautiful set up, glorious space… Everything here is done to impress.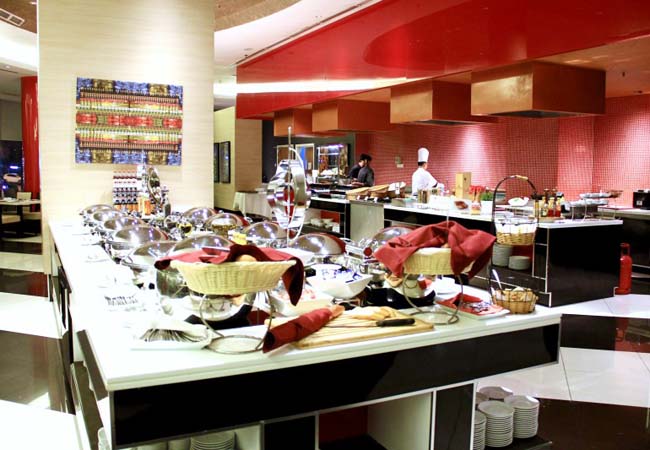 The staffs at LINK are friendly and welcoming, me and my colleagues were received with great warmth. Chef Mohd Juzaili Shah first walked us through the concept of "Selera Kampung" buffet – to bring people back to the sweet wonderful memories of kampung – and how he and his team took few months to plan and design the buffet menu and finally, presents it during Ramadan period.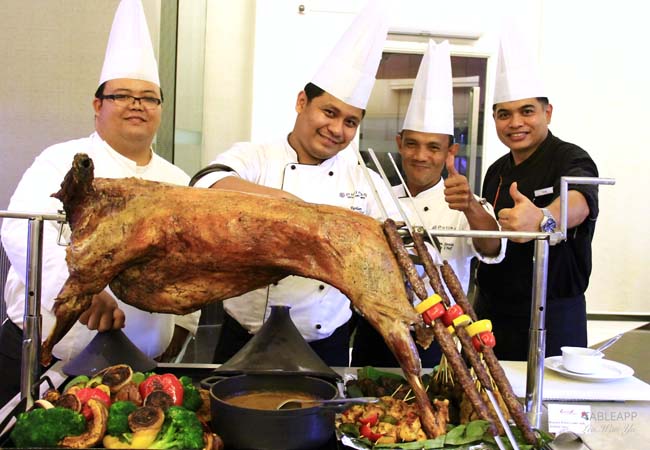 What left me with a great impression in this buffet was the effort made on the presentation and decoration. It was so nice that I didn't dare to serve myself thinking that I might destroy the work in the process.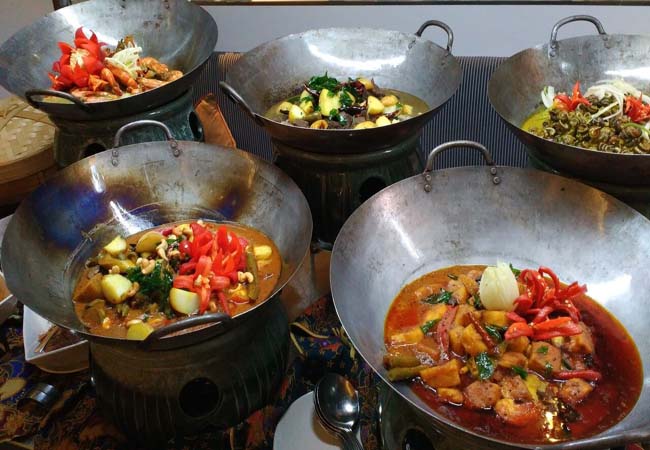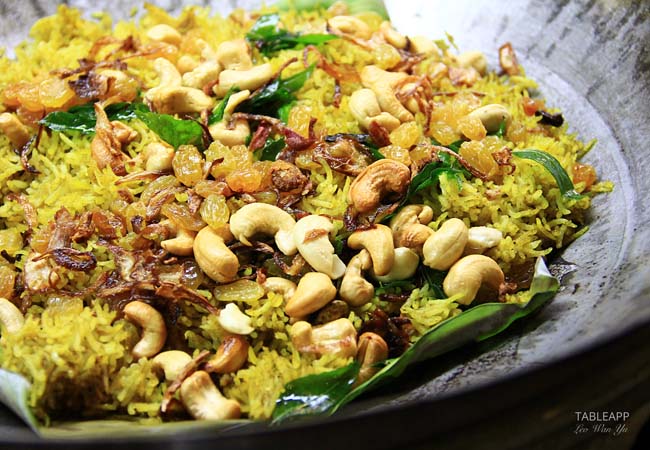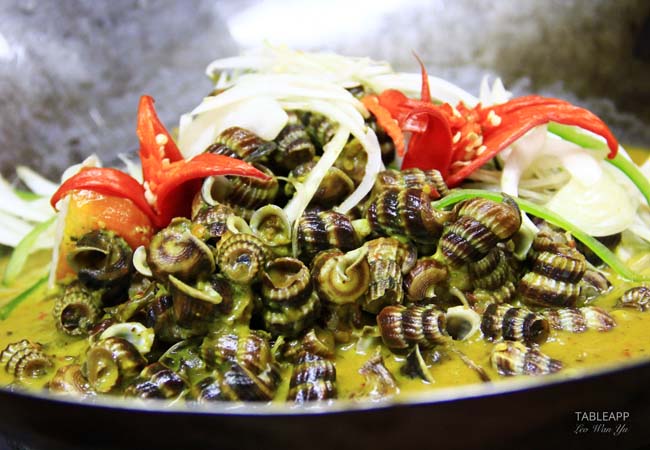 From the appearance, Masak Lemak Cili Padi Siput Sedut reminds me of escargot in garlic butter, a dish usually served at my home in France. In France, when cooked, snails are prepared with garlic and parsley butter, added for seasoning and they are normally served in their own shell, as starter. Escargot is an intriguing dish, but it's also one of the most difficult to eat, people would normally use a snail tongs to extract the meat in a pulling motion from the shell. But here, no special cutlery used to extract the meat, you must suck the meat out! For my first time it worked well. Be warned, Masak Lemak Cili Padi Siput Sedut is cooked with a lot of spices, hence the spiciness level could be overwhelming even for Malaysians but the spices enhance the dish very well, giving it a whole new level of sensory experience.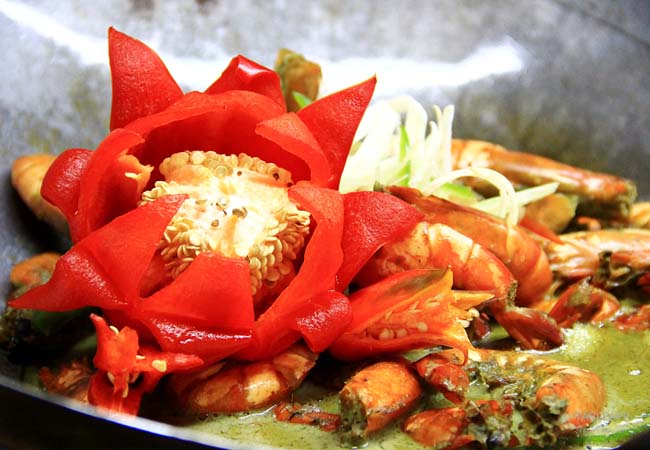 Udang Masak Hijau is a dish absolutely for prawn lovers. Very light curry, the dish itself is quite mild and lovely. It is a very aromatic dish with freshly prepared prawns, presenting authentic Malay cooking style, which certainly brings out the buffet's kampung theme.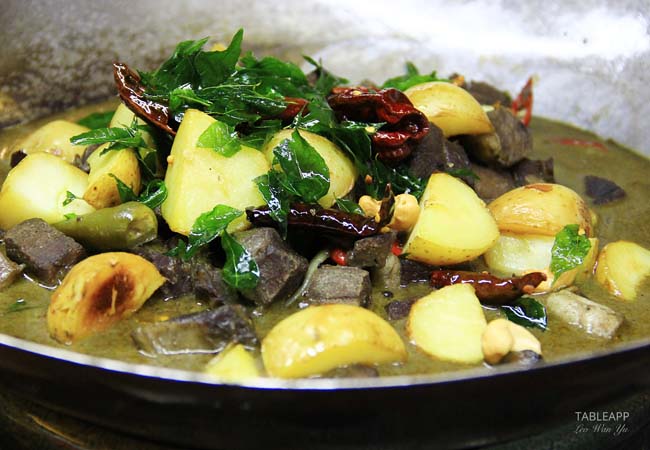 As a person who is fond of potatoes, there was a dish that sparked my interest because of its dark greyish-green curry-like sauce. At first glance, it seemed intimidating and probably a bit too much to be comprehended however when I tasted the curry sauce, it was a delightful surprise to taste buds – it was sweet, not even a slightest hint of spicy – a pleasant surprise indeed. Not to mention the perfectly tender meat in this dish. Lesson learnt – never get deceived by looks.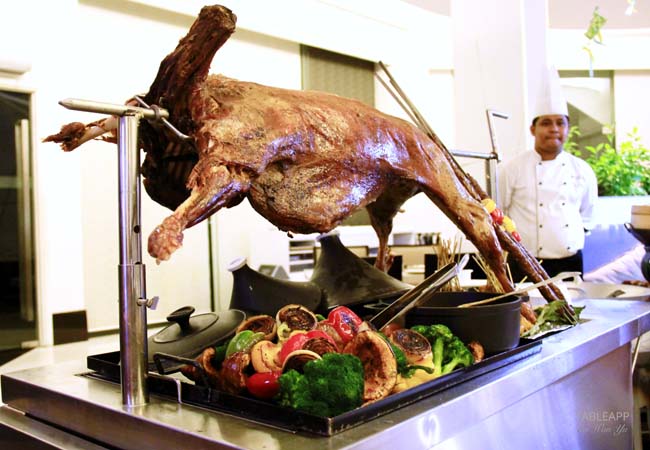 "Selera Kampung" buffet has a live cooking station serving roasted lamb, kebabs and Malaysians' favourite – satays! We all know that peanut sauce plays a very important part when it comes to eating satays – it either makes or breaks the food. And to our delight, LINK's satay peanut sauce is another surprise of the night – thick textured, well-balanced with generous portion of roasted peanuts – totally adds flavour to the satays served.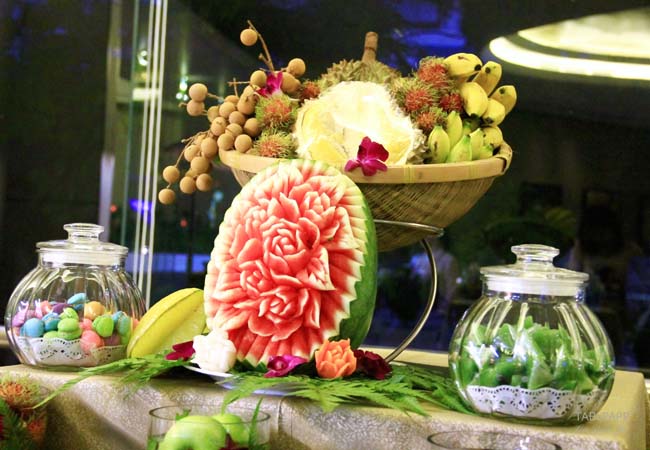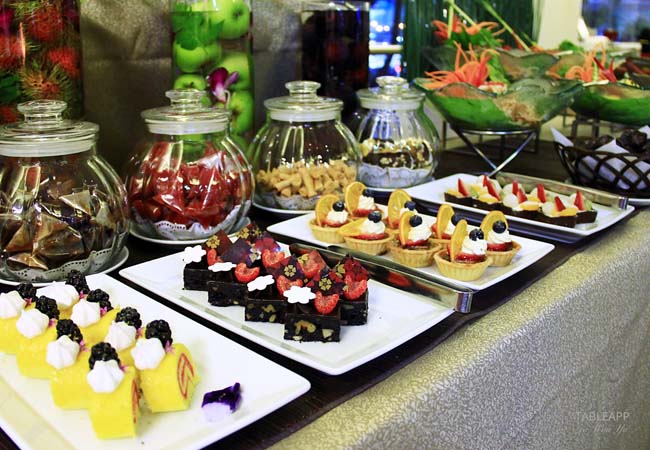 "Selera Kampung" buffet serves a handful of pencuci mulut, diners would spot local fruits (including durians!), traditional Malay kuihs (Kuih Seri Muka, anyone?), pastries, Malay-styled pickles and many more at various counters, not to forget a salad bar for all.
Of course, the must-have dates will be present during the buffet throughout the Ramadan month. The dates at LINK are imported from Tunisia – definitely quality ensured!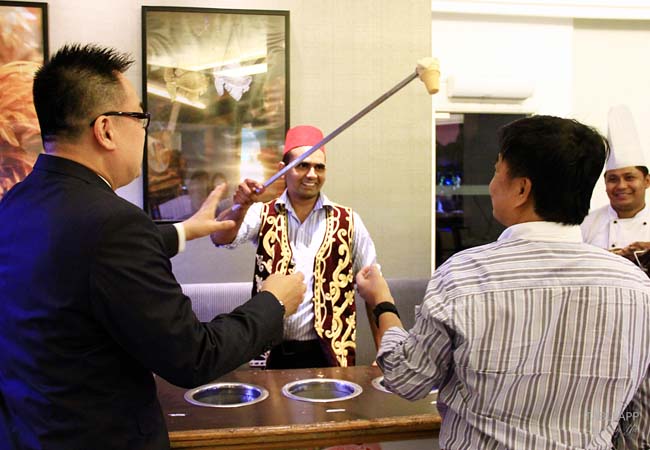 Before leaving I absolutely had to try the Turkish ice-cream! Traditional Turkish ice-cream, unlike normal ice cream, is thick and chewy with an elastic texture, perfect to be consumed slowly without a fear of it dribbling down the cone. Vendors often tease the customer by serving the ice-cream cone on a stick, and then taking away the ice-cream with the stick by rotating it around, before finally giving it to the customer. It was fun trying to get the ice-cream from the maker. I have to say that at the end I was dizzy trying to get hold of the ice-cream. Not easy at all.
"Selera Kampung" buffet is the result of a 5-month work. Chef Mohd Juzaili Shah and his team worked hard to offer their customers a buffet worthy of the theme. Almost 300 types of dishes will be served during Ramadan month and 90% of the dishes served are authentic local cuisines, living up the kampung theme. And personally, I think they have succeeded in creating the experience from the combination of multiple efforts on food preparation, set up and decoration.
The food was tasty and the service was perfect. The staffs are very attentive and are always around – I didn't even have to ask them for their attention. Each time when I returned to my table from taking foods from the counters, my table has already been cleaned and my drinking glass was refilled. Every single time. I felt I was treated like a queen.
A good place to spend precious time and breakfast with your family and friends during the holy month. Come enjoy this special Ramadan buffet for RM140 nett per person and receive one complementary seat to be utilized on the same day with every 10 paying diners.
Has this review boosted your appetite? Don't hesitate to come and discover this buffet throughout Ramadan by booking your table on TABLEAPP.
Link – All Day Dining
Pullman Kuala Lumpur Bangsar.
No. 1, Jalan Pantai Jaya, Tower 3,
59200 Kuala Lumpur. Malaysia.
Daily: 6:00am – 11:00pm