Mid-Autumn Festival is around the corner and if you can't wait to indulge yourself in the most sumptuous mooncakes or pamper your loved ones with unique gifts, this is definitely your place to be! Check out our hand-picked lists of the best places to relish mooncakes as well as luscious delights in town.  


1/ Special Tropical Allure, Khoon Hooi and National Mooncake Boxes at Hilton Kuala Lumpur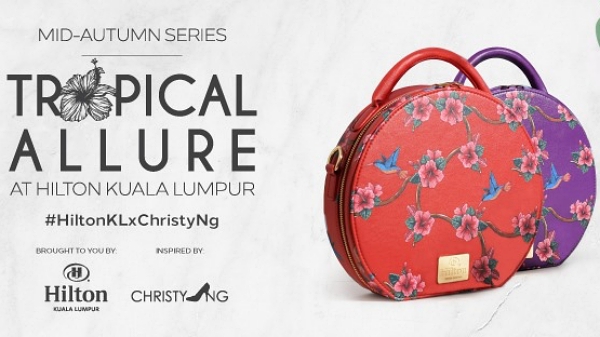 Tropical Allure Box – Hilton Kuala Lumpur x Christy Ng 
If you are on the prowl for a one-of-a-kind mooncake gift box for this year, you would not want to forgo the special Tropical Allure mooncake gift boxes from Hilton Kuala Lumpur. In collaboration with designer Christy Ng, the boxes pay tribute to the nation's homegrown pride and resource. The hibiscus, known as Malaysia's national flower, is the inspiration behind this unique creation. Titillate your palate with Khoon Hooi mooncake boxes, National moon cake boxes and more with choices of Traditional Bake and Snow Skin.  
Head over to Chynna for an extensive menu of an eclectic mix of Cantonese and Shanghainese cuisine, come to Graze with authentic European delicacies, Chambers Grill for an innovative grill menu of prime aged meat cuts and seafood, Vasco's for Asian and international favorites, relish exquisite delights at Iketeru, casual drinks and snack at The Lounge, Oro Cafe, Zeta Bar and Western cuisine at Boardwalk. 


Price: From RM35 per piece / From RM118 per box of 4 pieces
Promotion: Dine at one of the participating restaurants including Chynna, Graze, Chambers Grill and Vasco's and spend a minimum of RM200 in a single receipt to get 20% off on National Mooncake Boxes and/or Khoon Hoi Mooncake Boxes. (T&Cs apply)
Time: 
Location: Hilton Kuala Lumpur, 3, Jalan Stesen Sentral, 50470 Kuala Lumpur 
2/ Lunar Fortune Box Featuring Japanese Flavors with A Twist at Nobu KL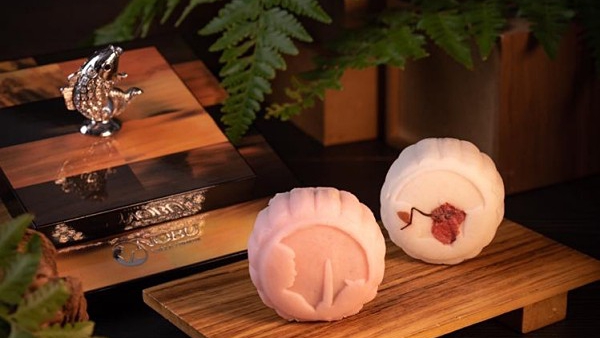 Much-loved for the world-class cuisine and top-notch service, Nobu Kuala Lumpur is definitely the perfect dining spot for this special occasion of the year and to indulge in unique and sophisticated mooncakes. For this special occasion. The restaurant launches Lunar Fortune Box that features Japanese flavors with a twist to the traditional Chinese delight. The mooncakes are presented within a luxurious, reusable lacquered box, adorned with a variety of distinctive wooden finishes inspired by the décor of Nobu Kuala Lumpur and complete with a Koi Carp in a Gold or Silver finish. 
Diners can enjoy Signature Set and Premium Set featuring Charcoal Hojicha Mooncake, Green Tea Pure Lotus Paste, Sakura Mochi Mooncake and other special delights. 


Price: Signature Set at RM148 nett / Premium Set at RM168 nett
Promotion: 10% off for purchase of 5-9 boxes, 15% off for purchase of 10 boxes onwards
Time: 5th August – 13th September 2019 (Pre-order starts from 29th July 2019)
Location: Nobu Kuala Lumpur, Level 56, Menara 3 Petronas, Persiaran KLCC, Kuala Lumpur City Centre, 50088 Kuala Lumpur
3/ Pullman Treasure Series of Traditional and Original Mooncakes of 10 Flavors at Pullman Bangsar Kuala Lumpur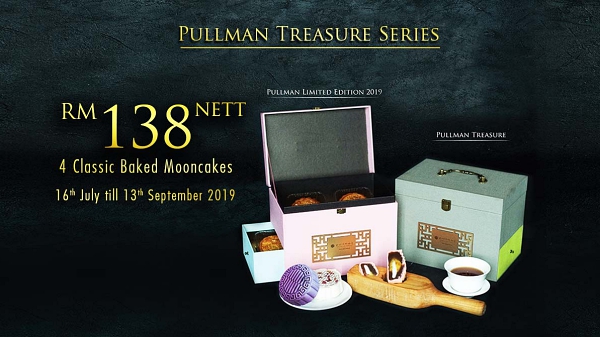 Pullman Kuala Lumpur Bangsar has put together some of the finest mooncakes to celebrate the "Festival of Reunion". Gratify your palate with an alluring collection of traditional and original mooncakes of 10 flavors, encased in golden brown skins and baked to perfection. Don't forget to revel in classic Chinese cuisine in a modern reinterpretation of the traditional Chinese teahouse at Oriental Chinese Cuisine, enjoy exquisite Mediterranean delicacies at La Cucina Mediterranean Kitchen and fill up your gastronomical needs all day at LINK – All Day Dining. 

Price: RM138 nett for 4 classic baked mooncakes
Time: From 16th July – 13th September 2019
Location: Pullman Kuala Lumpur Bangsar, 1, Jalan Pantai Jaya, Tower 3, 59200 Kuala Lumpur


4/ Savor All-Time Signature Flavors With a Local Twist at Pavilion Hotel Kuala Lumpur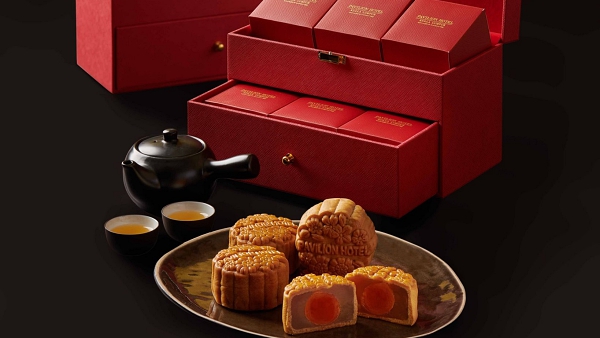 Head to Pavilion Hotel Kuala Lumpur if you are seeking for an ensemble of traditional baked mooncakes featuring all-time signature flavors blending with seasonal produce to give this oriental delights with a local twist. If you come here, don't forget to sink your teeth in the best foods as well! Unwind in the cozy bar at Ebisu and savor a fusion of Japanese flavors or indulge in Southeast Asian delights at The Courtyard. 

Price:  From RM33 
Promotion: Order before 25th August to get 15% discount on all mooncakes for early bird offer
Time: 12th August – 13th September 2019
Location: Pavilion Hotel Kuala Lumpur, 170, Jalan Bukit Bintang, 55100 Kuala Lumpur
5/ Relish Classic Mooncakes Packed with Fine Ingredients at Corus Hotel Kuala Lumpur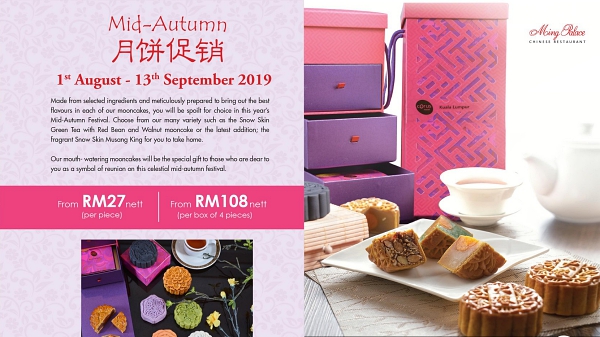 Made from selected ingredients and meticulously prepared to bring out the best flavors in each piece of mooncake, you will be spoilt for choice in this year's Mid-Autumn Festival with the mooncakes from Corus Hotel Kuala Lumpur. Choose from many varieties such as the Snow Skin Green Tea with Red Bean and Walnut Mooncake or the latest addition, the fragrant Snow Skin Musang King. 
Remember to pay a visit and delight your taste buds with Western favorites and snacks at Kencana Lounge & Cellar, finest traditional Japanese dishes at Komura Japanese Restaurant, authentic Szechuan and Cantonese cuisine at Ming Palace Chinese Restaurant and a sumptuous spread of buffet and a la carte meals at Dondang Sayang Coffee House.
Price: From RM27 nett per piece / RM108 nett per box of 4 pieces
Time: From 1st August – 13th September 2019
Location: Corus Hotel Kuala Lumpur, Jalan Ampang, 50450 Kuala Lumpur