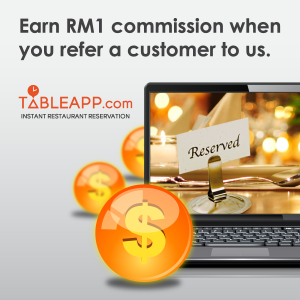 TABLEAPP is announcing this new affiliate program where you can earn money by referring people to make reservation at our TABLEAPP online reservation website! With every reservation made by visitor you referred, you earn RM1. Isn't it easy?
Here's a few easy steps to start earn more money with your website or blog!

(1) Sign Up for an affiliate account
Register as a TABLEAPP affiliate member. After the registration, you will able to login to your account and track your account stat, traffic and commission earned. To sign up now, click here.

(2) Get your referral links
We will provide you your unique affiliate id and referral link. You can also generate a referral link to any specific restaurant in our merchant list.

(3) Earn your commission
Place you referral link on your website. Once a visitor clicks the referral link, you will earn commission every time when reservation made by the visitor within 30 days.
For more detailed info, please visit us at http://www.tableapp.com/affiliate. There is also a FAQ section over there! If you have more questions to ask you can also mail us at info@tableapp.com, we will reply you within a business day.