1. Delectable Mooncakes in Limited Edition Satchel at Hilton Kuala Lumpur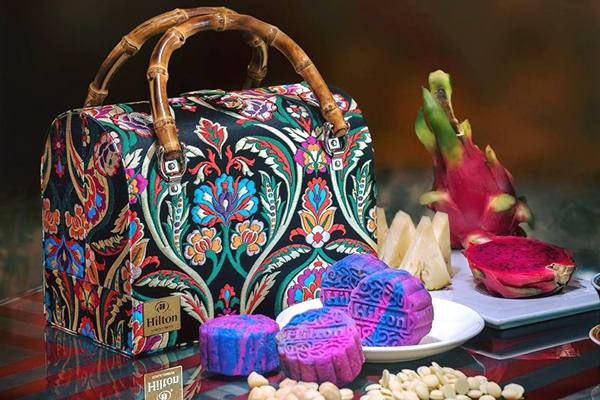 Prepare to be dazzled by the very first collaboration of Hilton Kuala Lumpur and Malaysia's leading international fashion designer Khoon Hooi – the stunning limited edition satchel gift box with a choice of Midnight Bloom (RM198) or Blossom Series (RM178). While selecting the mooncakes of your choice (as low as RM35 each), take this chance to dine in one of the restaurants here! Savour Chinese delights at Chynna, Japanese food at Iketeru or international buffet at the all-day dining Vasco's. You can also treat yourself to trendy cocktails and fine cuts of meat at Graze, Chambers Grill and Chambers Bar. If you want to liven up your mood, check out Zeta Bar for their international live band, have a cup of coffee at Oro Cafe or relax at The Lounge or Boardwalk to revel in their spectacular views.
2. Oriental Mid-Autumn Delights in Cheongsam-Themed Gift Box at Hilton Petaling Jaya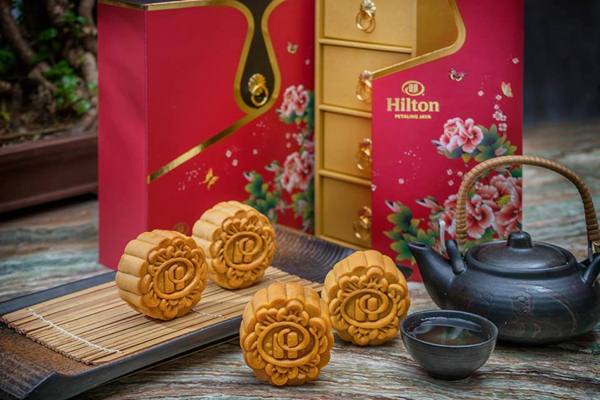 Head to Hilton Petaling Jaya for traditional mooncakes infused with subtle flavours! Get yourself a one-of-a-kind Oriental gift box which depicts a cheong sam at RM135 nett (premium box) and RM110 nett (standard box). Indulge yourself in timeless classics of 9 baked mooncakes and snow skin mooncakes of 5 flavours with price as low as RM25 each. You can also pay the restaurants here a visit for a fulfilled trip. Note that the Peking Duck at Toh Yuen Chinese Restaurant is a must-try and if you are in the mood for Japanese food, visit Genji Japanese Restaurant! Come to Uncle Chili's Bar & Restaurant for a varieties of hearty food and fabulous cocktails and enjoy a wide spread of delights with a buffet at Paya Serai Restaurant.
3. 11 Types Of Sumptuous Mooncakes Are Waiting For You at Sheraton Imperial Kuala Lumpur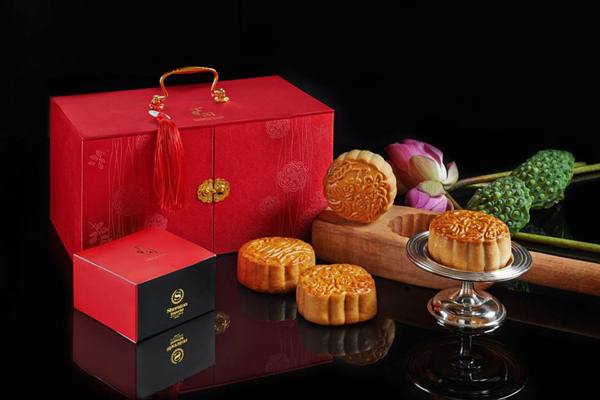 Encased in a traditional red box with gold handle, the elegant mooncakes at Sheraton Imperial Kuala Lumpur are perfect for a wondrous Mid-Autumn indulgence. Eight types of baked and snowskin mooncakes (from RM32 each), from the pure classic White Lotus to the modern creation of Azuki and Musang King, are set to whet your appetite. You should also take this opportunity to explore the restaurants here! You can opt for redefined Chinese imperial dining at Celestial Court for a completely divine meal from start to finish or chill at Pavilions Lounge for some snacks and refreshing drink, head to Essence for sumptuous dim sum, steaks and premium fresh seafood and visit Villa Danieli for wood-fired pizza and an authentic rendition of Italian food.
4. Savour Timeless Baked Classics at Grand Millennium Kuala Lumpur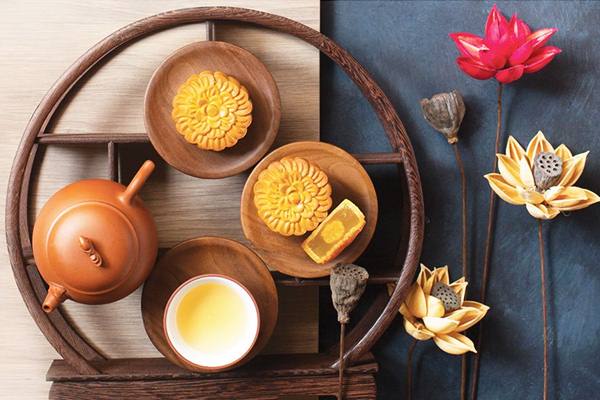 Handcrafted with premium ingredients and baked to perfection, the mooncakes at Grand Millennium Kuala Lumpur are perfect for a family gathering. The hotel offers 4 types of mooncakes (from RM29 onwards) with a brand new creation of chocolate mint flavour which would entice your taste buds with its rich bittersweet and refreshing filling. Don't hesitate to set your foot in the restaurants here for an epic culinary journey. Take a walk to the popular dining spot Lai Ching Yuen which will drift you back to ancient Shang Hai, indulge yourself in tantalizing dining experience at Hanaya Japanese Dining or go to the open-concept The Mill Cafe for a hearty spread of international and regional favourites.
5. Walk Down The Memory Lane By Relishing Handcrafted Classics at One World Hotel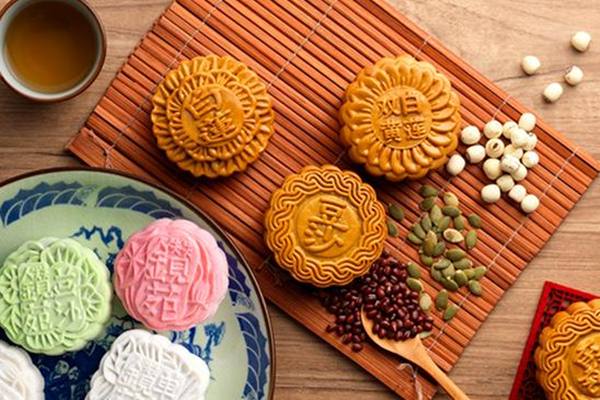 If you fancy a mooncake selection of timeless culinary traditions, look no further than the premium handcrafted artisanal mooncakes at One World Hotel! Sold in boxes of four from RM25 per piece, diners are given the choice of 9 classic favourites which would take you on a trip down the memory lane. A journey to the hotel would not be perfect without treating yourself to scrumptious food at one of their two well-known restaurants here – Zuan Yuan Chinese Restaurant which will enthrall you with its sophisticated and truly authentic Chinese menus and the award-winning Cinnamon Coffee House which offers superb delights featuring an open-concept kitchen.
6. A Royal Treat with Treasure Gift Box Series at Pullman Kuala Lumpur Bangsar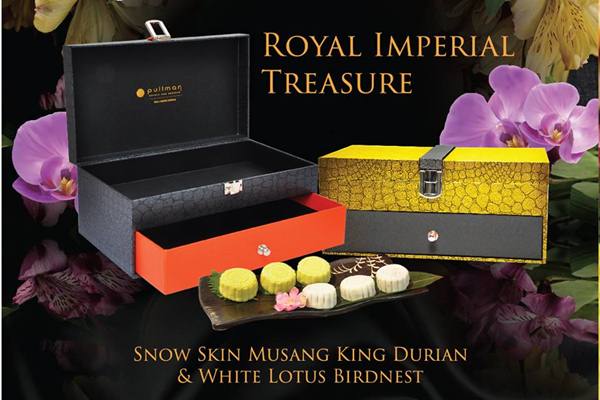 Should you gratify towards traditional mooncakes with a modern twist, Pullman Kuala Lumpur Bangsar will satiate your cravings. Beautiful mooncakes with exotic flavours like Bird's Nest and Musang King are expertly handcrafted by skilful pastry artisans here. Diners can purchase a selection of gift boxes known as Elegance (RM128), Signature (RM138) and Royal Imperial (RM198). Your royal treat will be elevated if you dine in one of the restaurants here. The pork-free Oriental Chinese Cuisine will fill your stomach with authentic and wok-friendly Chinese dishes. You can also treat yourself to a gastronomic dining experience at LINK – All Day Dining where you can enjoy live-cooking sessions or head to La Cucina Mediterranean which will serve you the finest contemporary cuisine. 
7. Mesmerizing Musang King Durian Mooncake with Blue Pea Layer at Way Modern Chinois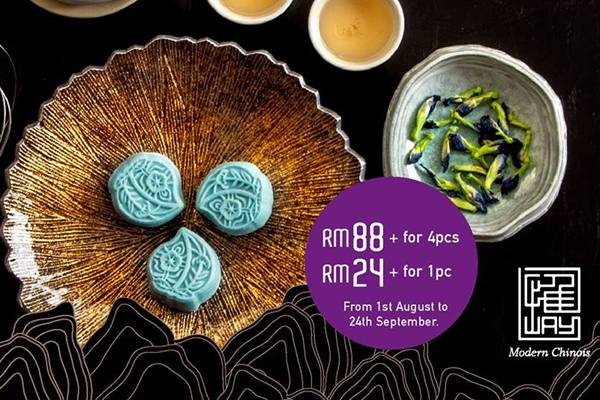 The handmade snow skin mooncakes at Way Modern Chinois will fly you to the moon! The Musang King durian filling is meticulously prepared and enveloped in a silky smooth blue pea stained layer. Each moon cake is handcrafted with care and a bite into it would make you stop for a moment to admire its creamy texture. Mesmerizing color with irresistible aroma, the mooncakes are sold at RM23 per piece or RM88 for a gift box of 4 pieces. Once you come to this contemporary restaurant, remember to try their famous Truffle Roast Duck which is marinated with truffle sauce, double roasted in truffle oil and topped with truffle slices. An avant-garde indulgence you would not want to miss out! See how to get this duck for free here!
8. A Dazzling Collection of Baked, Snow Skin and Crispy Mooncakes at JW Marriott Kuala Lumpur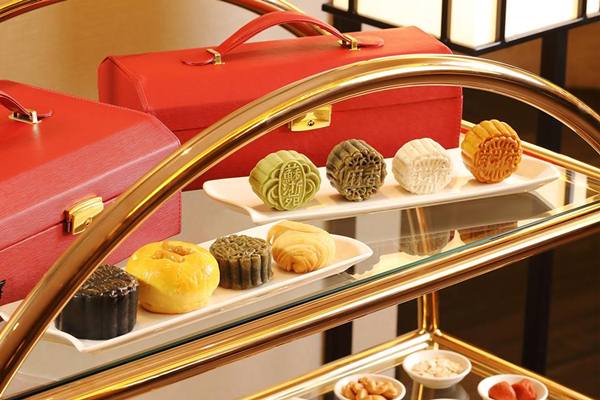 JW Marriott Kuala Lumpur ushers in this Mid-Autumn Festival with a fine selection of baked, snowskin, and crispy mooncakes at the award-winning Shanghai restaurant which is well-known for their authentic dishes of Shanghai. This year, the restaurant is offering 2 new exotic flavours, namely Fermented Black Garlic with Egg Yolk and Durian Paste with Truffle which would make you feel over the moon! While you are at the hotel, there is no reason why you should not visit Starhill Gallery. Savour Chiu-Chow style cuisine at Pak Loh Chiu Chow or relish Chinese tea and dim sum at Luk Yu Tea House. You can also opt for unique Latin flavours with a twist at Sentidos Gastrobar – The Latin Grill, authentic Malay food at Enak KL or Southern Thai cuisine at Pak Tai. Fancy a light bite and a refreshing cup of tea? Head to Newens Tea House! Last but not least, remember to try the freshest seafood in town at Shook!
9. Handcrafted Traditional Mooncakes with The All-Time Favorite Li Yen Kam Tui at The Ritz Carlton, Kuala Lumpur
Celebrate this Mid-Autumn Festival with an array of hearty baked and snow skin mooncakes at The Ritz-Carlton. The mooncakes here are well-prepared and handcrafted by the culinary team of the award-winning Chinese restaurant Li Yen which serves one of the best Cantonese cuisines in town. The traditional baked mooncakes will bring you back in time with memorable flavours from classic creations to the all-time favorite Li Yen Kam Tui filled with delicious nuts and Chinese ham. You can choose to buy each piece at RM14 nett or get a box of 4 baked mooncakes here at RM100 nett. Mini mooncakes are also available in a box of 8 at RM112 nett.
10. Premium Traditional Mooncakes For A Joyous Mid-Autumn Festival at DoubleTree by Hilton Johor Bahru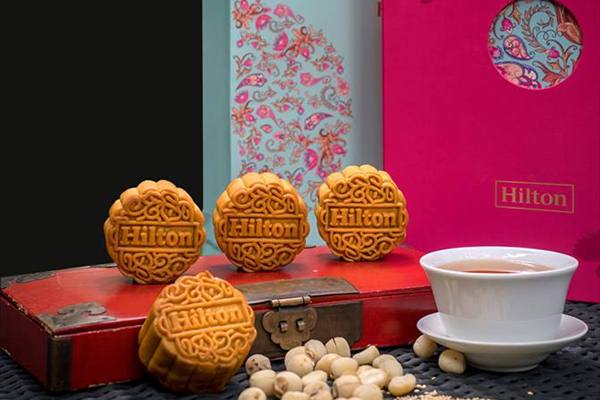 A plethora of Mid-Autumn sweet delights are waiting for you at DoubleTree by Hilton Johor Bahru. The traditional mooncakes here are bound to tempt your palate and leave you desiring for more. The premium mooncakes are made with care, including classic flavours like Baked Pure Lotus, Baked Pandan Lotus and more from RM26 each while a gift box of 4 pieces will cost you RM99. Remember to visit the hotel's two well-known restaurants for a touch of joy. You can enjoy exciting live-cooking stations at the all-day dining Makan Kitchen which offers Western and Asian items or head to Tosca Italian Restaurant for an exquisite selection of rustic Italian foods which will make you come back for more!