What's better than delighting the taste buds at one of your favorite restaurants? Not to mention it is a multi-award winning restaurant focusing on fine Malay cuisine which is much-loved by discerning foodies? That's why I was contented to get an invitation from Bijan Bar & Restaurant to experience their "Simply Malay" Buka Puasa Buffet Dinner to rediscover Malay food heritage with a variety of soul-satisfying dishes and heart-warming flavors.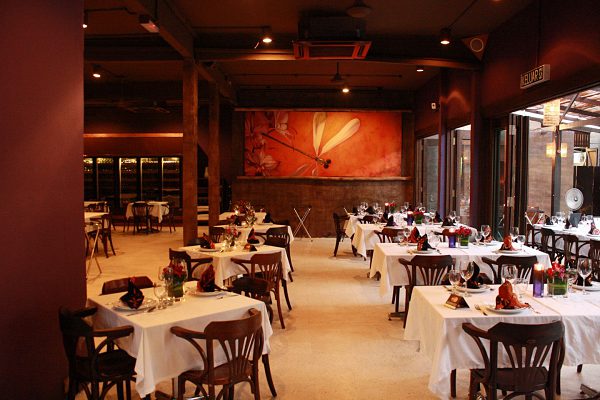 The restaurant welcomed us with its warm and lush interiors. 
Just a few steps away from KLCC, my colleagues and I reached Bijan Bar & Restaurant on a rainy day. The lush backdrop, artistic decorations, wonderful background music and attentive staff totally made it a perfect dining spot to cherish your moments with family and friends! We quickly forgot about the rain earlier and were gobsmacked as in front of our eyes were buffet stations neatly set under the golden-hued light, enticing with lines of enthralling delights that we could not wait to chow down on. 
My eyes quickly fixed on the Satay Station as I was seduced by the irresistible aroma emanated from the enthralling pieces of the grilled-on-the-spot satays such as Satay Udang, Satay Sotong, Satay Perut (tripes satay), Satay Daging and more.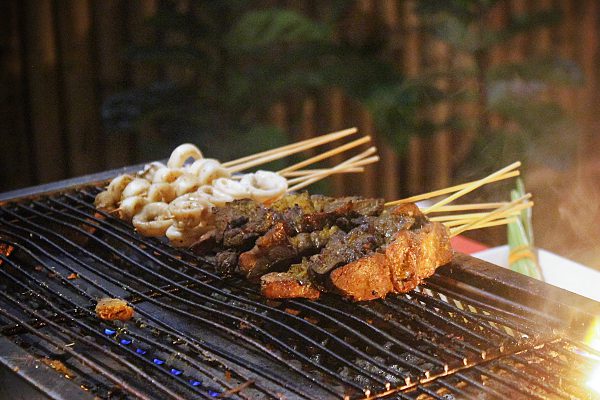 Satay skewers with fascinating sizzling sounds and tempting aroma.

Marinated with fine herbs for hours, the satays were infused with tangy flavors while still maintaining their moist texture despite the strong heat of the charcoal. I have to give it up to the homemade peanut sauce which was absolutely outstanding. The sauce was not only delightful with its moderate sweetness but also brought out the best tastes of the satays. Amongst all, the Satay Perut amazed me the most as unlike the common stretchy texture, this Satay Perut had such tenderness that one could not resist from savoring one more!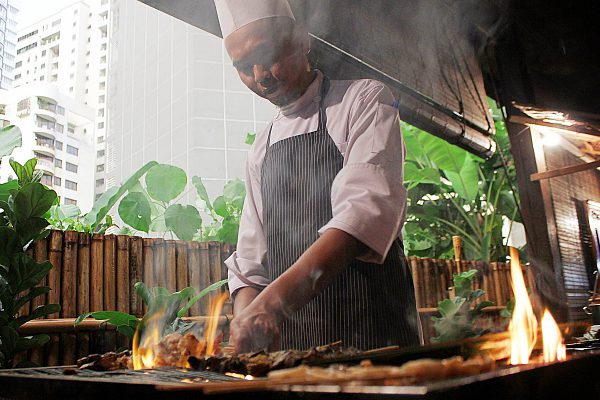 A friendly chef is grilling meat-ilicious satays at the live-cooking stall
If you do not mind a bit of smoke, don't forget to catch the chef in action as well! You should also keep an eye on the special Otak-otak which features scrumptious sea bass as it was flavorsome and also recommended by the chef!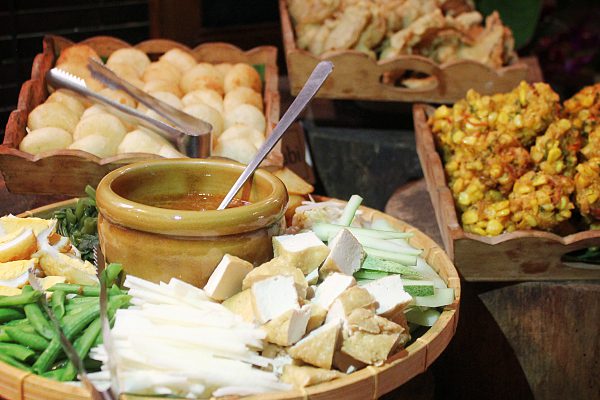 You can tease your palate with some appetizers such as Gado-gado, Cucur Jagung, Keropok Lekor and Cendawan Goreng.
If you can refrain from the temptation of the Satay Station (which I failed obviously), you can embark on this hearty affair by tucking into some appetizers first. There are a variety of mouth-watering selections of appetizers for you to choose including Gado-gado, Getok Ubi, Keropok Lekor, Cendawan Goreng, Kerabu Nangka, Kerabu Betik and Kerabu Sotong Bakar.
I was delighted by the Gado–gado (Lotek) for its ingredients which are light and refreshing – perfect for the start of a heavy (and yet lip-smacking) indulgence.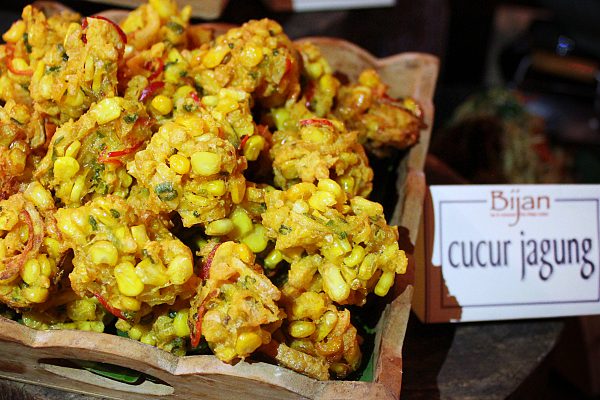 The Cucur Jagung is delightful with its crunchiness and splendid balance of sweetness and savory.


As someone who loves the bursting flavors of Kerabu, I did not miss out a chance to get a taste of the 3 types of Kerabu here. 

3 types of Kerabu including Kerabu Nangka, Kerabu Betik and Kerabu Sotong Bakar.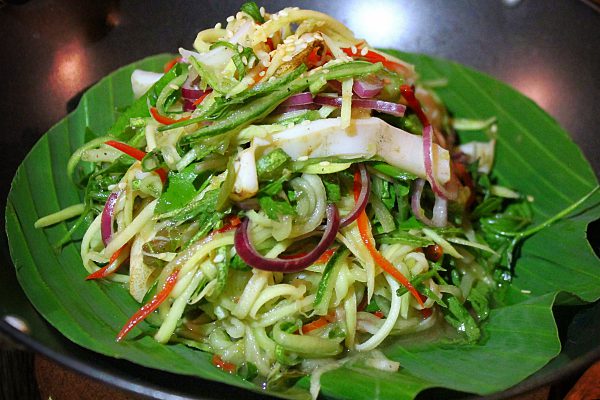 Kerabu Sotong Bakar
Not only did the Kerabu dishes excited my taste buds with the rejuvenating freshness but they also warmed my heart with their nostalgia flavors.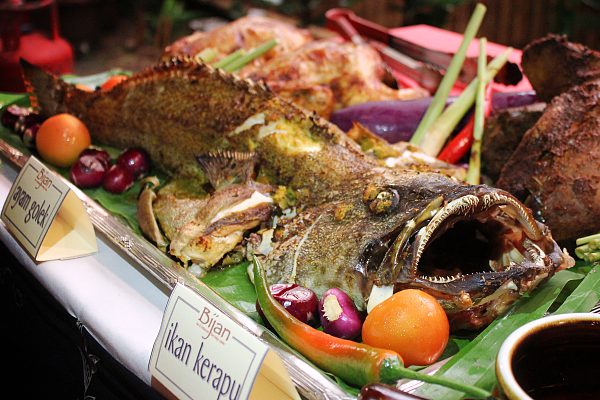 Bakar Station featuring Ayam Golek, Ikan Kerapu and Lidah Salai.
Here comes the main dishes! If you are a fan of bakar delicacies, you would not be able to keep your feet on the ground (literally!). In front of my eyes was a 5kg Ikan Kerapu (grouper or garoupa) which was meticulously roasted in banana leaves! Dip its firm and smoke-infused meat into your favorite sambal and you would be elated! Did I tell you that there are up to 15 types of sambal here? Yup! You read it correctly! 
If you are adventurous enough, you can challenge yourself with the in-house smoked beef tongue – Lidah Salai or you can stick with a safer choice which is the Ayam Golek!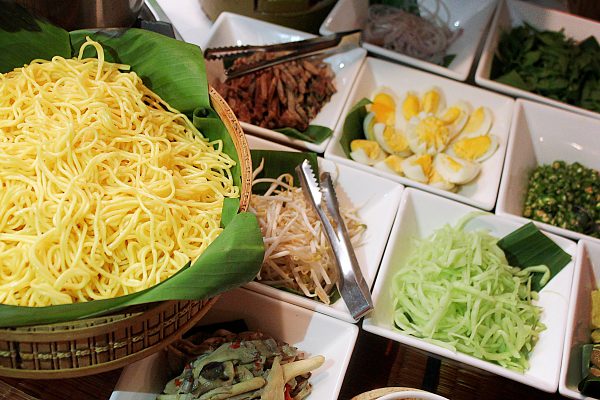 Sumptuous Homemade Laksa.
Inspired by his mother's recipe, Head Chef Razis decided to have an interesting take on the traditional Laksa by adding a little twist which resulted in an extraordinary flavorsome gravy. I crafted my own Laksa with a bit of sambal and it mingled with the Laksa perfectly. Don't forget to scoop more broth into your bowl as you will not want to stop savoring this luscious gravy!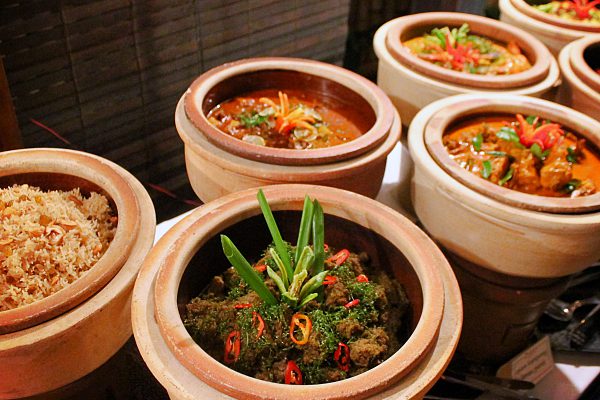 An array of sumptuous delights with vibrant colors triggered my involuntary salivation.
Happily stuffed with a luscious bowl of Laksa, I shifted my attention to an array of traditional delights beautifully nestled in clay pots featuring Udang Masak Lemak Nenas, Ayam Kampung Limau Purut, Gulai Kambing, Rendang Daging Hijau, Nasi Minyak, Sotong Masak Hitam. The vibrant colors of these dishes promised bursting flavors in the mouth and with that thought alone, I could not stop myself from the involuntary salivation.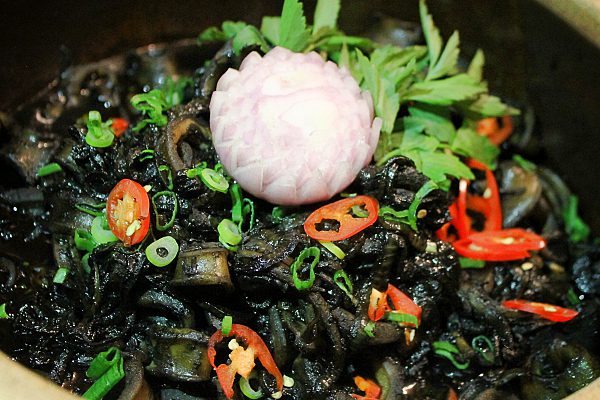 Sotong Masak Hitam with unpretentious look yet palate-pleasing taste. 
I started to pamper my palate with the Sotong Masak Hitam as its mysterious look triggered my curiosity. You might be reluctant by its somewhat unpretentious appearance yet keep in mind that the flavors will do all the talking! The squid was, to my surprise, superb tender yet not flaky at all with a delicate sweetness that lingered on the taste buds.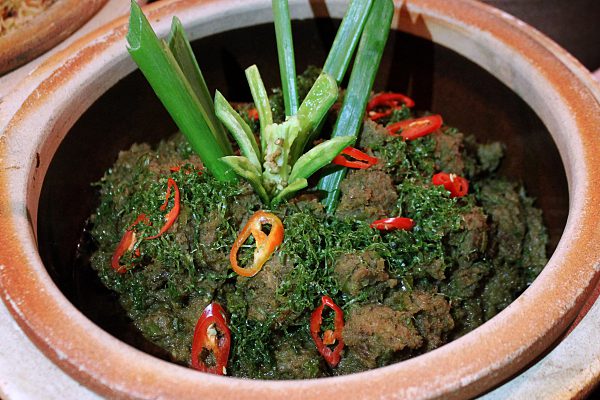 Rendang Daging Hijau is a must-try!
I have always been an advocate of Rendang dishes at Bijan Bar & Restaurant and this Rendang Daging Hijau is yet another lip-smacking Rendang dish to die for! The slow-cooked caramelized beef was packed with aromatic flavors that enticed my taste buds. The beef meat was no doubt fork-tender and juicy and each bite was satisfied as it oozed an irresistible sweetness. Definitely the winner of taste for me!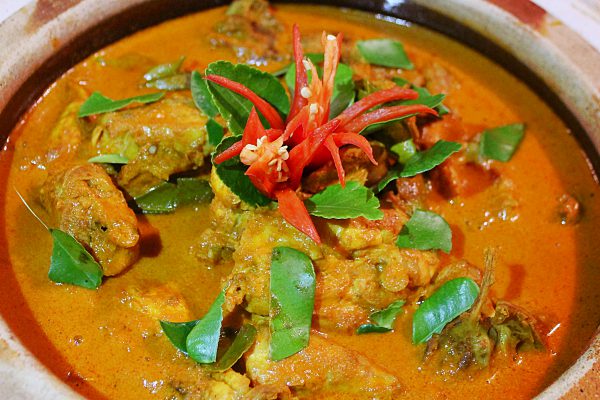 Ayam Kampung Limau Purut with an alluring tanginess.
The Ayam Kampung Limau Purut is one of the chef's favorites. This free-range chicken was cooked until it was infused with the tangy flavors from the kaffir lime leaves – a compelling combination which you should pay attention to!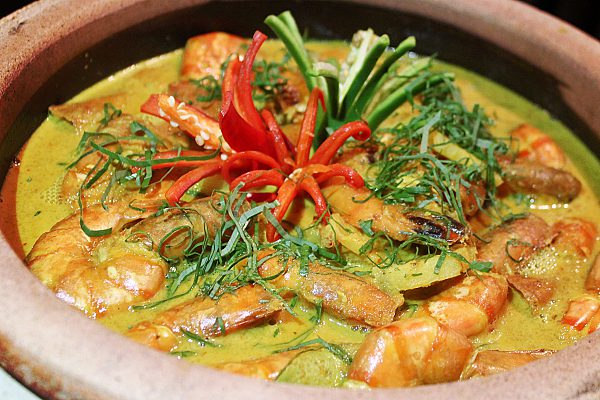 Don't miss out the Udang Masak Lemak Nenas as its rich and enjoyable fatness would make you craving for more!

Full and satisfied savoring all the main dishes, I finally indulged myself in the tantalizing morsels of desserts which, impressively, were all meticulously crafted by the chefs here.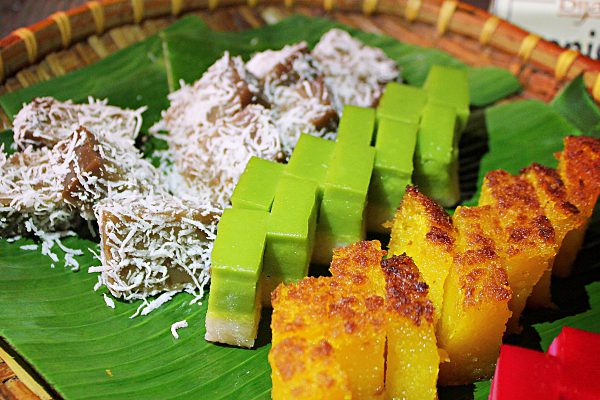 I quickly relished pieces of traditional Kuih Talam! Delicate with classic flavors, they drifted me back to the good old days!
A plethora of Kuih-muih for your choice which are innovatively presented to entice your palate.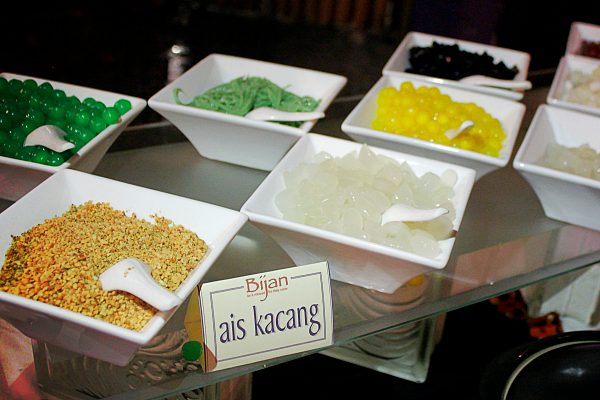 Ais Kacang Station features various ingredients for your customized Ais Kacang.
I ended my hearty dinner by treating myself to the Ais Kacang which you can customize for your preference. And don't miss out the ice-shaving machine which the restaurant has thoughtfully prepared for a fulfilled experience to enjoy this traditional favorite. 
I was stunned to know that this is just one of the 4 special rotating tailored menus which will be served in the holy month! These home-sweet-home delights captured my heart for its perfect renditions of old-school tastes and innovative twist. A hearty buffet to cherish the moment of togetherness!
We would like to send our special thanks to Bijan Bar & Restaurant for this heavenly indulgence!
Early Bird Promotion: Book now to enjoy Simply Malay Buffet Dinner at RM110 nett per person (before promotion: RM139.20 nett) (RSVP before 9th May 2019). 
>> Grab Early Bird Promotion Here
 
Simply Malay Buffet Dinner
Dining Period: 9th – 31st May 2019, from 7:00pm – 9:30pm.
Price: RM139.20 nett per person.
 
Bijan Bar & Restaurant
Location: 3, Jalan Ceylon, 50200 Kuala Lumpur.
>> Click here to book a Simply Malay Buffet Dinner at Bijan Bar & Restaurant