As frequent visitors to Bijan Bar & Restaurant – the pioneer of refined Malay dining in the heart of Kuala Lumpur, we were elated when we first knew that the restaurant was ready for a spinoff that would venture in a "new-age creativity combined with traditional and local flavours that span from Indonesia, China and India". And a few months later, we were finally here at SPG by Bijan!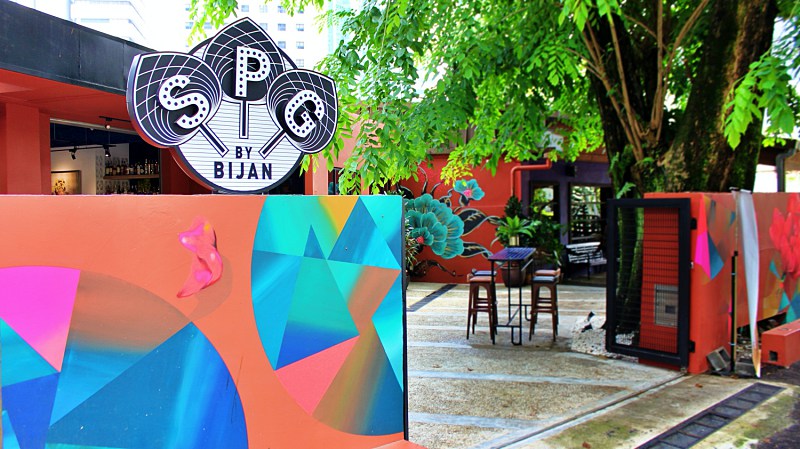 You might have already noticed that SPG, which stands for Sarong Party Grill, is actually a playful interpretation of the colloquial term "Sarong Party Girl" – who bridged a British – Malaya connection during the British colonisation back in the early to mid 20th century.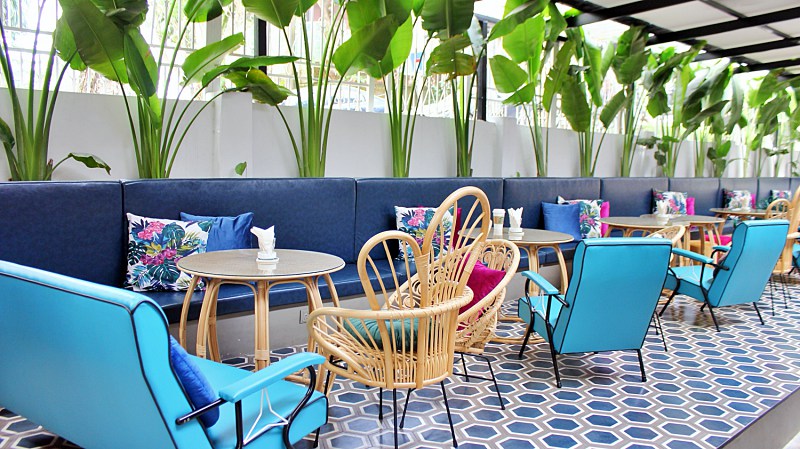 Situated at Jalan Ceylon, just a mere stone throw's away from KLCC, and next to Bijan Bar & Restaurant with an adjoining doorway, SPG by Bijan has brought a new and creative perspective to the local dining scene with its elevated renditions of local delights.  Inspired by the emblem of the East and West blending together, the establishment is a truly rare-to-find tapas-style concept where diners can freely taste a variety of all-time favourite Malaysian dishes without committing to just one gluttonous meal.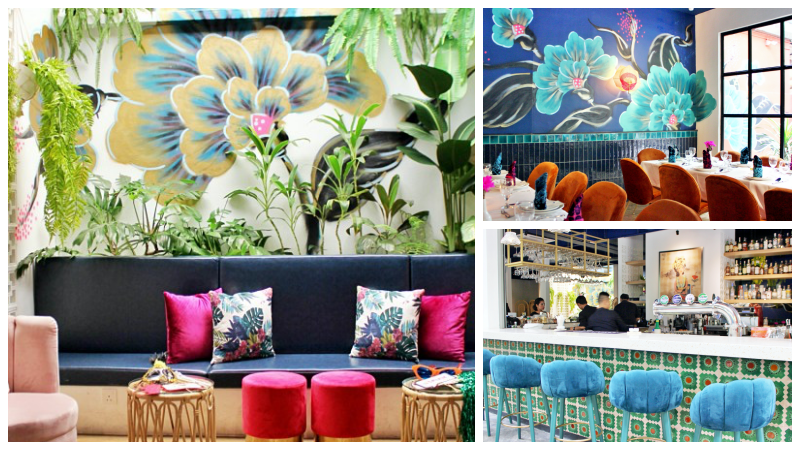 Stepping inside this dining haven and you might be lost in an artistic and whimsical atmosphere. Colourful terrace lounge, hand-printed tiled bar, floral mural emblazoned on the walls with eccentric pieces of furniture adorn the interiors, this elegantly chic restaurant promises a one-of-a-kind and laid-back dining experience which offers an assortment of tapas dishes that fuse traditional Malaysian flavours and Euro-centric techniques over exotic cocktails.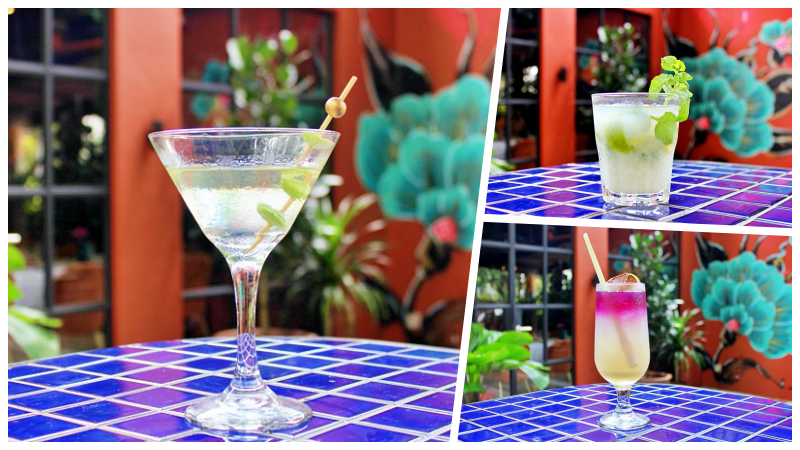 Stinkini, Cocojito, Bluepea Tonic
We first tempted our taste buds with peculiar-yet-fascinating drinks featuring Stinkini – RM35 (pickled petai, gin, vermouth), Cocojino – RM35 (white rum, lime, coconut water, mint leaves) and Bluepea Tonic – RM17 (honey, lemon, blue pea flower). The Stinkini was a truly unusual cocktail if you think of its unique element – pickled patai. This concoction would definitely suit adventurous palates who look for a unique twist in flavours!  Next came the Cocojino which captured us by its irresistible aroma while the Bluepea Tonic was eye-pleasing (definitely instagrammable, I would say). This non-alcoholic drink was extraordinary refreshing.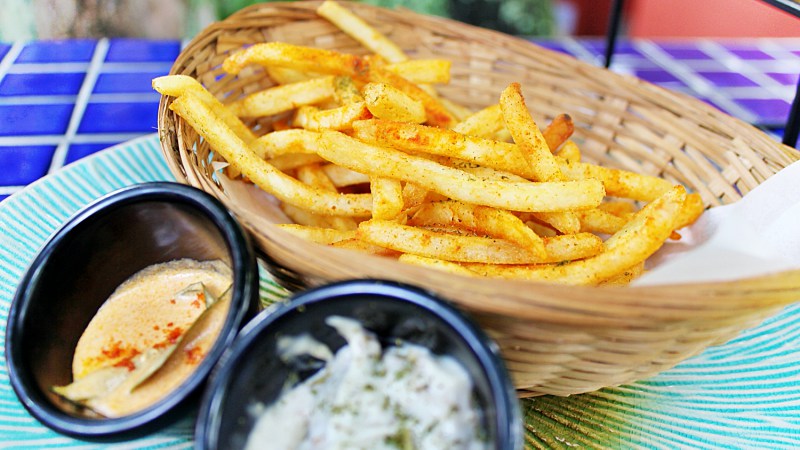 Fries Celup 
If you are searching for small bites to whet your appetites, check out the Fries Celup – RM18. The familiar French fries were perfectly complemented by anchovy mayo and salted egg yolk sauce. This combination was surprisingly addictive and the whole dish was gone within seconds. We were so impressed by the savoury anchovy mayo that my friend even thought of recreated one to pair with his homemade French fries.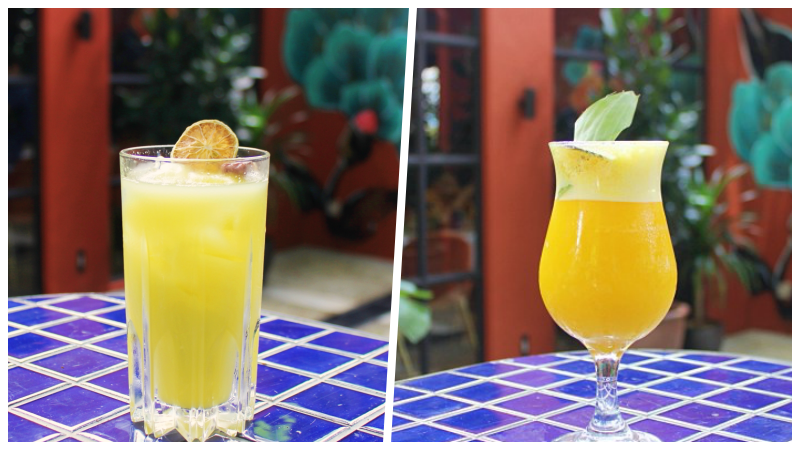 From left to right, Kedondong Kampung and Yellow Fever
Before moving to the next dish, we tucked into some of the most gorgeous and one-of-a-kind drinks featuring Yellow Fever – RM35 (gin, turmeric, lime juice, honey, tonic water) and Kedondong Kampung – RM17 (umbra, calamansi, sour plum). The Yellow Fever was eye-capturing the moment it was presented for its contrasting and alluring colour while the non-alcoholic Kedondong Kampung, with a citrus note, is the perfect choice for those who seek refreshments.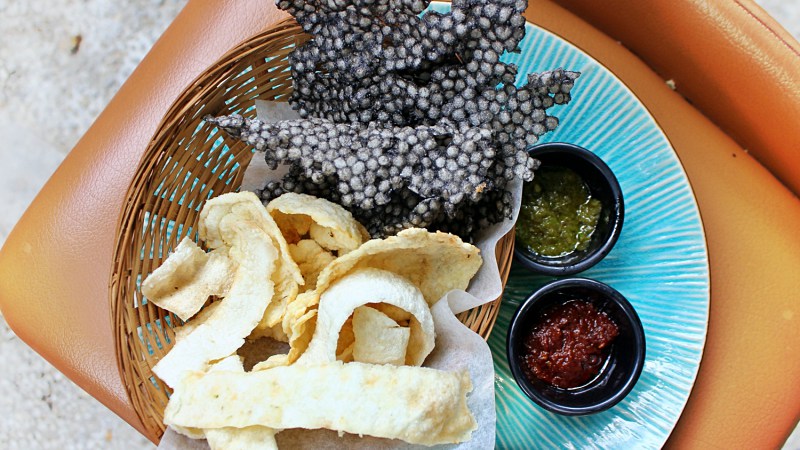 Keropok – Kerepek
Keropok – Kerepek – RM19 features 3 types of the all-time favourite homemade crackers made from natural ingredients including sago with squid ink, belinjau and santan (fresh coconut milk). Though unpretentious in its look, the snack won our hearts for its crunchy texture and delicate flavours that went well with the sambal hijau and sambal merah. We were told that the sambal dips were actually home-curated for days, which was amusing! A perfect dish for your snack time.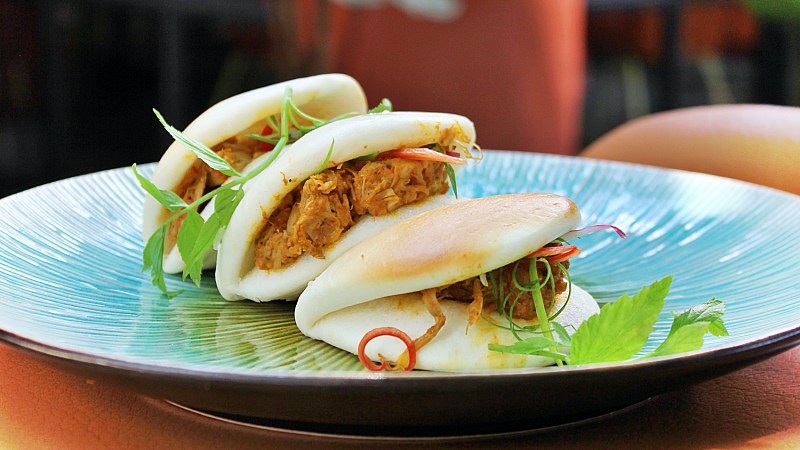 Jackfruit Rendang Bao
Another dish that got us by surprise was this Jackfruit Rendang Bao – RM26. Enthralling pieces of toasted mantou bun were packed with pulled juicy young jackfruit cooked in rendang style. We were baffled by a question – would jackfruit rendang be a risky take for our taste buds? Turned out it was nothing to be scared of but a sumptuous treat instead! The jackfruit had soft-to-the-bite goodness which nicely absorbed the rendang flavours, totally an excellent option for both vegans and even non-vegan foodies.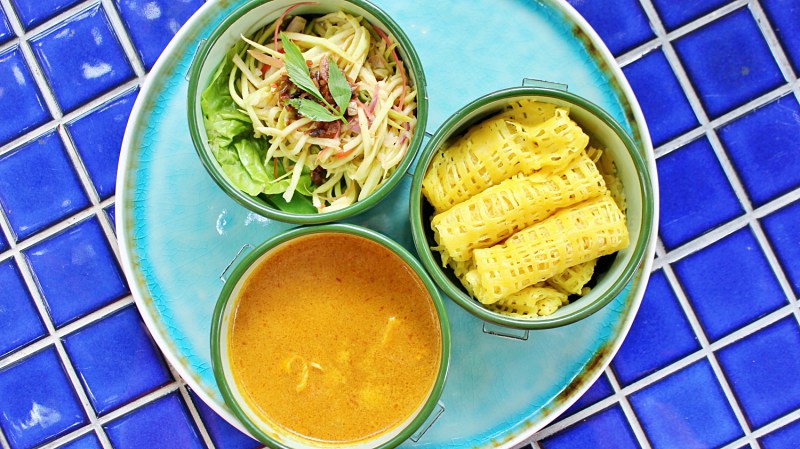 Ayam Limau Purut dengan Roti Jala Tiffin

We continued with Ayam Limau Purut dengan Roti Jala Tiffin – RM22 featuring laced pancakes served with kaffir lime chicken curry, fish floss and anchovy sambal. The curry flavours were tasty yet not overwhelming at all and that made it perfect to accentuate the pancakes which were delicate in flavours.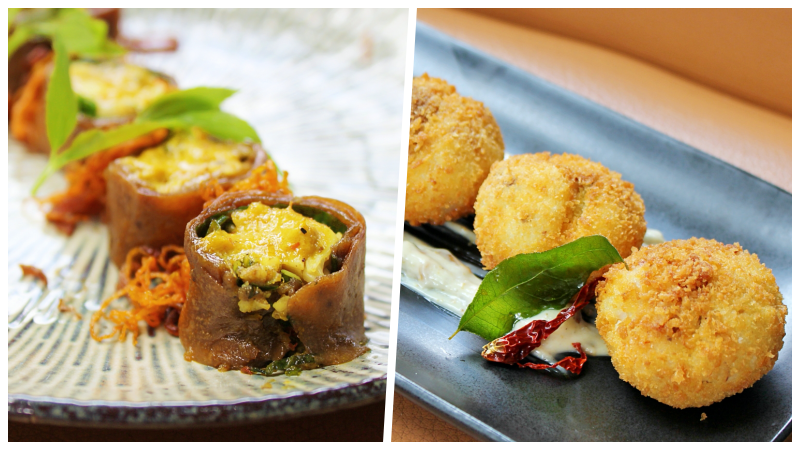 From left to right, Pais Barramundi and Ah Ran Sini
The Pais Barramundi – RM32, which is the most favourite dish of Head Chef Razis, was also one of the highlights of our meal! The dish features grilled parcel of Barramundi with banana leather, turmeric, spices and coconut. Of course, this well-thought-out dish did not let us down – sophisticated in texture with a depth of flavours, this was one of our most favourite tapas of the day! The Ah Ran Sini – RM25 is an innovative rendition of the classic Nasi Lemak. The chef had done a splendid job in putting the iconic Nasi Lemak flavours into rice balls served with anchovy mayo! Deep-fried until the rice balls were golden-brown with crunchy skin, this dish is a true delight to tickle your taste buds.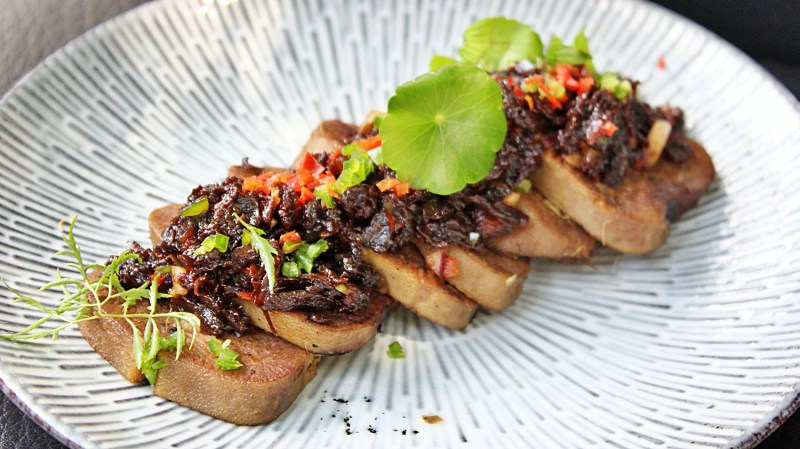 Lidah & Sambal
If you are thinking about tempting your taste buds with a uniquely good dish, this Lidah & Sambal – RM28 is definitely something you should keep an eye on. The ox tongue was braised for hours until it was tender-to-the-bite and then slightly pan-seared to give it a smoky flavour before being served with sambal hitam. A one-of-a-kind delicacy!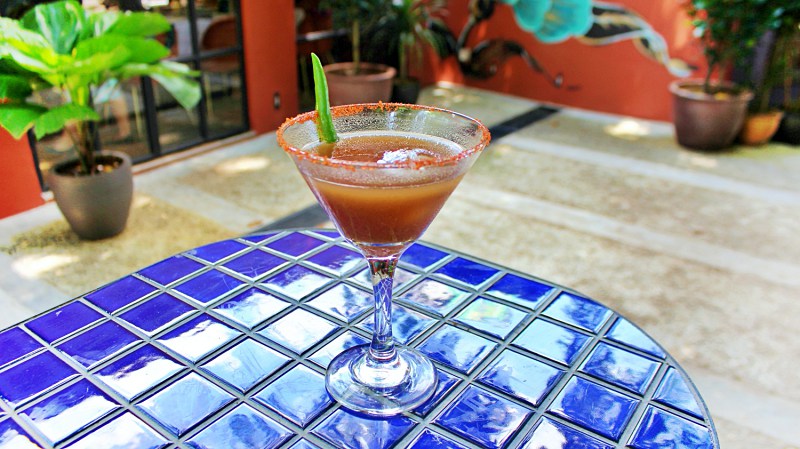 Asam Pedas
Another drink to tickle the taste buds before reveling in the grills! Ever thought of turning your favourite Asam Pedas into a drink? If you are yearning to know how it would taste like, you should keep an eye on this Asam Pedas – RM35 (tequila, triple sec and tamarind juice). To be honest, I was a bit hesitated at first, but the charismatic drink was palate-stimulating with strikingly good flavours.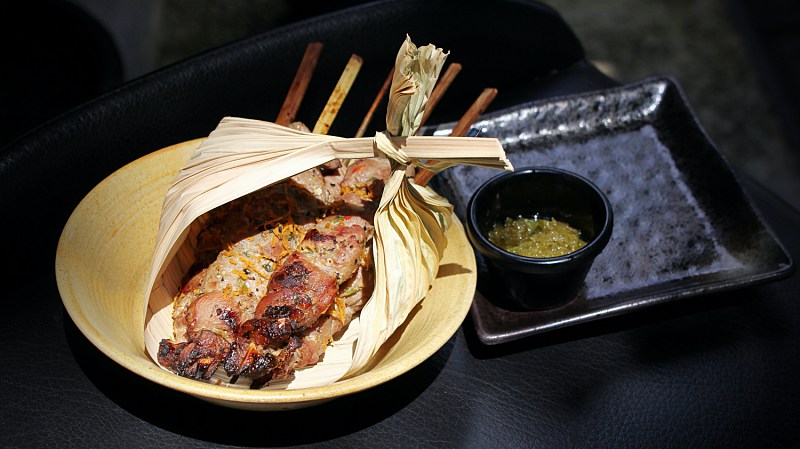 Skewers
Here comes my favourite part – the grills! We started with Duck Skewer – RM28 and Chicken Kicap Skewers. The duck legs were skillfully marinated before being grilled to perfection and served with sambal hijau while the chicken skewers were marinated in ginger soy sauce. It is noteworthy that the skewers should be consumed quickly for the best texture! We were too into taking photos and ended up the skewers were slightly dry and not warm enough, yet the flavours were still spot-on.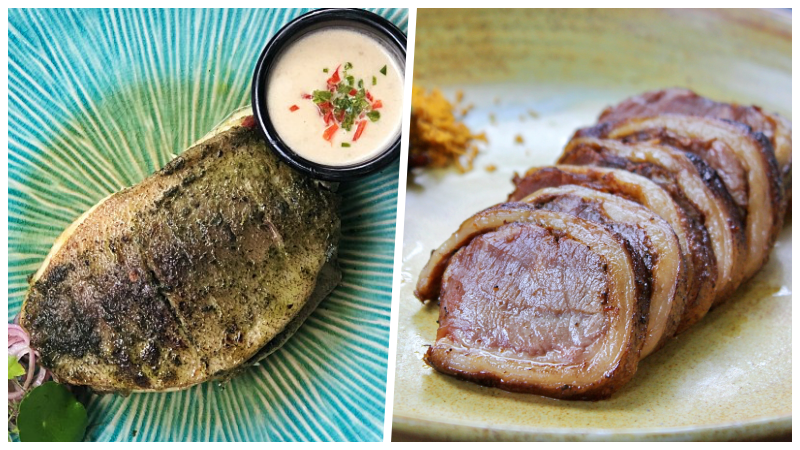 From left to right, Pomfret and Grilled Lamb Loin
The Pomfret features pan-seared black Pomfret served with coconut and galangal sauce with a touch of the sumptuous sambal hijau. The fish was pleasurable, soft-to-the-bite and was not flaky at all while the Grilled Lamb Loin – RM62 was packed with flavours which went well with the sambal.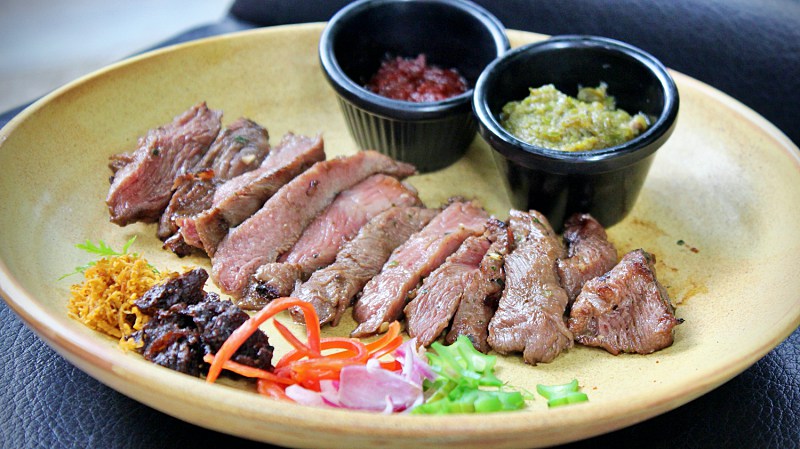 Angus Oyster Blade
The Angus Oyster Blade – RM68 is packed with flavours from the exquisite marination using fine ingredients including chilli, coriander, honey and black pepper. Not to mention, the meat already had a distinct natural sweetness that exuded in every bite. Another dish to fall in love with.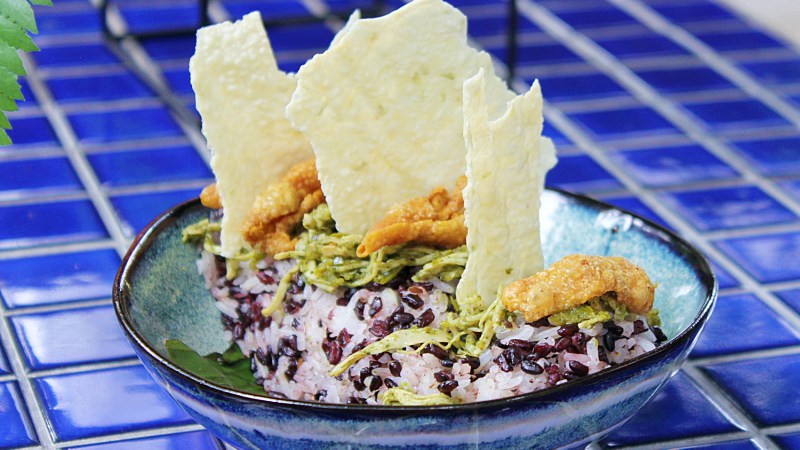 Nasi Sekinchan
This Nasi Sekinchan – RM26 is a dish that pays homage to Chef Razis's hometown. The tricolour rice with quinoa was cooked nicely and had a firm texture that mingled perfectly with Asian pesto, crunchy rice crackers and crispy chicken skin.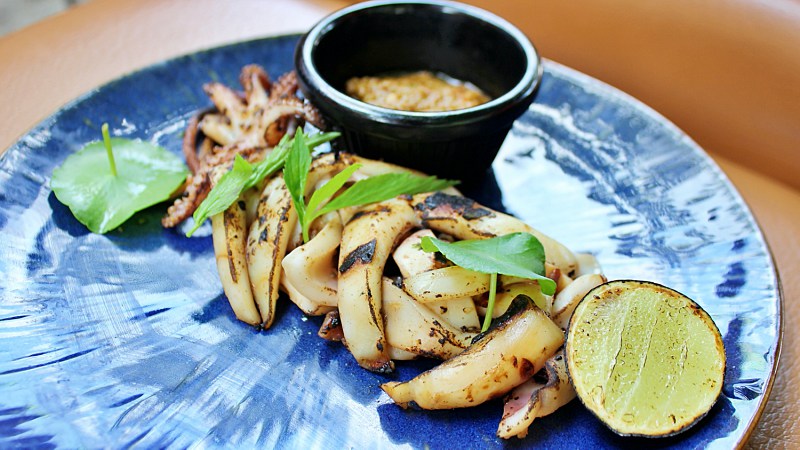 Grilled Calamari
My most favourite grilled dish of the day – Grilled Calamari – RM29! The calamari was freshly grilled  and served with the mouth-watering sambal belacan. The squid was grilled until it was on point and emanated an irresistible smoky flavours. Tender and juicy, this delight was something seafood lovers should not forgo. 
Finally, we ended our hearty treat with sumptuous desserts paired with local wine rice. Just a heads up, the desserts, which are a playful take on Malaysian favourites from our childhoods, were exceptionally good and made us all in awe!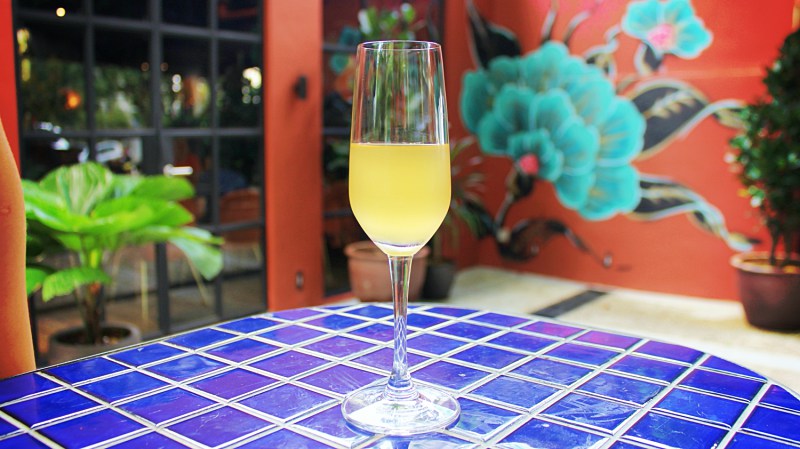 Our last cocktail of the day – Oohaa Tuak (local wine rice). As interesting as it sounds, the cocktail was outstanding in terms of flavours though it might be a challenge for those who are not familiar with rice wine!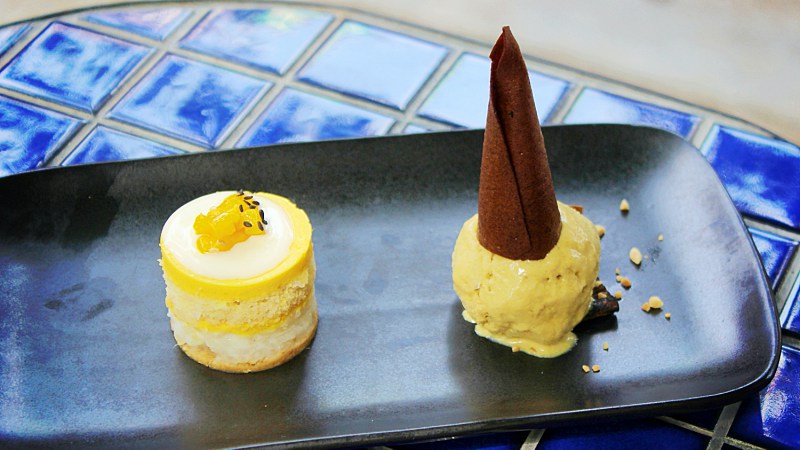 Pulut Mango Cake and Bananas Over Bananas 
Bananas Over Bananas – RM18 (homemade banana ice cream with smoky caramelized banana & dehydrated banana cone) would be a truly heavenly delight for banana lovers or those who are craving for an adventurous and fruity treat. This swoon-worthy dessert features a dehydrated banana cone that took hours to prepare. Though I am not a fervent banana lover, I still could not stop scooping until the very last spoon! There is no shortcoming in terms of taste.  

My most favourite dessert of the day goes to the Pulut Mango Cake – RM15. The fresh mango was skillfully shaped and served with mango mousse, coconut glutinous rice on top of a buttery biscuit base. The cake has such a soft texture that titillated the palate along with its delicate flavours.  A true pleasure in every bite! 
There is hardly any word that would perfectly describe our dining experience at SPG by Bijan. Lip-smacking foods and palate-titillating drinks, the restaurant offered a soul-satisfying dining experience that left a lasting mark in our hearts! We could not be more thrilled thinking about our next visit to this one-of-a-kind restaurant! Special thanks to SPG by Bijan for the invitation. 

*All food items and prices listed are as of the time taken. Kindly view the updated menus here.