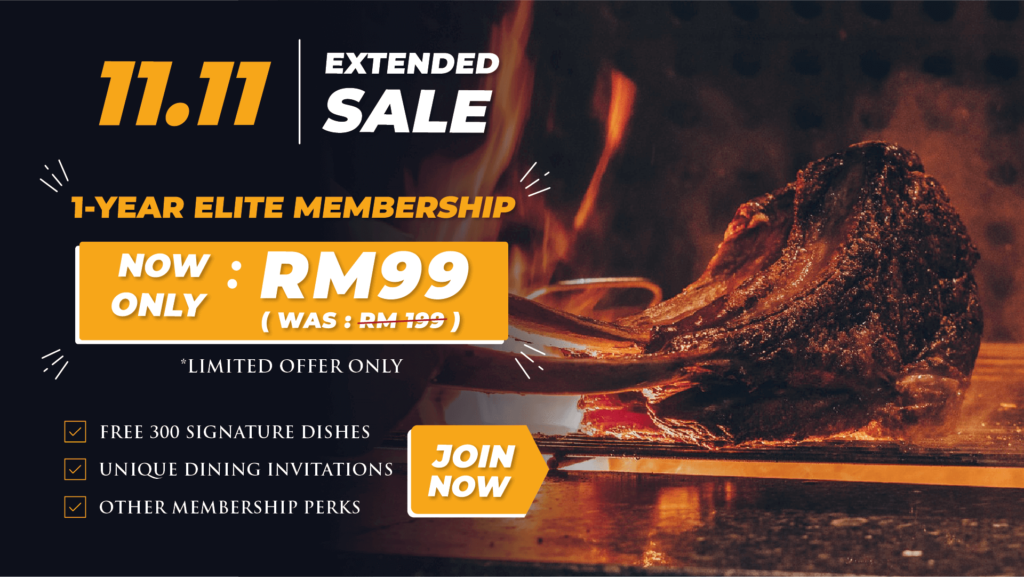 1/ What is TABLEAPP ELITE?

TABLEAPP ELITE is a membership programme which its members can redeem over 300 signature dishes with minimum spending at over 100 participating restaurants in Klang Valley.
2/ What are the other benefits of joining TABLEAPP ELITE?

Members are also entitled to exclusive invitations to fine dining events, private wine pairing events, wine tasting events, invitation-only dining events and other membership perks.
3/ Who can join TABLEAPP ELITE?
Anyone that loves foods!
4/ How do I join TABLEAPP ELITE?
You can register online here.
5/ Will I receive a membership confirmation when I register online?
Yes, you will receive your membership confirmation by email immediately. The membership is made effective upon successful sign up. This is a cardless membership programme.
6/ How much is the membership fee?
The introduction fee of the membership is RM99 per 3-month membership and RM199 for per 1-year membership.
The membership is now available at RM99 per 1-year membership with limited offer only.
7/ How many signature dish(es) am I entitled for?
More than 300 signature dishes are available for you to redeem on TABLEAPP ELITE. You are entitled to redeem 3 complimentary signature dishes at each participating restaurant outlet. Each signature dish can only be redeemed once per visit.
8/ What are the participating restaurants?
There are over 100 participating restaurants including Babe, enfin by James Won, Soleil, Kampachi, Kimiya, ANTE, and more. You can view all the participating restaurants here or in TABLEAPP mobile app.
9/ How do I redeem my signature dishes?
You can select the preferred signature dish and tap 'REDEEM'. Upon arrival at the restaurant, please kindly request the staff to key in the restaurant's 4-digit PIN to complete the redemption. A minimum spending equivalent to the dish value is required in order to redeem the dish. You can only redeem 1 signature dish per visit.