A hidden gem that offers surprises!
Quietly tucked away in Ara Damansara, Sion Dining and Bar is the prefect place for those who are looking for a quiet dining. The restaurant was headed by the Japanese chef Masamichi Shiomi. Originally born in Kyoto and raised in Osaka, Masamichi has spent some time to work in Papua New Guinea, where he was the chef to the Japanese ambassador, as well as Australia and Indonesia. Masamichi's last culinary venture was Akane in Desa Sri Hartamas.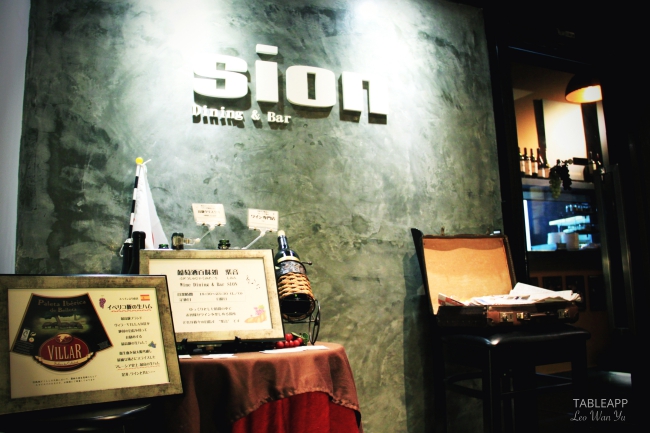 At Sion Dining and Bar, Masamichi leads the KL dining scene with his yoshoku cuisine, a Japanese-infused European cooking style. The chef delights his diners by redefining Western cuisine with Japanese touches.
Masamichi is a certified Sommelier. Sommeliers are rare to find in Malaysia. Being a Sommelier is all about dining. Sommeliers must be able to recommend wine pairings with different entrees with ease. They would be able to tell where a wine is from and its basic characteristics by only blind tasting it. As a certified Sommelier, Masamichi will give you perfect answers to any wine-related questions.
It is a no wonder the first thing you will see when you walk into Sion Dining and Bar is the walk-in wine cellar on your left.



You wouldn't find printed wine list at Sion Dining and Bar. Masamichi fills the shelves with his latest finds – sounds like finding a hidden gem – always a delightful surprise when you walk into the wine cellar.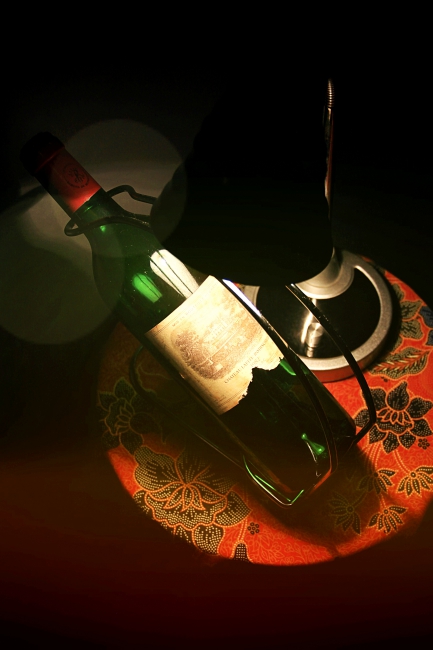 Sion Dining is dimly lit, with gigantic paintings of Marilyn Monroe hung on the walls and soft jazz music playing at the background. Seductively elegant settings indeed. It was a weekday night, Sion Dining is filled with tables of Japanese diners looking for authentic Japanese cuisines and a relax environment to hang out after work.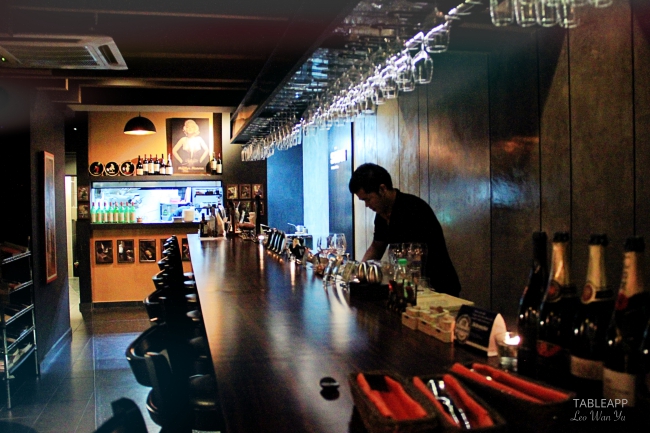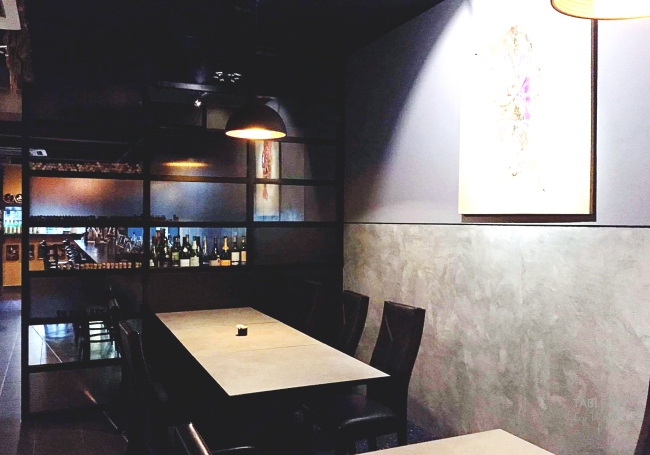 The setting at Sion Dining is seductively elegant and the cooking is undeniably engaging. Sion Dining's menu is in both English and katakana (to cater the needs of Japanese patrons they serve). Flip through the menu and you will find interesting quotes like this "Alcohol is the anesthesia by which we endure the operation of life".
We started with Iberico Pork Salami – finely chopped pork shoulder and belly – and things went interesting from here on. Iberico is prized on its unique taste created in part by the aroma of sweet acorns that the pigs feed on. The traditional methods of production of this most spectacular of hams, along with the rigorous standards of the Denomination of Origin imposed on those who choose to farm the Iberico pigs are so strict that the resulting ham deserves its place alongside caviar, truffles and champagne in the upper echelons of cuisine.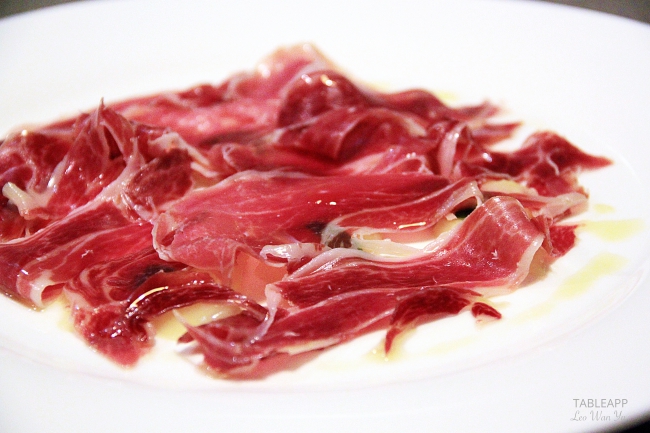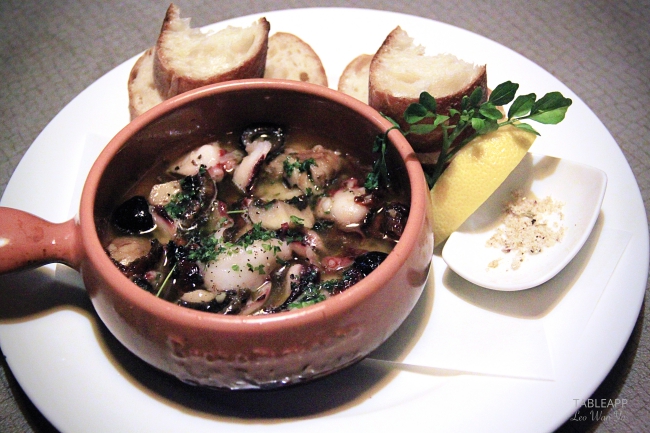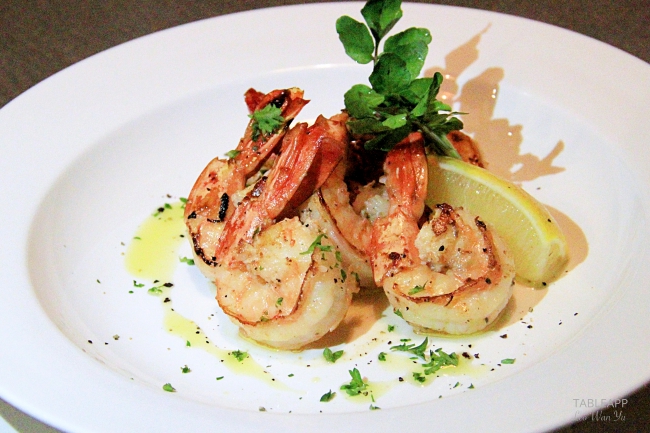 Both Tako Ajillo and Garlic Shrimp are on the specials menu. The Tako Ajillo fills your mouth with carefully prepared octopus, black olives, mushrooms, sun-dried tomatoes and garlic in olive oil. The Garlic Shrimp is a good try with a robust taste of of garlic, olive oil and lemon juice.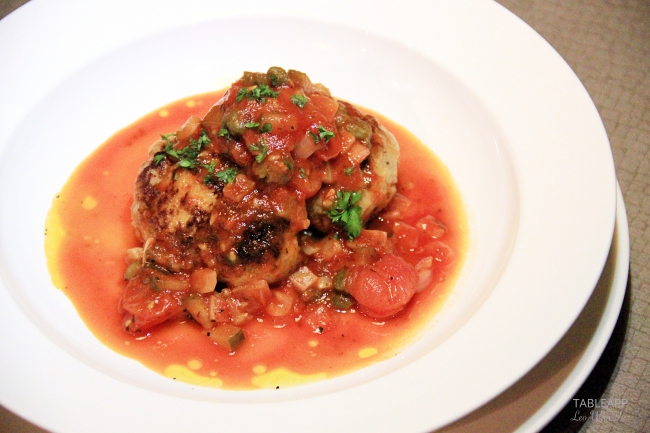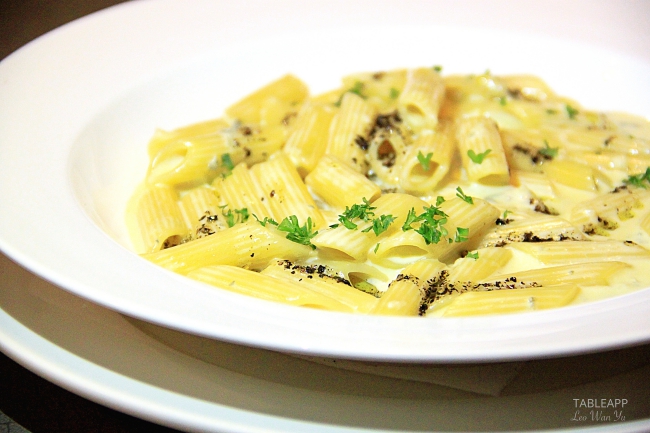 The Iberico Pork Hamburger is vastly welcome by the patrons. The 280g juicy pork patty comes with a tangy-sweet salsa sauce and tomatoes. We love the combination of the flavours. While for the Gorgon Penne with freshly crack black pepper, it is simple yet satisfying.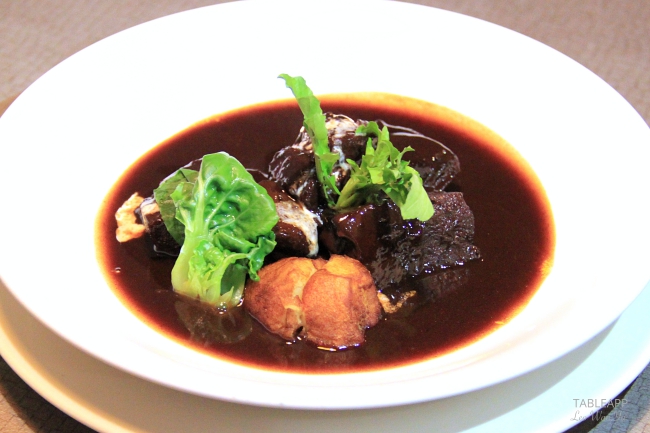 The Gyutan Stew is a must-try if you visit Sion Dining. The ox tongue is simmered for 3 nights at low tempeartures. Chef Masamichi has taken large effort in preparing the red wine sauce as well; he made the sauce from scratch. Needless to say, the dish comes out great – the genereous cuts of ox tongue are so tender after the simmering that they melt in the mouth with a burst of robust red wine flaour. Heavenly taste. For a person that does not particularly flavour of "exotic parts", it's rare for me to recommend such dish and I am actually tempting to revisit Sion DIning just for this dish.
All hail to Iberico and Gyutan Stew!
Sion Dining & Bar
B-1-16, 1st Floor,
Block B,
Jalan PJU 1A/20A,
Dataran Ara Damansara,
47301 Petaling Jaya,
Selangor,
Malaysia.
Click here for online reservation >