It was such a hectic week for my colleagues and I that we couldn't even recognize ourselves in the mirror! "It's time to refresh ourselves!", we all agreed. It didn't take us long to figure out the best restaurant for us this time – Neo Tamarind at Jalan Sultan Ismail.
Located in the heart of Kuala Lumpur yet hidden by green foliage, the tranquil ambiance here helps chasing our stress away to a true peaceful state of mind. The restaurant's menu is innovative with Asian flavors using European techniques. Its galactic bar, electro-chill music and hypnotic liquid walls brought us the 'NEO-rotic' vibe that we were longing for.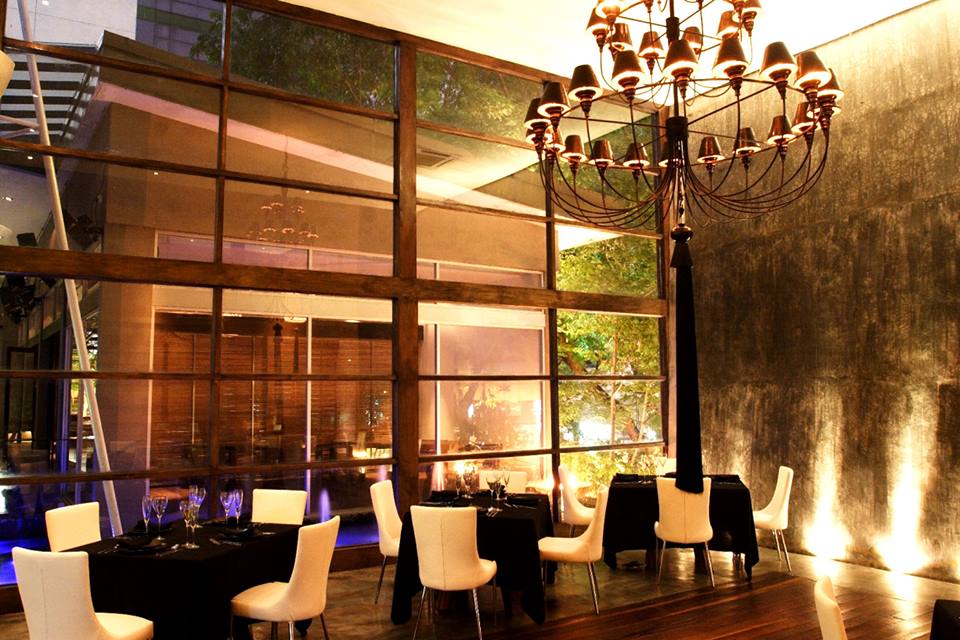 Of course, we were so glad to have our ELITE Membership as we could use it to redeem one of the 3 free signature dishes here this time.
1/ Duck Confit – RM50+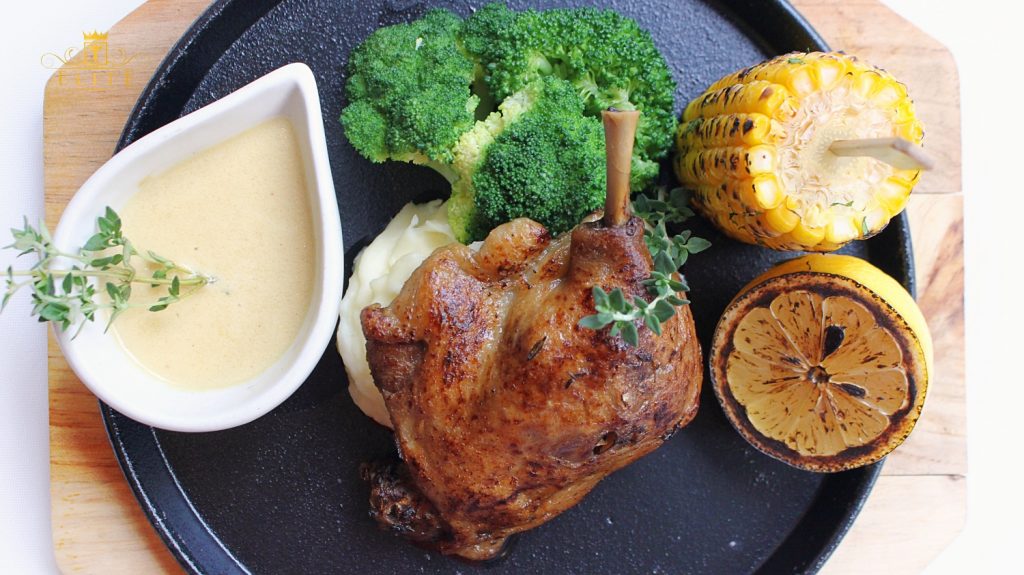 Our first choice was a scrumptious dish of Duck Confit as I'm an advocate of this traditional and hearty French dish. Duck Confit (pronounced as Kon – Fee) is simply a technique of using salt to cure the duck and gently cooked it in its own fat. As disclosed by the chef, the duck here was brined with Himalayan rock salt for 24 hours which was mind-blowing! Presented nicely, the dish fed our hungry eyes with its vibrant colors – the golden brown color of duck confit blended well with the fresh green broccoli in bite-sized pieces and the mesmerizingly burnt color from the grilled lemon and sweet corn. The charred lemon was a brilliant choice as it will robust the lemon's acidity and enhance its sweetness.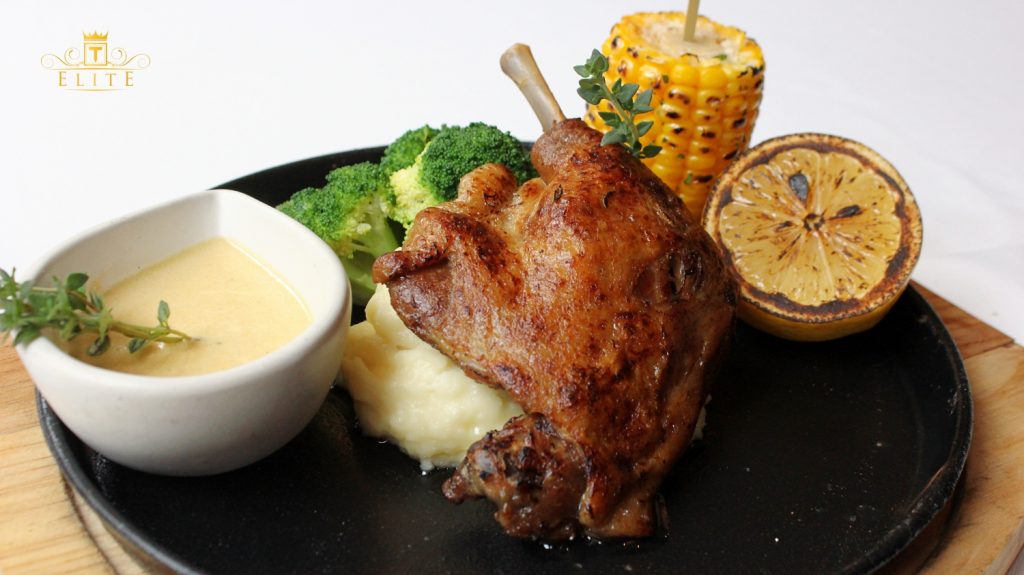 After squeezing a bit of the charred lemon of top of the duck, we carefully sliced through the duck and were delightful to hear a crack – its skin was incredibly crispy! In contrast with the skin, the duck's meat was meltingly tender as our fork can go through every shred of it! I tasted the creamy mustard sauce which was set aside, its creaminess and mellow flavor were to dream for. I personally think it's an excellent combination of the duck and the mustard sauce as your nostrils will gently flare while your taste buds are pampered with the melt-in-the-mouth piece of duck. The mustard's slight saltiness went ideally well with the juicy duck meat and totally enhanced its flavor. On the other hand, a big hand to the chef for the creamy mashed potato too. You should also taste the crunchy broccoli and the sweet corn which were also cooked to perfection.
2/ Braised Lamb Shank – RM 50+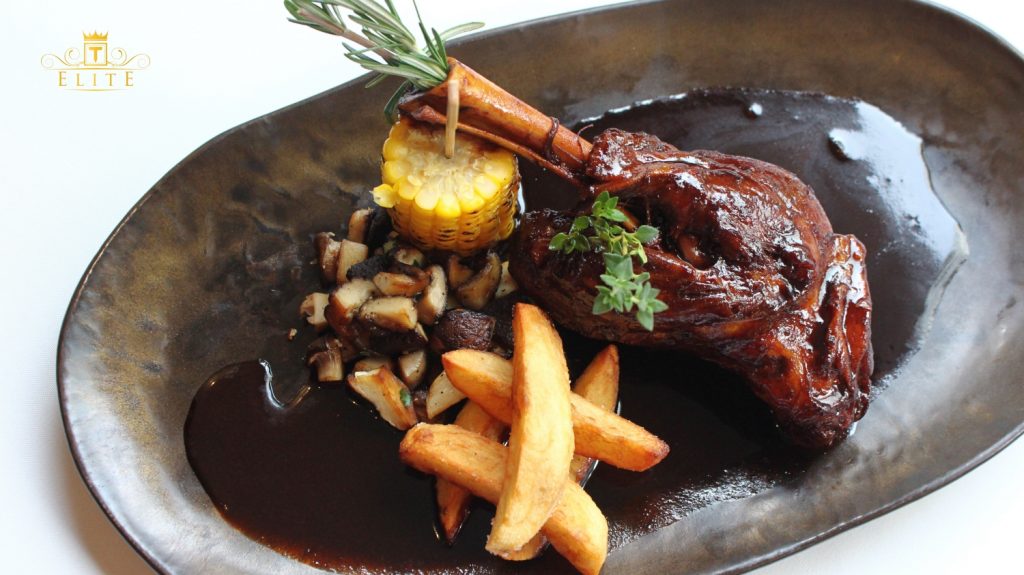 The Braised Lamb Shank was another dish that won my heart right at the first sight by its tangy smell and elegant look. A big chunk of lamb shank was put nicely alongside truffle-infused mushrooms and beautiful wedges of fried potatoes. Underneath the lamb shank was a bed of thick red wine and lamb jus, which was cooked for 3 days – this fact made my eyes open widely! To be honest, I am quite doubtful whenever it comes to lamb shank. As simple as it seems, a lamb shank can be a tough challenge and it requires skillful hands to bring the texture and taste to perfection.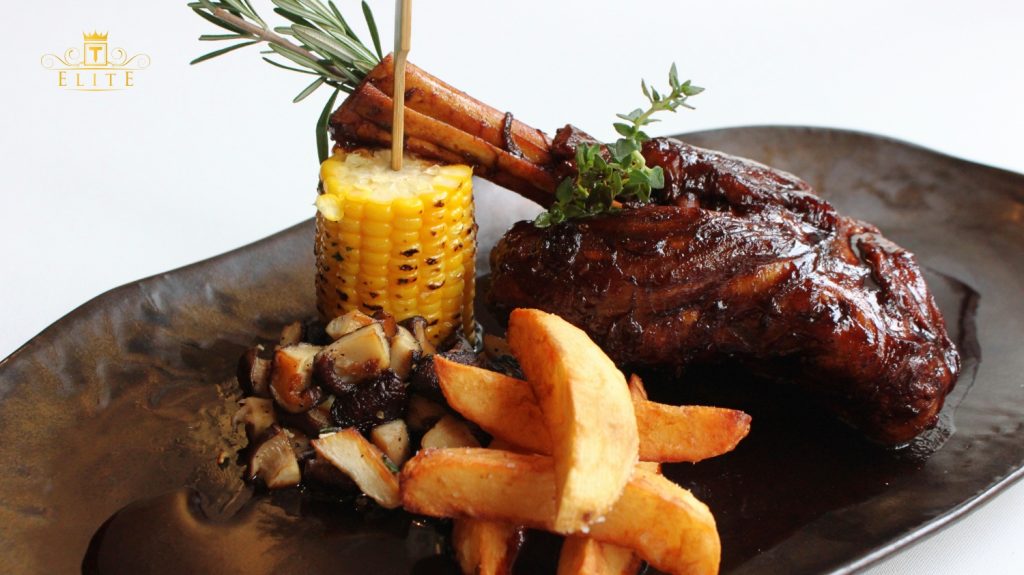 So how was the lamb shank here? Of course Neo Tamarind did not let us down at all! It was a molten goodness – glistening, rich and full of flavor. The lamb was spectacularly tender and its mild sweetness was pleasant. After being slowly cooked, the lamb's collagen turned into rich gelatin which made it amazingly nutritious! When mixing with the sauce, it became even more succulent. The sauce's rich aroma with its non-overpowering taste was a perfect complement to the tender lamb shank. I personally love the fried potatoes as it was crisply good outside yet so soft and tasty inside while my friend loves the truffle-infused mushroom for its interesting earthy taste.    
3/ Lobster Ravioli – RM 61+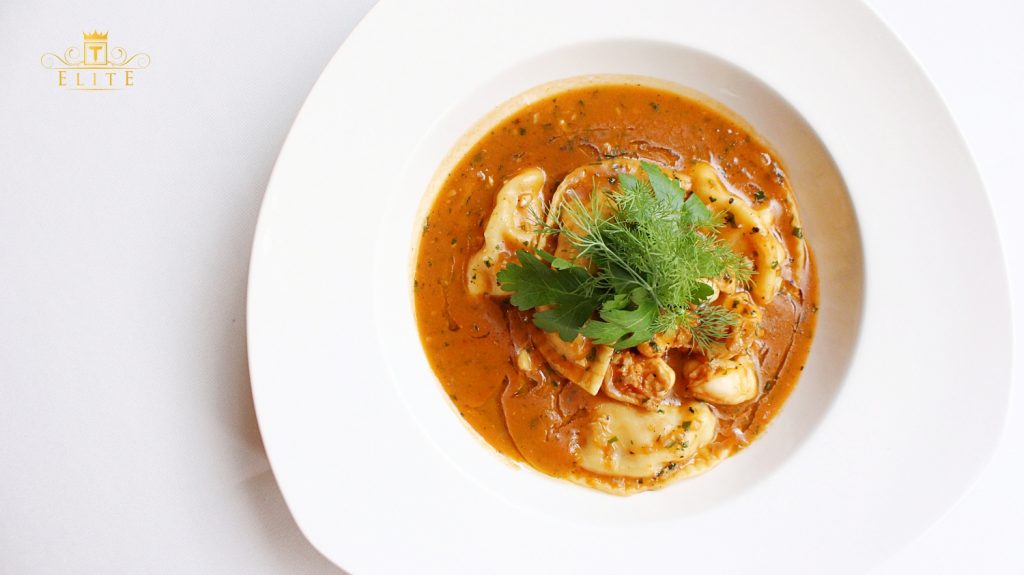 Our last dish was a heart-warming lobster ravioli. The dish came off with such a pleasant and alluring smell that we could wait no more to savour this artistic beauty. Simply garnished with some herbs on top, the ravioli was set beautifully with pieces of lobsters in an eye-catching stock – a light and vibrant dish. We were all fascinated to find out the raviolis were handmade daily and the lobster was freshly imported from Thailand. What's more? The lobster head was cooked with some Brandy to make the stock! It was not only impressive but also made the lobster ravioli a true delight as there was so much effort needed to make such a dish.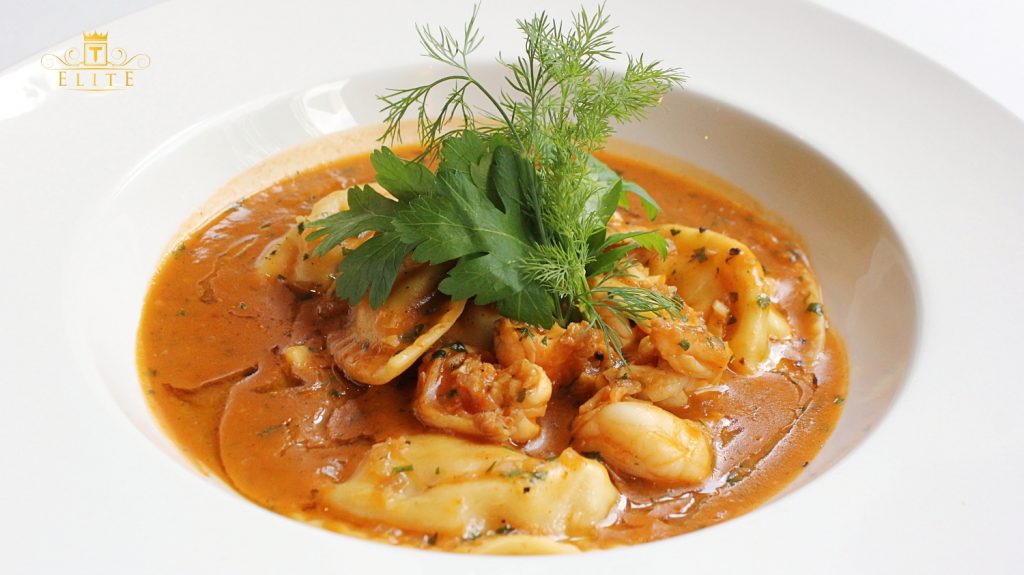 I grabbed the first piece of lobster as it was too tempting. To my expectation, the lobster was beautifully cooked! It still maintained the spongy texture but not too chewy or flaky. A briny taste accompanied with the natural sweetness from the lobster made it so satisfying. The stock was moderately seasoned and carried subtle sweetness. I was overwhelmed as the sweet stock burst out in my mouth when I took a bite into a piece of ravioli. It was an interesting moment and the dish was, in overall, irresistible!   
If you would love to view more dishes and enjoy a good time chilling at this 'neo-rotic' dining destination, feel free to click here to book a table.  
Of course, you can choose to save your money by using ELITE Membership when dining here as only ELITE members will get free dishes. For more information, find out here.
Neo Tamarind
19, Jalan Sultan Ismail,
50250 Kuala Lumpur.
Daily: 6:00pm – 11:00pm