Last week, we received an invitation from Bijan Bar & Restaurant to a sneak preview of their Kampung Warisan Buffet to celebrate this Ramadan 2018. We had a great deal of excitement and expectation as we were about to enjoy a sumptuous feast at one of the upscale Malay fine-dining restaurants in KL. In this holy month, the restaurant will serve a compelling assortment of fine cuisine in kampung style curated by Head Chef Shawai and his culinary team. Of course, my team and I would not pass up this chance.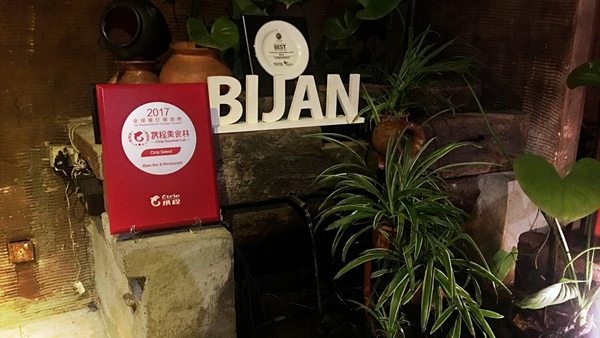 We were stunned as in front of our eyes was an extravagant spread of delectable appetizers, mains and desserts laid out on the buffet aisle. It was really enjoyable to see live-cooking stalls with friendly chefs who tailor-made all of these old-school favorites. We were ready to get spoilt!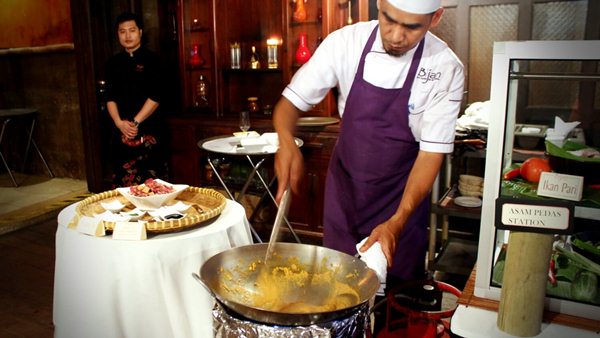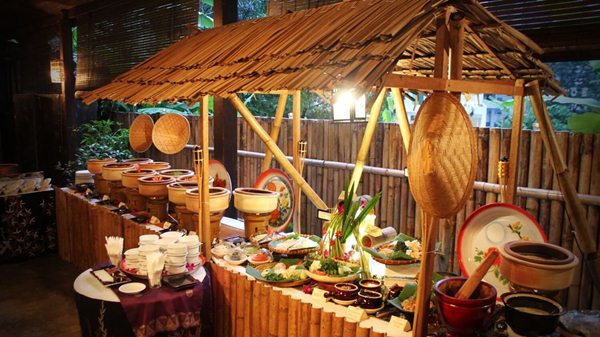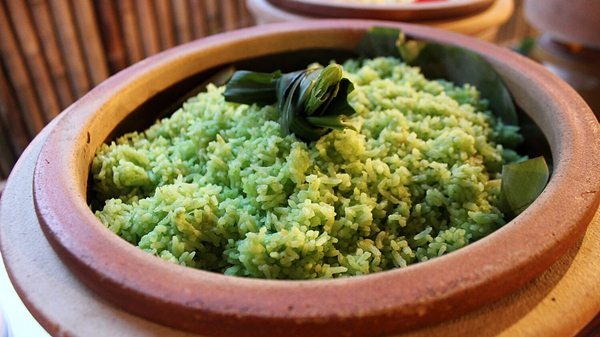 I started with Nasi Lemak Pandan as it had an eye-catching green color and inviting sweet scent. It was tender and fluffy, aromatic and ambrosially rich in flavor exuded from the coconut and pandan leaves. The Nasi Lemak with its subtle creaminess and sweetness was downright great!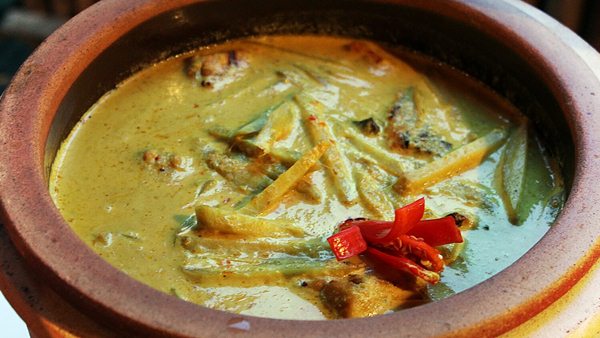 The Masak Lemak Ikan Salai Bacang stood out with its yellowish gravy and a red flower-shaped chili lain on top of it. I love how tastily rich and soft the Ikan was yet it was not flaky at all. The Bacang was an excellent choice as it added a bit of sweet and sour flavor; hence, balanced the greasiness of the fish.
Next came Kerutup Itik and Opor Daging.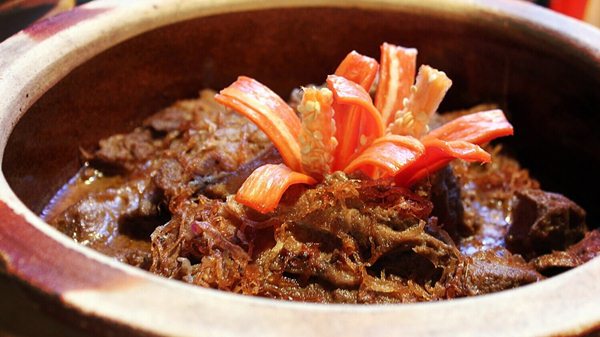 First up, Kerutup Itik. The Kerutup was gratifyingly tender with a tantalizing scent coming from various herbs and spices. A hint of piquancy lingered on the tip of my tongue, followed by a natural sweetness from the duck. What I love the most was the spot-on moistness of the meat as without a skillful hand, the meat can either be excessively juicy or overly dry.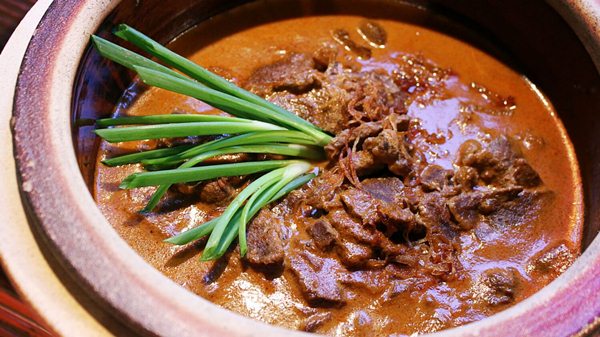 Opor Daging – which is beef slowly cooked in coconut milk, allured me by its impressively flavorful smell. It was, of course, tangy and fat as a result of being braised in the coconut milk. At the same time, the beef was incredibly tender and within a few seconds inside the mouth, the Daging emanated a comfortably beefy taste which was absolutely outstanding.
If you are prawn aficionados then it's time to whet your appetite because these two upcoming dishes will definitely capture your heart.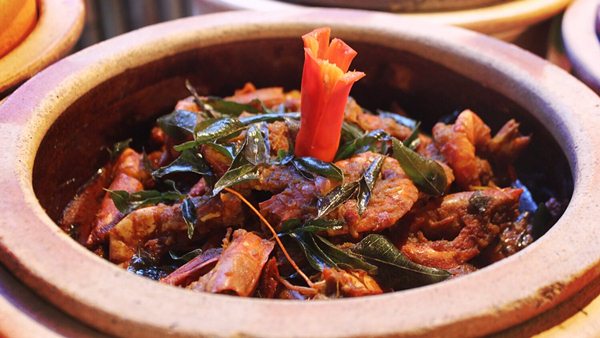 Udang Sambal Berempah is a spicy dish that would also mingle perfectly with the Nasi Lemak Pandan. Though its spiciness tingled my whole tongue, the freshness of the prawn was still spot-on. A decent heap of spices and heat crept into my nose and enticed all the taste buds. Simply too good to pass up!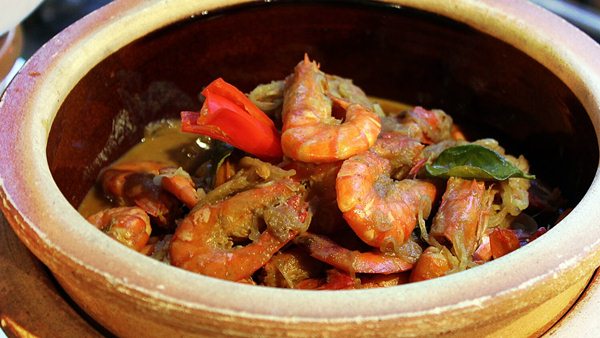 What would it be to taste udang with tempoyak (fermented durian)? I was swept away after the first bite – the prawn was so rich and deep in flavor which I believe only tempoyak can bring such taste to it.  The udang oozed its own sweetness which was then complimented by an exquisite flavor and fatness from the tempoyak. This intense richness was so addictive that I could not help but picked one more piece. It was such a guilty pleasure.

I could wait no more to introduce my 3 favorite dishes of the day.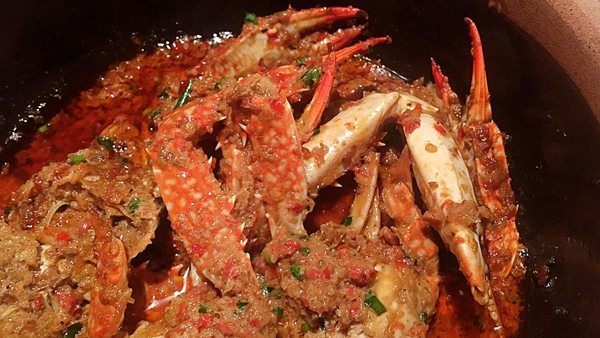 Don't be deceived by the Ketam Cili Bersantan's unpretentious look as your mind will be blown after the first bite. I was gobsmacked! The crab was perfectly cooked until its meat became buttery, incredibly soft and truly melt-in-the-mouth.  There is no shortcoming in terms of taste. It totally won my heart for its tantalizing creaminess and perfect spiciness. And I know I might sound over-exaggerating but it was truly heaven in your mouth!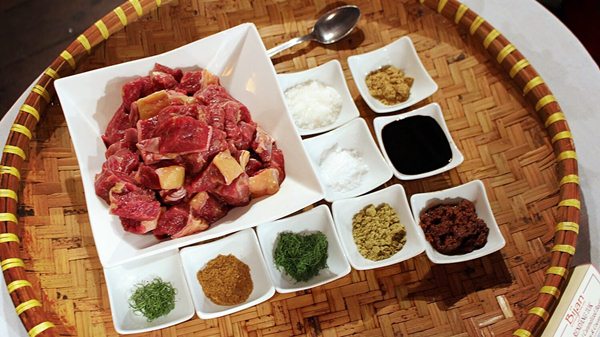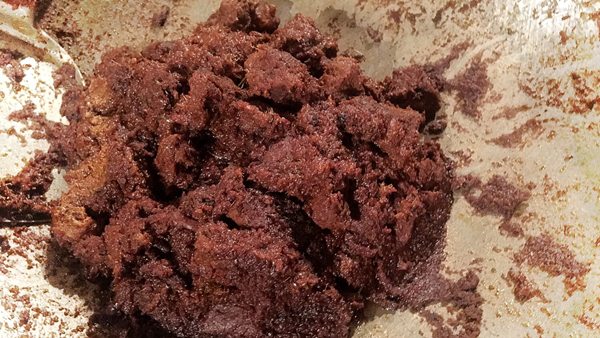 The golden-hued 'kerisik' (toasted coconut) and its tempting smell silently triggered my salivation. The beef was wonderfully flavorful! The luscious sweetness from the beef mixed nicely with the kerisik which then enticed all the five senses. Every shred of the meat boasted a tangy and honey-like flavor on the tip of the tongue. What can I say? Extraordinarily scrumptious!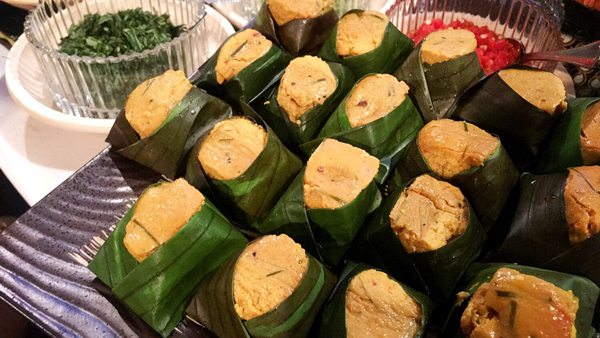 It took me a few seconds to realize these stunning morsels are Otak-otak. Innovatively wrapped in a unique way which showcased its attractive yellowish color, the Otak-otak totally captured my attention once they were brought out. Its incredible tenderness was spot-on. I still remember vividly the spiciness, fieriness and molten goodness blended well together in just one bite, leaving my eyes close in admiration. I was totally in awe!
I am an ardent advocate of Kerabu, to be honest. I love the burst of rich and fresh flavor when the Kerabu hits the tongue and the robust aftertaste that lingers once you savored every morsel. Of course you should not miss the 3 dishes of Kerabu here which are Kerabu Isi Ketam, Kerabu Ikan Pari and Kerabu Kerang Bersantan.
It's time for some noodles!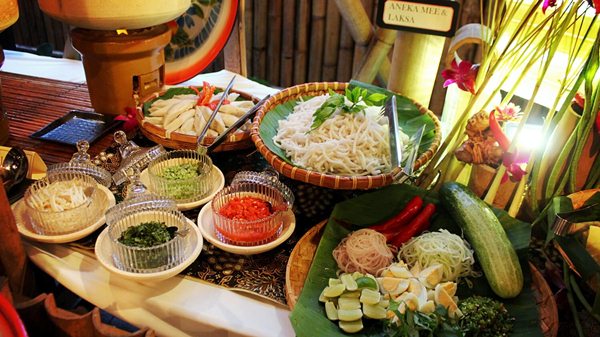 I grabbed a bowl and started to customize my own Laksa Kedah. A hint of "pedas-ness" hit my tongue within a second, followed by the combination of sourness and sweetness from the broth. If chili is not enough to titillate your taste buds, just take a dollop of sambal for a spicy kick!
It was the first time I had ever heard about Laksam – a laksa dish which is commonly found in the East Coast. The rice noodles were made nicely into multi-layer flat rolls. I was excited to shower these fine cuts with the rich and creamy kuah putih – a white gravy made from coconut and fish. The softness and freshness of the rice noodles made every bite a pleasant treat. The kuah putih was tangy and as elegant as it seemed, it added a hint of coconut flavor which was enjoyable and slightly sweet. I love it!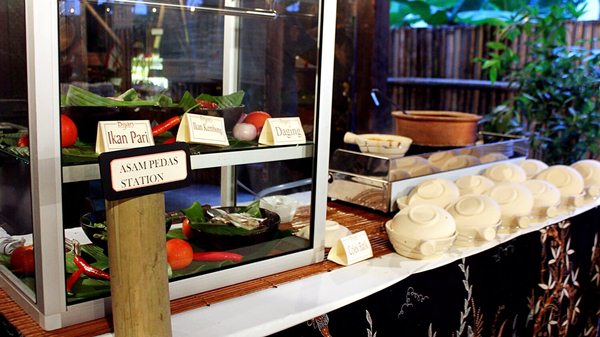 Don't forget to pay a visit to the Asam Pedas stand which tucked away in the corner. Here you can pick your favorite ingredients such as Ikan Pari, Ikan Kembung and Daging and get the fiery hot Asam Pedas brought to your table in the blink of an eye.
Finally, it was time to please my sweet tooth – dessert time! The bite-sized desserts fed our eyes with their attractively colorful looks and various shapes. Here comes a quick tour for it.
My two most favorites are Apam Balik and Pengat Pulut Durian.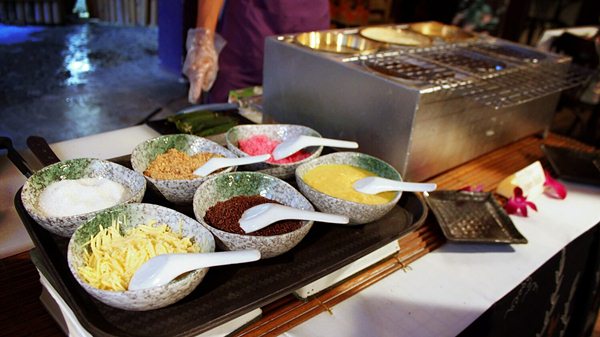 I firstly went to the Apam Balik section as it was freshly made on the spot and you can customize your own Apam Balik! Nevertheless, the chef would generously give as many sprinklings and fillings as you want! The Apam Balik here was truly a delicacy for the soul. It was crispy outside yet moist inside, oozed a luscious scent and of course, an additive sweetness that you cannot resist.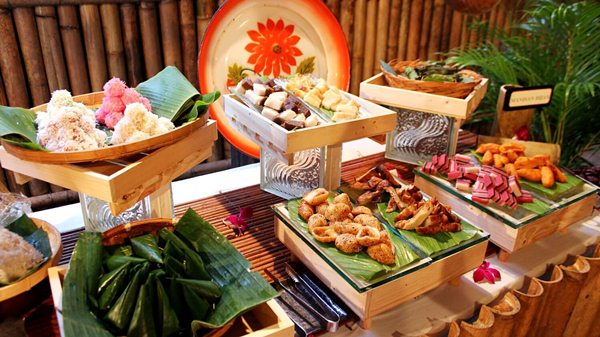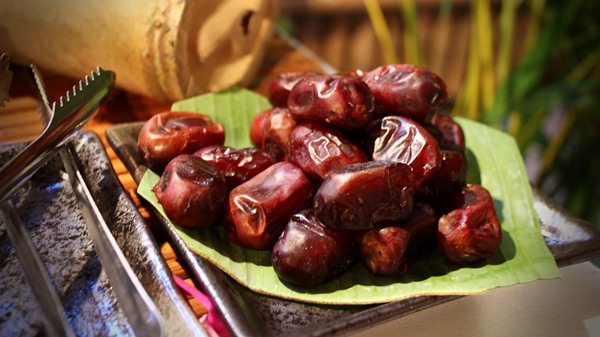 The Pengat Pulut Durian which is glutinous rice with durian sauce was a true indulgence for durian lovers! The durian sauce was creamy and fat as usual and it will definitely melt your heart. Don't forget to try the Bubur Caca which was just as delectable and the all-time favorite Kuih Muih which made me totally enthralled by their moderate sweetness and fluffy softness.

After all this heavenly indulgence, I was overwhelmed to know that this is just a prelude to more dishes coming in 4 specially rotating tailored menus served in this holy month. These luscious delights really nurture my ever-growing love for Malay cuisine with its perfect renditions of old-school tastes as well as innovative flavors. Special thanks to Bijan for this opportunity.
Early bird promotion at RM100 nett per person. Early bird vouchers can be purchased at Bijan or online via TABLEAPP online reservation. (T&C apply)
>> Click here to book a table at Bijan's Kampung Warisan Buffet.
KAMPUNG WARISAN buffet
RM110++ per person. Early bird at RM100 nett per person before May 21, 2018.
Time:    Available from May 21 to June 13, 2018.
Buffet from 7pm to 9.30pm.

A-la-carte menu from 9pm onwards.
Bijan
3, Jalan Ceylon,
50200 Kuala Lumpur.