It was during the preparation for Chinese New Year that we received an invitation from Bijan Bar & Restaurant for a special sneak peak session on their Valentine's menu. This stunned us for a little just to realize that this Valentine's Day 2019 will take place within the Chinese New Year celebration.
We had a dose of excitement as Bijan has always been surprising us with their innovative ways of enjoying food. What made us more thrilled was this award-winning Malay fine-dining restaurant had come up with an out-of-ordinary menu –  Baba Nyonya Dondang Sayang to pay homage to the unique Malay and Chinese cultural marriage – a thoughtful and meaningful effort for this special occasion.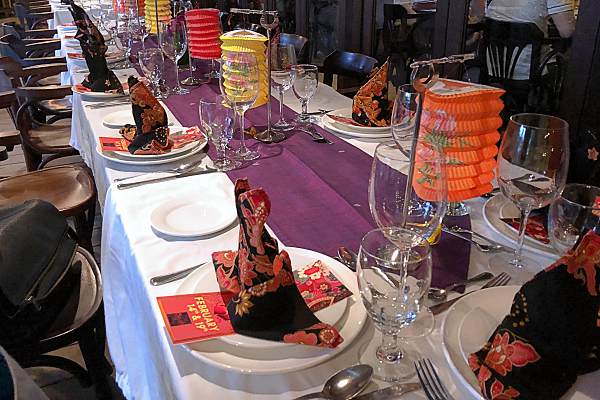 The table was decorated with beautiful lanterns. 
It took us only a few minutes to reach the restaurant as Bijan is located just a mere stone throw's away from KLCC. Bijan welcomed us with a warm yet chic ambience and serenaded us by its soothing music background – an intimate setting for a romantic escapade. As we stepped in, the restaurant was fully packed with people. We were lucky enough to have a special table arrangement. If you are planning to visit this fine-dining restaurant, don't forget to make reservations in advance.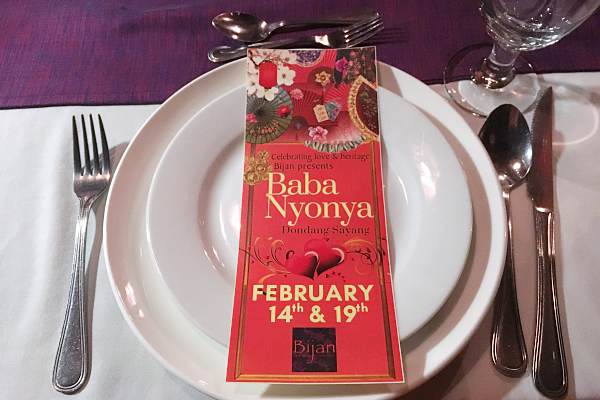 A sneak preview of the Valentine's menu at Bijan
We couldn't wait to start this unique culinary adventure to relish a 4-course Baba-Nyonya-inspired menu which we were introduced that it would bring a "twist on traditional offerings of togetherness". 
Before starting the meal, diners will be spoilt with choices as there are 4 types of complimentary cocktail or mocktail to choose from. Each couple can pick 2 of these unique drinks.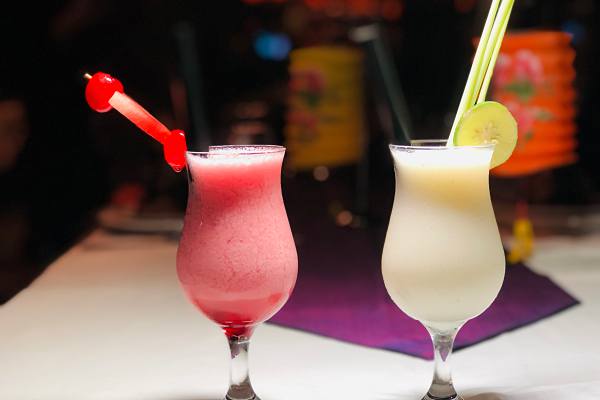 From left to right – Pink Ginger & White Hibicus Mocktail which were refreshing and subtle in sweetness.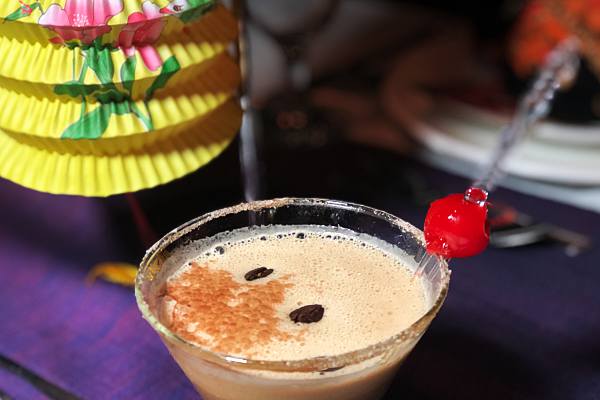 Don't Cut Ali Cocktail which is named after the main ingredient Tongkat Ali – a natural energy booster herb. Expect a hint of coffee taste and a robust sensation with a touch of heat aftertaste.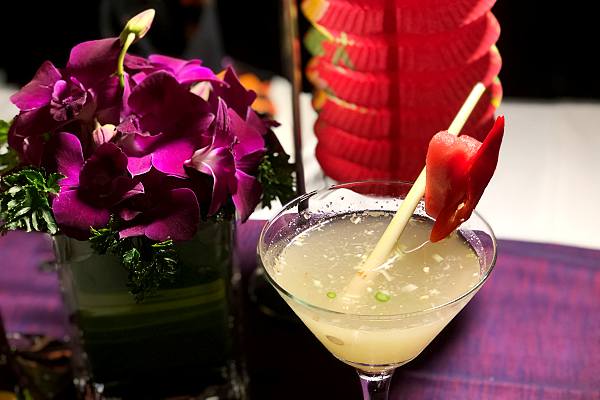 An exciting cocktail – Chili Martini which would make you say wow for the burst of flavors on the tongue. 
1st Course – Sharing Is Caring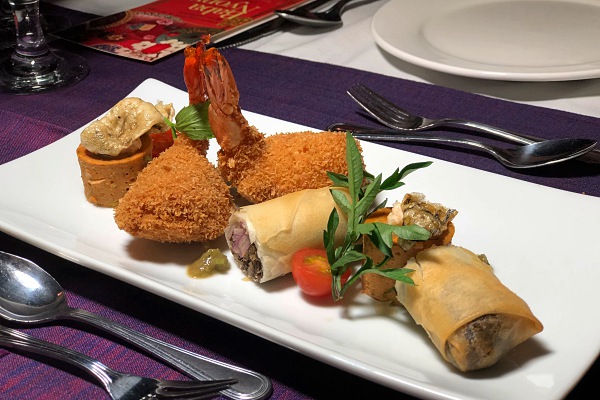 King Fish Otak-otak, Prawn Coconut and Banana Blossom Rolls
We began by reveling in Srikandi – a sharing plate featuring King Fish Otak-otak, Prawn Coconut and Banana Blossom Rolls in pairs. These bite-sized morsels were perfectly presented to showcase a different beauty of familiar offerings in a finer approach.
The King Fish Otak-otak appeared in an out-of-ordinary yet fine-looking shape – cylinder, with an incredibly crispy fish skin lain on top. Take a bite and a hint of spiciness and molten goodness will excite your taste buds! The rolls impressed me as they were fried to à point and filled with banana blossoms which resulted in an absolutely crunchy texture along with a tantalizing aroma! Finally, the Prawn Coconut oozed a delicate sweetness as it was coated in coconut crumbs. 
2nd Course – Togetherness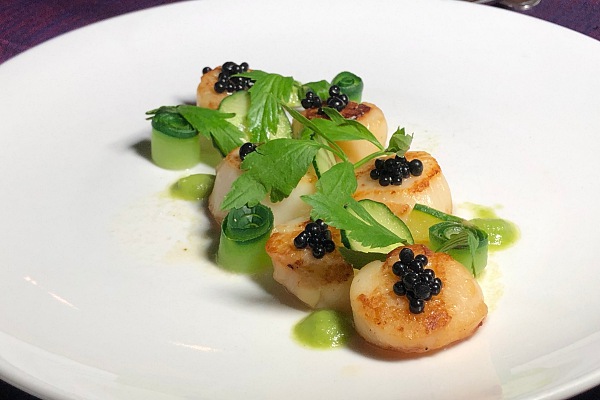 Pan Seared Scallop on Coconut Potato Puree Drizzled with Extra Virgin Coconut Oil and Lemongrass Espuma and Budu Belacan Caviar
Our second course – Kekapis Arjuna, totally made us gobsmacked for the seemed-to-be-caviar creation. Using 2 familiar local ingredients including budu (anchovies sauce) and belacan (shrimp paste), the chef had amazingly turned them into a caviar-like delight which exuded a delectable dollop of savory and sourness in each bite. The Pan Seared Scallop was silky smooth, ambrosially rich and delightful. Our advice is to quickly savor the scallop after it is plated to fully enjoy its deliciousness and avoid it turning cold!
3rd Course – A Match in Heaven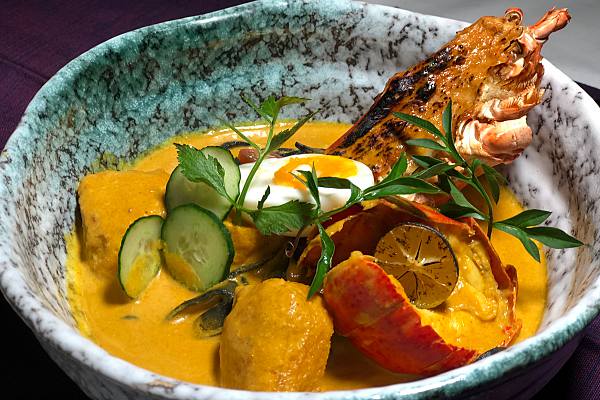 Half Baby Lobster Laksa Baba Nyonya Classic Served with Otak-otak & Homemade Squid Ink Pasta
First was an eye-catching bowl of Laksa Baba Nyonya classic with a yellow gravy which was so vibrant that we couldn't stop admiring. The Squid Ink Pasta (which nestled under the lobster) was skillfully handmade and perfectly mingled with the subtle creaminess of the laksa. I was in love with this dish as the heap of piquancy from the laksa excellently accentuated the lobster flavors and the Otak-otak was incredibly spot-on.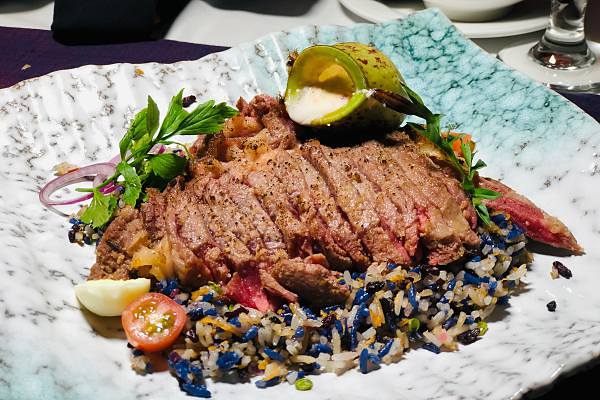 Pan Seared Fermented Prime Australian Angus Ribeye Served with Roasted Smoked Rice and Herbal Tricolor Rice
The Daging Salai Angus Nasi Ulam was a true show stopper! Beautiful slices of Fermented Prime Australian Angus Ribeye were set on top of a colorful bed of Roasted Smoked Rice and Herbal Tricolor Rice. Only the best rice was hand-picked to be smoked for 6 hours under slow fire for the best flavors. The 3-day fermented beef also amazed us with its juiciness and an irresistible beefy taste in the mouth. The restaurant's homemade sauce, which was put in a pitcher plant (wow!), was splendid as it enhanced the beef taste. We relished everything about this dish! 

4th Course – Happy Ending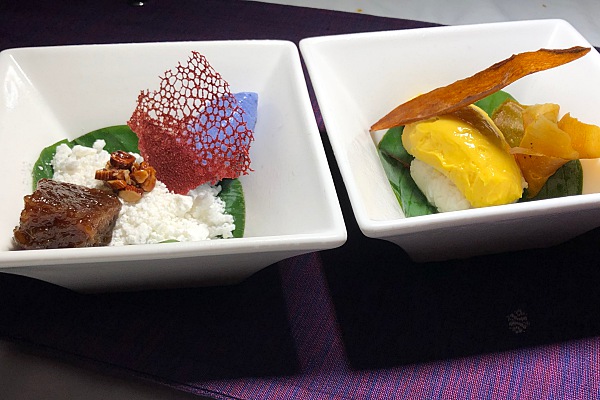 From left to right – Nila Seputih Salju and Bersepuh Emas 
We ended our meal with two superb delicacies which the flavors still linger in our mind up till now.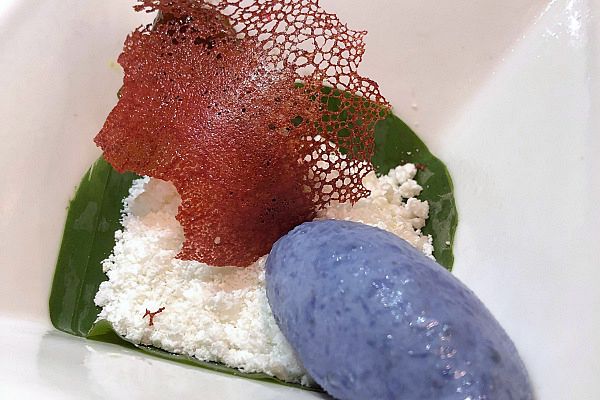 First off, Nila Seputih Saljiu which is Wajik and Bunga Telang Rambutan Sorbet Served on a Bed of Coconut Snow. The sorbet was not only tantalizing for its natural color from the butterfly pea flower but also sumptuous with a subtle sweetness from the rambutan. The wajik (sticky rice cake) was an exquisite addition as it went well with the melt-in-the-mouth coconut snow.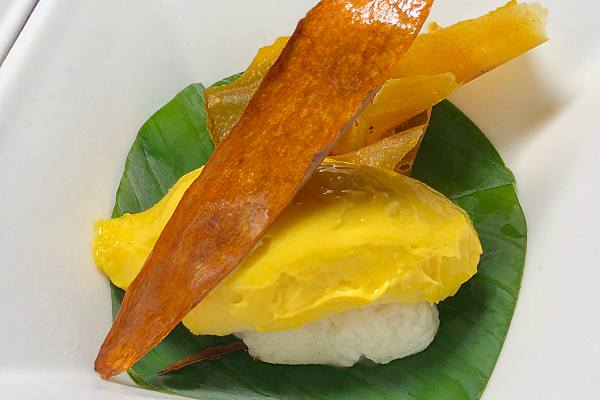 Next was Bersepuh Emas which is Tapai Pulut and Mango Sorbet With Crispy Mango Skin and Fruit Leather. The use of mango skin as a part of this delight totally made us astonished! To be honest, I did not know mango skin could be this tasty! The Tapai Pulut, using family-heirloom recipe, was one of the best I've ever tasted. A spoonful of this combination was enough to titillate my palate and capture my heart.
As a celebration of Valentine's Day and the last day of Chinese New Year (also known as Chinese Valentine's Day), the menu will be available on 14th & 19th February 2019. We expressed our wish of having the menu throughout the entire week, yet the chef revealed that he had to arrange this to preserve the highest quality of the ingredients – another reason for us to pay respect to this man!
Special thanks to Bijan Bar & Restaurant for having us on this sensory journey to excite the palate and delight our heart and soul. Thank Chef Razis for inspiring us with your creativity, passion and thoughtfulness in each dish.  



Valentine's Special: Celebrating Love & Heritage – Baba Nyonya Dondang Sayang
Time: 14th & 19th February 2019. 
Price: RM398++ per couple


Bijan Bar & Restaurant,
Location: 3, Jalan Ceylon, 50200 Kuala Lumpur
>> Click here to book a table at Bijan Bar & Restaurant