Nestled in Pavilion Kuala Lumpur, Kampachi – the multi-award winning restaurant, is recognized by avid foodies and discerning diners for its truly authentic Japanese cuisine with ingredients sourced from Japan and the art of traditional methods of food preparation. 
As someone who has always been succumbing to Japanese delights, I did not miss out a chance to gratify my palate with a wide array of sumptuous delicacies at this much-loved restaurant to get drifted to Japan. I also found out the 3 most-favored dishes by frequent diners here which you definitely should not forgo! 


1/ Wagyu Tataki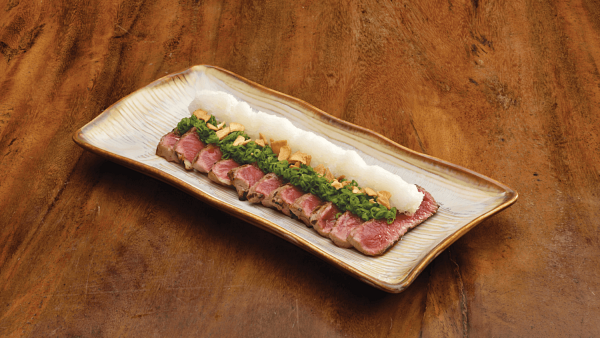 If you can't decide whether to have a dish of tasty sashimi or to chow down on succulent steaks, Wagyu Tataki will offer you the best of both worlds! The Japanese-styled delight was prepared by briefly searing thin pieces of gorgeous-marbled Australian Wagyu beef before topping these enthralling slices of meat with ponzu vinegar, grated radish and garlic flakes. I love the combination of the rich-flavored Wagyu beef with the ponzu vinegar as this citrus-based sauce balanced the heavy taste of the beef. Melt-in-the-mouth and flavorful yet not too heavy, this dish is a perfect start for a wholesome meal! 

2/ Salmon Trio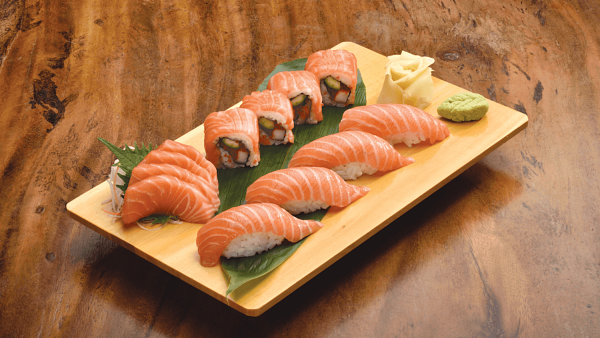 What's better than gratifying your palate with delectable salmon in 3 ways? If you are salmon lovers, don't miss out this signature Salmon Trio. The dish is a combination of sashimi, sushi and reverse maki rolls of 4 pieces each, featuring high-quality salmon. I was overwhelmed when the dish was presented as its appearance alone was enough to whet my appetite. While the sashimi melted my heart with its tenderness, the sushi and maki rolls excited my taste buds for the subtle and refreshing taste. This dish is a splendid choice for those who love a taste of everything.
3/ Sakura Course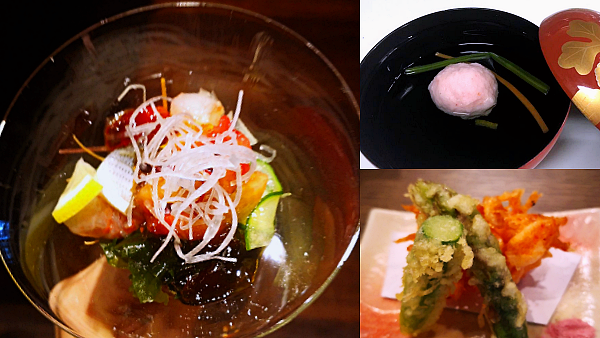 The Sakura Course would be everything a Japanese cuisine fan could ask for! This signature 7-course Omakase meal focuses on the spirit of "leave it to the chef" with dishes curated based on seasonal items.
My meal started with Crab Meat with Vinaigrette Jelly and Fresh Vegetables which was rejuvenating and exciting. The next dish – Prawn Ball Clear Soup, surprised me as the soup was filled with umami taste despite its unpretentious look! Crunchy to the bite, the deep-fried Lady Finger and Sakura Prawn Tempura with Sakura Salt was irresistible.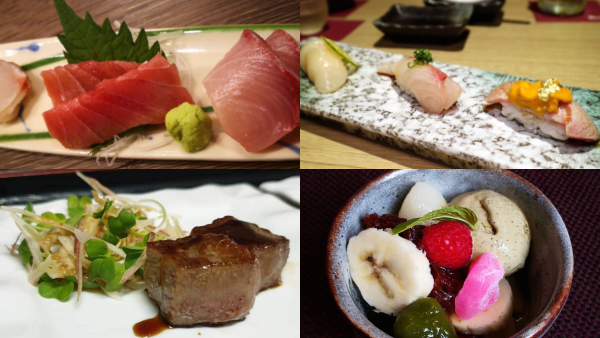 Next came 3 kinds of assorted sashimi and I was thrilled to know that diners can request for their preferred choices! The grilled dish of the day – Wagyu Saikoro Steak with special Truffle Soy Sauce was my favorite dish of the day for its juiciness and flavorsome taste while the 3-kind sushi dish was heaven in disguise! I was blown away by the torched toro topped with the heavenly lip-smacking sea urchin. The final dish was soul-satisfying as the Anmitsu with Hojicha Ice Cream was a wonderful sweet-ending for such a gastronomic adventure. 

Kampachi Pavilion
Location: Lot 6.09.00, Level 6, Pavilion Kuala Lumpur, 168, Jalan Bukit Bintang, 55100 Kuala Lumpur.
>> Click here to book a table at Kampachi Pavilion