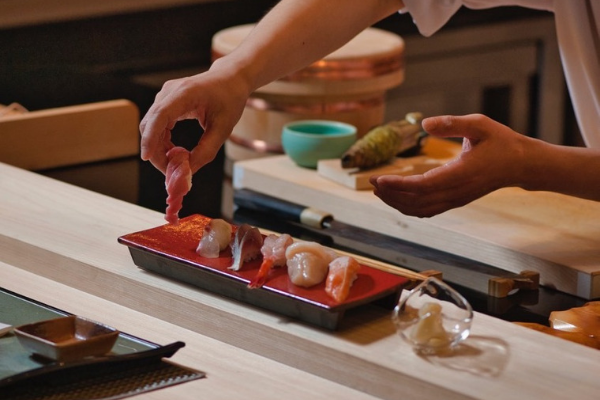 A decadent dining experience relishing and admiring Insta-worthy delights has become a norm and one could hardly resist dining out just to enjoy such eye-pleasing and palate-titillating experience. However, if you are seeking a more soul-satisfying and unique gastronomic dining experience to delight all the senses, Omakase dining would definitely be worth trying.
If you are wondering what is "omakase", it is actually a Japanese word that simply translates to "I will leave it to you", in this case the chef will be in charge.
Why try omakase you ask? You will be surprised that not knowing what you are eating actually heightens your senses of taste and smell! Just close your eyes and savour the complex flavours and texture of each and every dish served.
3 Things You Need To Know Before Trying It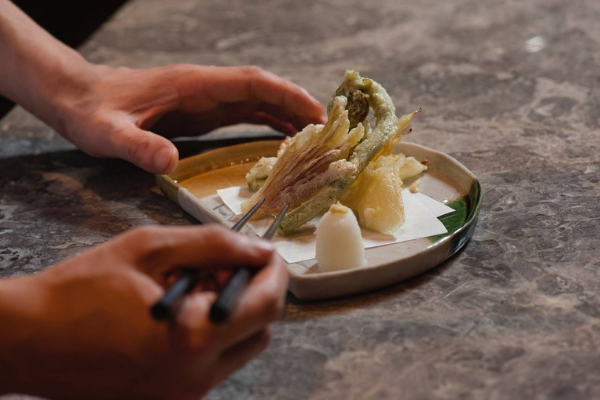 1. Seated facing the chef
Unlike other restaurants, diners will be seated at the sushi bar and will be able to interact directly with the chef. Omakase dining allows the chef to personalize your dining experience, hence there will be no more than 10 guests per dining session. This way, the chef can make sure each diner is given the appropriate attention and best service.
2. There will be no menu
Don't even bother asking for the menu because you won't be getting it. The whole idea of omakase is letting the chef decide what to be served, this way the chef can flex their culinary creativity. So, simply relax and enjoy the show!
3. Expect more attention from the chef
Ever wondered what is the chef's inspiration behind a dish? In omakase dining, you are most welcome to ask the chef. Besides, diners might even be surprised by how much attention they will be getting from the chef. Expect small talks, dish explanation and also at time, a little instruction on how the dish should be enjoyed.
Here is a fun fact: If you notice a thick wooden 'Geta' plate in front of you, don't move it! That is where the chef put your sushi.

Omakase Dining in Klang Valley
Undecided on what to eat or feeling a little adventurous? Well, omakase is always a great option and if you don't know where to have it, we have got your back! Here is our hand-picked list of restaurants that offer great omakase dining that you should not forgo!
1. Nobu KL
Location: Level 56, Menara 3 Petronas, Persiaran KLCC, Kuala Lumpur City Centre, 50088 Kuala Lumpur. 
>> Click here to book a table at Nobu KL
2. Sushi Azabu
Location: ISETAN The Japan Store, LOT 10, No. 50, Jalan Sultan Ismail, 50250 Kuala Lumpur.
>> Click here to book a table at Sushi Azabu
3. Kampachi EQ, Kampachi Plaza33 or Kampachi Pavilion
>> Click here to book a table at Kampachi
4. Ishin Japanese Dining
Location: No. 202, Persiaran Klang, Batu 3 3/4, Off Jalan Klang Lama, 58000 Kuala Lumpur.
>> Click here to book a table at Ishin Japanese Dining
5. Sou Omakase Dining
Location: G247, Ground Floor, The Gardens Mall, Mid Valley City, Lingkaran Syed Putra, 59200 Kuala Lumpur.
>> Click here to book a table at Sou Omakase Dining
6. Iketeru @ Hilton KL
Location: Level 8, Hilton Kuala Lumpur, 3, Jalan Stesen Sentral, 50470 Kuala Lumpur.
>> Click here to book a table at Iketeru @ Hilton KL
7. Uroko Japanese Cuisine
Location: 2nd Floor, 22-A-1, Jalan 17/54, 46400 Petaling Jaya, Selangor.
>> Click here to book a table at Uroko Japanese Cuisine
8. Hanaya @ Grand Millennium
Location: Lobby Floor, Grand Millennium Kuala Lumpur, 160, Jalan Bukit Bintang, 55100 Kuala Lumpur.
>> Click here to book a table at Hanaya @ Grand Millennium