Perched on the 58th floor of Banyan Tree Kuala Lumpur, right at the heart of the Golden Triangle, Horizon Grill has the best of both worlds – a swoon-worthy grandeur view of Petronas Twin Towers and KL Tower with a menu of succulent seafood, grill and extensive wine list! Stepping inside and you will be thrilled by the impeccably sleek and idyllic design of this much-lauded establishment. Spacious yet intimate with a splendid backdrop of the city, this place would leave a lasting mark on your heart!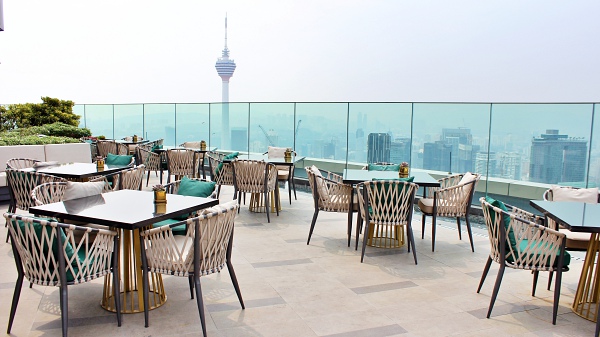 Alfresco Dining at Horizon Grill @ Banyan Tree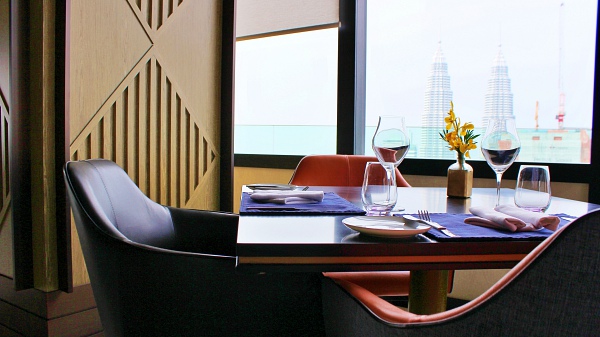 Indoor Dining at Horizon Grill @ Banyan Tree
It was not hard for us to notice the love and devotion for foods emblazoned on the craftsmanship, the well-thought-out menu and the rigorous process of hand-picking fresh produce with strictly no MSG in cooking. A perfect dining spot for a whimsical indulgence and the taste of the zenith!
We were ready to get gratified by 3 of the best signature dishes here which have earned a number of loyal fans, including even the most discerning connoisseurs! 
1/ Fine De Claire Oysters On The Half Shell (12 Oysters)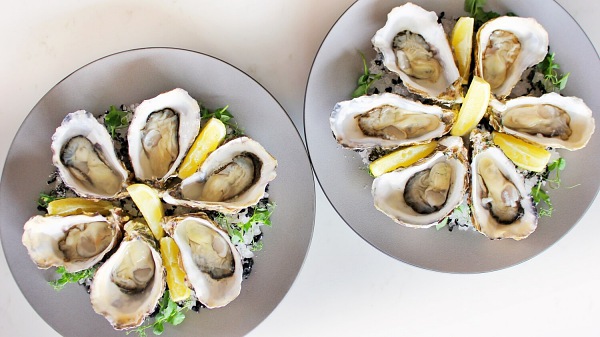 Our appetite was whetted with the first dish – Fine de Claire Oysters on The Half Shell! 12 tantalizing pieces of Fine de Claire Oysters were served on the half shell together with the house-made shallot vinaigrette, lemon wedges and Tabasco. 
Before reveling in the sumptuous delicacy, I was baffled for a moment by the question "What distinguish Fine de Claire oysters from others?" and the answer was soul-satisfying as it speaks to my never-ending pursuit of top-quality delights. Fine de Claire Oysters must be finished in knee-deep claires (rectangular ponds) at a certain density and rigorously checked following top regulations. The oysters have distinct appearance of elongated shell and softer-colored in flesh. These highly sought-after oysters are known for their consistency in shape, meatiness, succulent taste filled with naturally sweet and fruity flavours that they have taken from the water.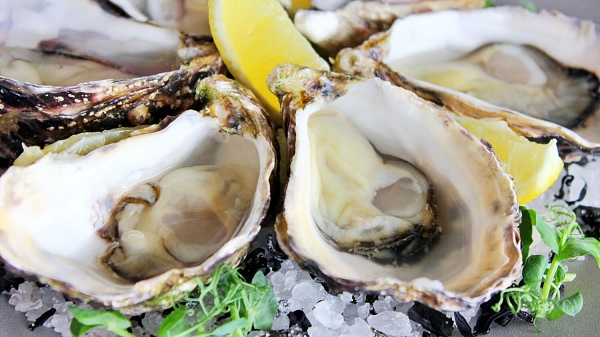 At Horizon Grill, Fine de Claire Oysters are imported from France and freshly shucked to maintain their freshness. Each oyster was a briny odyssey on the tongue for its velvety texture along with a balance of saltiness and sweetness. The hand-picked lemon wedge was a secret flavor-boosting weapon that brought out the best taste of the oysters. We devoured 12 oysters in no time and were still tempted to have more! What a positively addictive indulgence!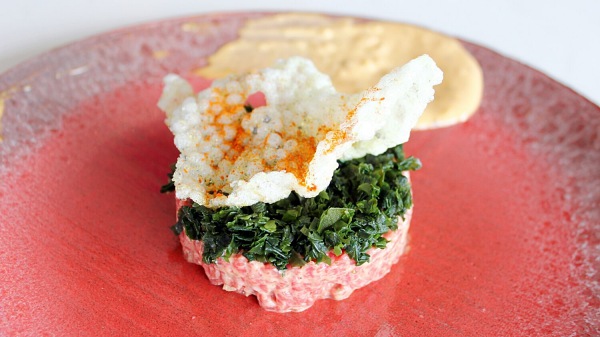 The next signature dish, Steak Tartare, features a fillet minion portion of Grass-Fed Angus Sirloin, black peppers, shallot, capers, wakame (seaweed) and crunchy tapioca chips. Skillfully hand-cut by the top chefs and marinated lightly with fine black pepper from Sarawak before being mixed with shallot and capers, the Australian Grass-Fed Angus Sirloin had such a soft and buttery texture that one could hardly resist. I was blown away when mingling the steak with the tapioca chip! The tender-to-the-bite goodness of the steak was excitingly complemented by the crunchy and light texture of the chip! The Japanese seaweed not only added a whip of visual flair but also subtle nuances to the dish. Delicate in flavours yet enough to titillate your taste buds, this signature dish would make your eyes close in appreciation!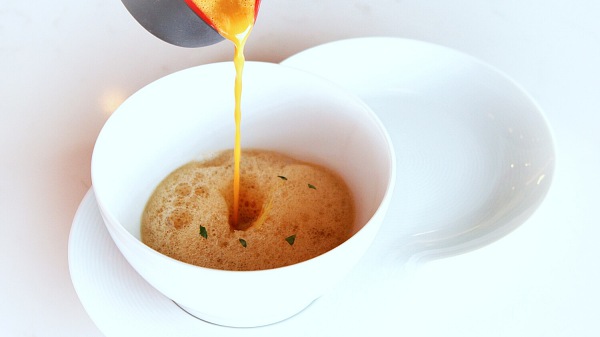 Finally, we ended our gastronomic indulgence by tucking into the crowd-pleaser Crustacean Bisque – featuring Warm Crab Meat Salsa, Saffron Rouille and Lobster Foam. We were allured by the striking aroma exuded from the seafood-rich bisque, silently triggering our involuntary salivation. Though unpretentious in look, this unique delight has its taste do all the talking! Just the first scoop and our taste buds were already satiated with the oceanic taste of the crustaceans. The bisque tickled my palate with a deeply-flavoured yet not overly bold taste while the warm crab meat was melting on the tongue. Its surprisingly light and smooth texture was accented by the strains of lemon zests which perfectly balanced the briny taste of the crustaceans. So tasty you wouldn't say no to another bowl! Aromatic and flavourful, this signature dish is a true pleasant treat for seafood aficionados. 
>> Click here to view this Crustacean Bisque
TABLEAPP ELITE Members can redeem these signature dishes for free! Find out more about TABLEAPP ELITE here!
Horizon Grill @ Banyan Tree Kuala Lumpur
Location: Level 58, 2 Jalan Conlay, 50450 Kuala Lumpur
Operating Hours: Daily: 12:00pm – 3:00pm, 6:30pm – 10:30pm
>> Click here to book a table at Horizon Grill @ Banyan Tree Kuala Lumpur