"You are in for a treat!" – said my friend after she knew that she got promoted. Of course I was more than excited to accept this invitation and after discussing, we decided to go to Kimiya to relax and enjoy the essence of authentic Japanese cuisine. Why Kimiya? You may ask. The restaurant is a casual dining which serves premium high-quality foods yet at affordable price.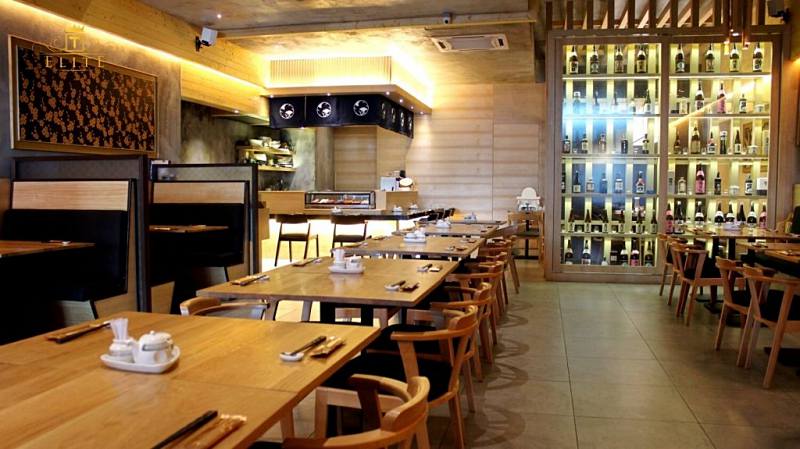 Kimiya features a relaxed and posh dining space including private rooms for diners. We also need to take advantage of our ELITE Membership as we are entitled to redeem signature dishes for free at this restaurant. We could not wait to savour the best dishes here.

I/ Ume Sashimi Moriawase (7 types) (RM 170++)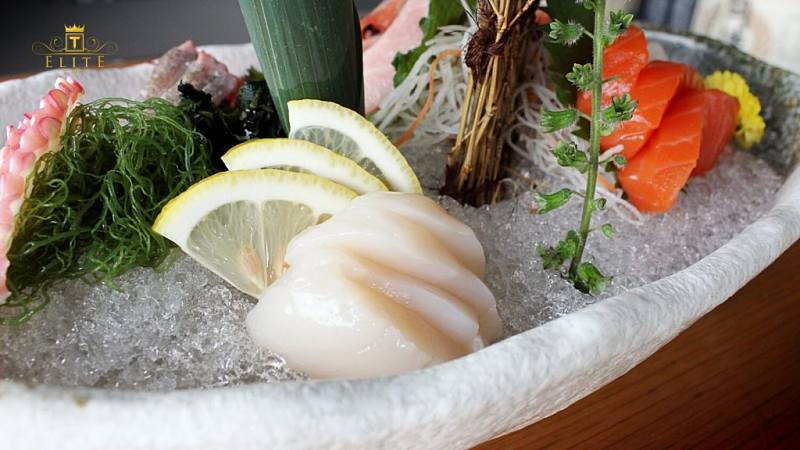 We chose a seat at the sushi counter as it would be more exciting to see how the dish was prepared. Fresh pieces of sashimi lied up nicely right in front of our eyes. We were in awe to know the fish were air-flown all the way from Hokkaido, Japan to KIMI-YA. In the blink of an eye, the teppanyaki chef masterfully handled 7 types of seasonal sashimi skillfully and had such smooth cuts that I could literally feel how soft they were just by watching. The sashimi was presented simply yet sophisticatedly on a bed of ice as the meals here are demonstrations of why less is more. I quickly took the first bite as it was way too tempting.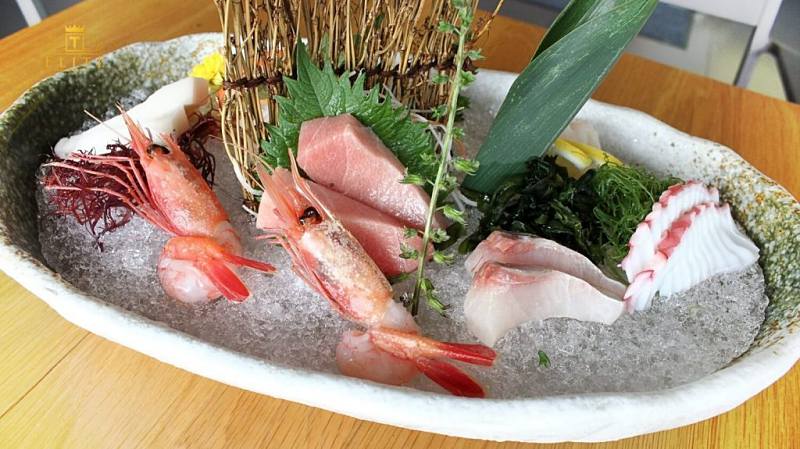 One tip to eat sashimi is you should eat from lean to fatty ones as the taste will be stronger after each bite. My first bite was white Bluefin tuna which was sweet and cooling. I continued to savour the kampachi, its sweetness and smoothness are what you would dream for. The Otoro of course did not let us down with its satisfactory fatness. Next came octopus which was crunchy with a mix of briny and sweet taste. Finally were my three favorite sashimi of the day – Amaebi prawns, scallop and salmon! The amaebi prawns captured my heart with its buttery, creamy texture and the melt-in-the-mouth feeling. The scallop was so soft and smooth like velvet that I would eat it over and over again. And the salmon was titillating with its subtle sweet and refreshing taste which equaled to no other fish.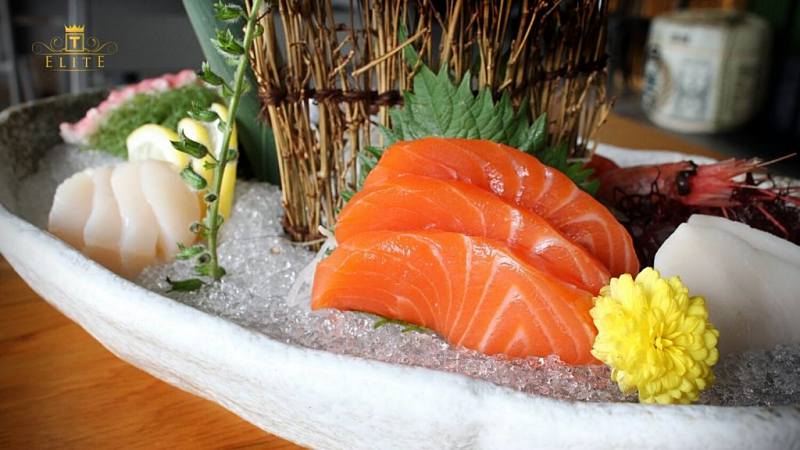 II/ Goushuu No Wagyu Steak 120g (RM 180++)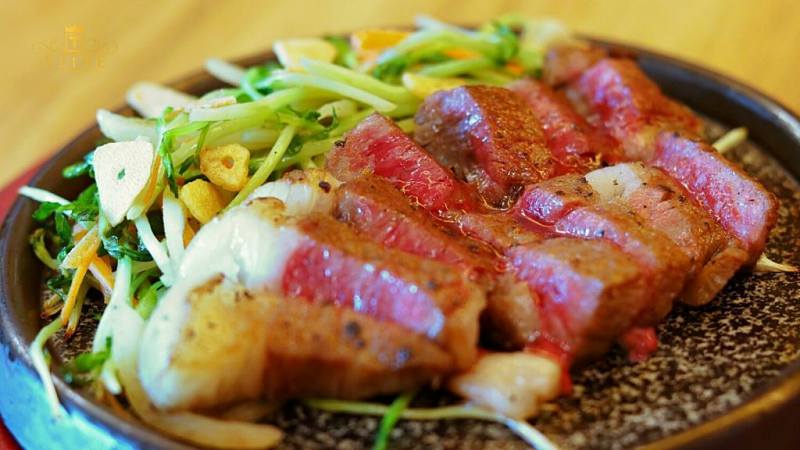 Right after we thought we had the best of all, we quickly fell in love with the next dish which was a sizzling hot dish of A5 Wagyu steak – which is the highest quality grade given only to the finest beef! This A5 Wagyu beef was imported from Yamagata – the Japanese renowned area for the best Wagyu. We looked at each other in mere excitement – these pieces of Wagyu beef looked too appetizing! We were hypnotized by the gorgeous marbling on the beef and its delicious pink flesh. Not to mention its smell was so aromatic and delectable that could trigger your involuntary salivation in just a few seconds.

The sizzling sound also made my mouth water. The Wagyu beef had such an amazingly palatable fatness and sweetness which quickly dissolved in my mouth and filled my heart with love. Its intense beefiness and richness were definitely for those who seek decadence and over-the-top presentation. What I like as well were the crunchy vegetables served along to reduce the greasiness the dish might have. This dish is the real winner of taste and value-for-money department. Blended perfectly in a non-powering manner.


III/ Yaki Taraba Kani (300g) (RM190++)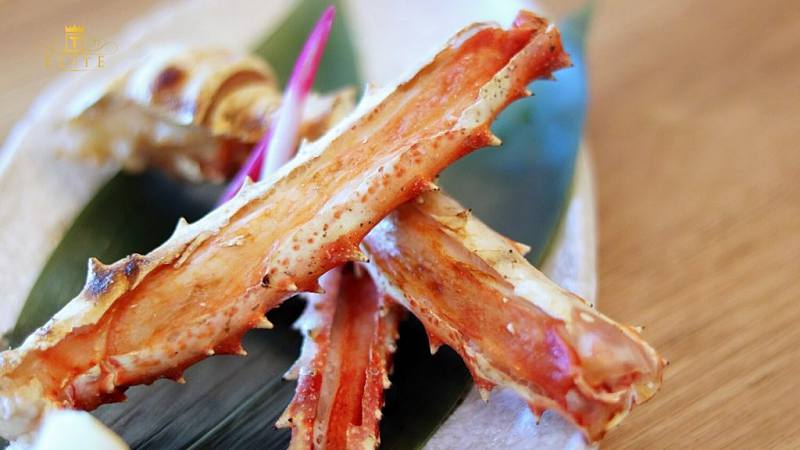 The dish made its way to our table with an irresistible sweet and briny smell. Pieces of Alaskan King crab legs lied neatly atop some leaves and were garnished with nice petals. The crab will be cooked to perfection to maintain its high-quality protein as well as the sweet flavor which made it the king of all crabs. We were thrilled to savour this delicacy and were all filled with whimsical delights. The Alaskan King Crab is truly a gift from the ocean. Its mild taste was a refreshing and warm-hearting treat for us all. Its succulent meat was flavorful, soft and juicy. No wonder why it is the most highly sought-after crab in the world! A comforting concoction of flavors that you should try once in your life!
If you would love to enjoy the fresh ingredients from Hokkaido and premium high-quality Japanese dishes at Kimiya, you can reserve a table here.
You probably wonder how I can savour such dishes for free. Of course I don't mind to share to you my secret. You can sign up for ELITE Membership and enjoy free dishes at more than 100 participating restaurant. You can read more information about TABLEAPP ELITE Membership here.   


Kimiya
Location: G-2, Avantas Residences, 162, Jalan Klang Lama, 58000 Kuala Lumpur
Opening Hours: Mon – Thu: 2:00pm – 3:00pm; 6:00pm – 10:30pm; Fri – Sun: 11:30am – 3:pm; 6:00pm – 11:00pm