It had been a while since we hadn't indulged ourselves in a fine dining. As a result, my friends and I treated ourselves to a touch of delicacies last week. We had learned that Babe had recently replaced its ELITE signature sets with new dishes, so we decided to give the new dishes a try.
Situated on the 11th floor of Work@Cleanwater, Damansara Heights, Babe combines a gastronomic 'fun-dining' experience with one of the best views in the city. We were all in awe with the charming view from the restaurant and were lucky enough to have a table which overlooks KL's skyline and world-famous Petronas Twin Towers. We were all ready to expect the unexpected from the signature dishes created by Michelin-starred chef Jeff Ramsey who is famous for his refined repertoire in modern Japanese cuisine.
1. Ootoro Spring Roll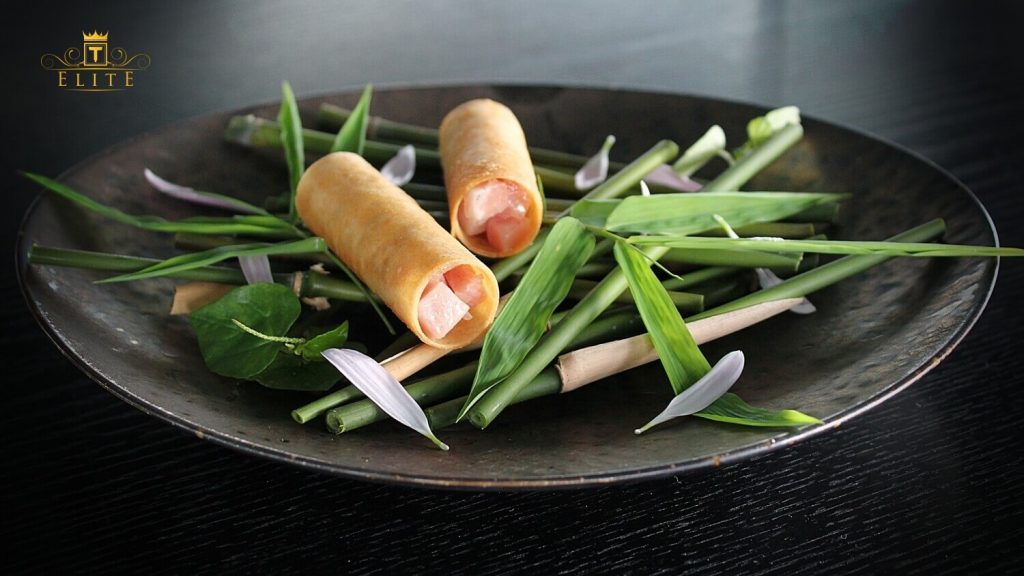 Well, we all have heard a lot about "Tokyo", "Kyoto" and a number of interesting Japanese words, haven't we? So, what is Ootoro? Is it a city? To help you get out of any confusion it may cause, I shall first start with explaining about the name! Ootoro or otoro is actually considered one of the most worth-eating parts when it comes to tuna. Why is it so? Because it is the fattiest cut of a tuna's underbelly! The gourmet food has made it way to become one of the top luxurious and must-try dishes in the world. Ootoro quickly becomes the favorite of many famous chefs around the world, and Chef Jeff at Babe also fell into its love bait.
The Ootoro Spring Roll is a symbol of finest simplicity. The dish impressed us with two pieces of perfect-looking spring rolls carefully placed on top of a layer of beautiful bamboo twigs (they are real and gorgeous!). This decoration quickly brought us back to the nature for a minute, picturing ourselves in a Japanese garden full of bamboos and blossoms. The chef had disclosed an interesting fact – he hand-picked the bamboo twigs from the building the restaurant located at! Personally, I love this idea as it shows how creative and detailed the chef is! Inside the crispy spring rolls were little cubes of fatty ootoro, fresh wasabi, soy sauce gelée and Myouga, a type of Japanese ginger.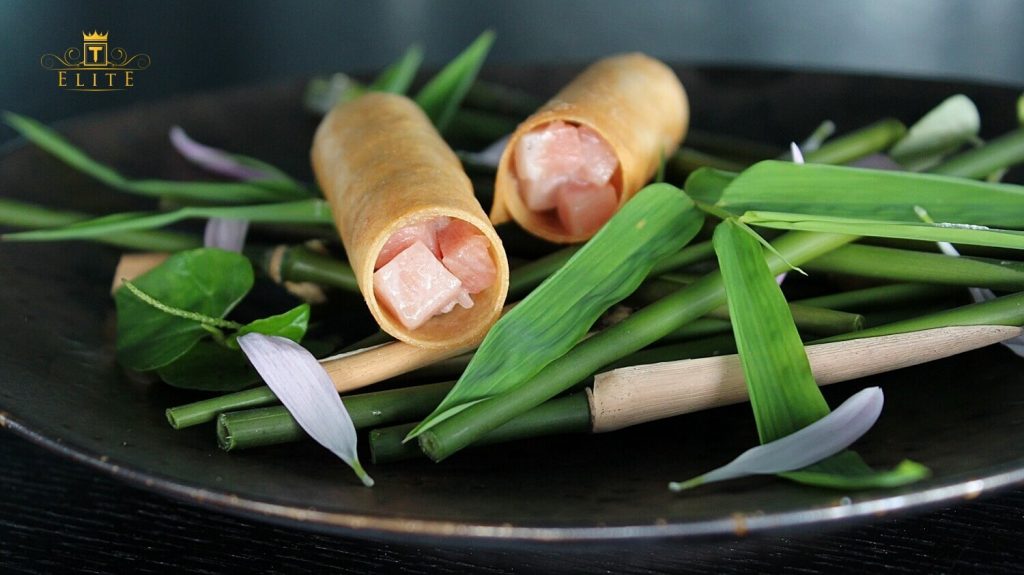 I was so thrilled and curious to have my first bite of the crispy spring roll shells filled with chopped fatty tuna sashimi. It was a pleasant surprise! It was satisfyingly crunchy at first; however, my attention was quickly shifted towards the fatty otoro. The premium tuna melted on my tongue and for a split second, I felt so heavenly. I immediately understood why it was considered the dream of gourmet gastronomes! If you have always thought that raw tuna is bland and boring, you might want to think twice. Fresh and fatty, it dissolved completely while filing the mouth with a perfect combination of flavors and great satisfaction. A true epitome of luxury for fine-dining (and of course, fun-dining) connoisseurs!


2. Charcoal Grilled Alaskan King Crab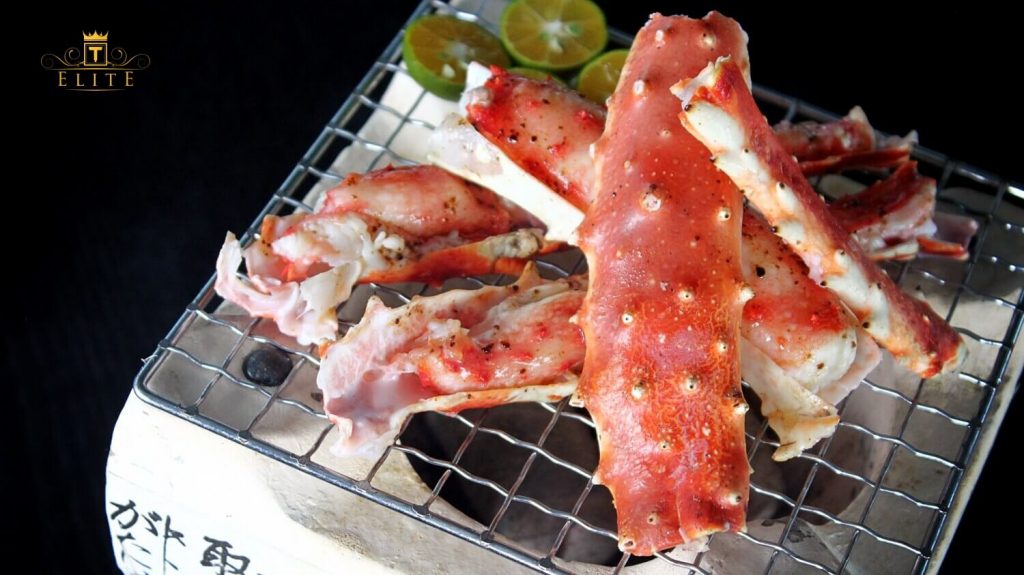 The chef had done an incredible job in transforming the pristine seafood imported from Alaska into such a delectable dish – gigantic legs of Alaskan King Crabs were cooked on a hot stone with charcoal; setting aside were halves of juicy calamansi. Staffs will help the diners to grill the crabs so don't worry if you don't know how. We squeezed some calamansi over the king crab to elevate the flavours of the dish and all of us couldn't help to get excited seeing the dish became smoky.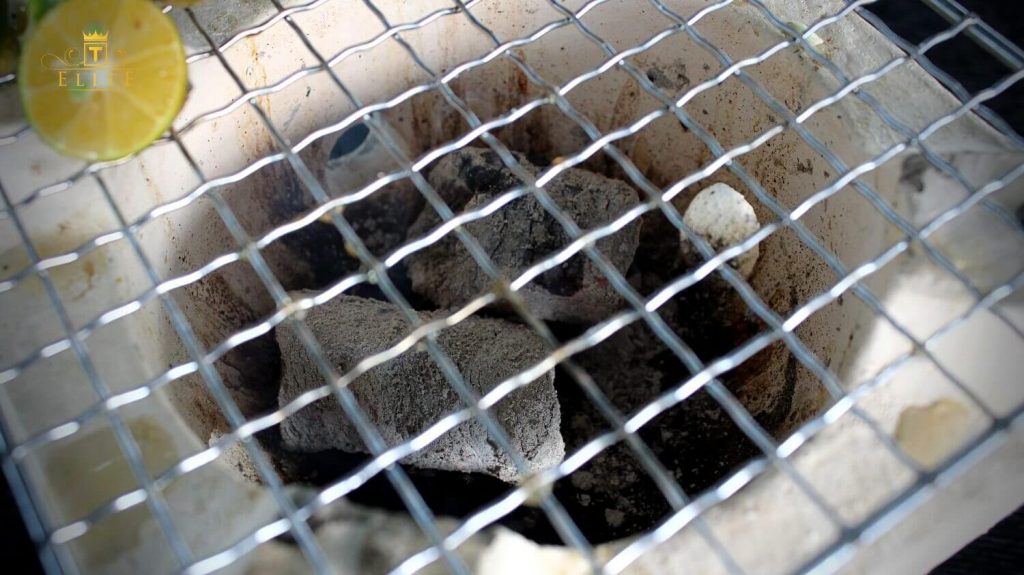 As disclosed by the chef, there was an ingredient used to made the crab meat tastier – the Kombu umami butter! Kombu, which is the king of seaweed, is an edible kelp used as a versatile ingredient and provides dishes with umami flavour, nutrients and minerals. The word "umami" itself is also an interesting word. Umami is an unique category of taste in food besides sweet, sour, salt and bitter. It did an awesome job in bringing amazing flavour to the crab meat.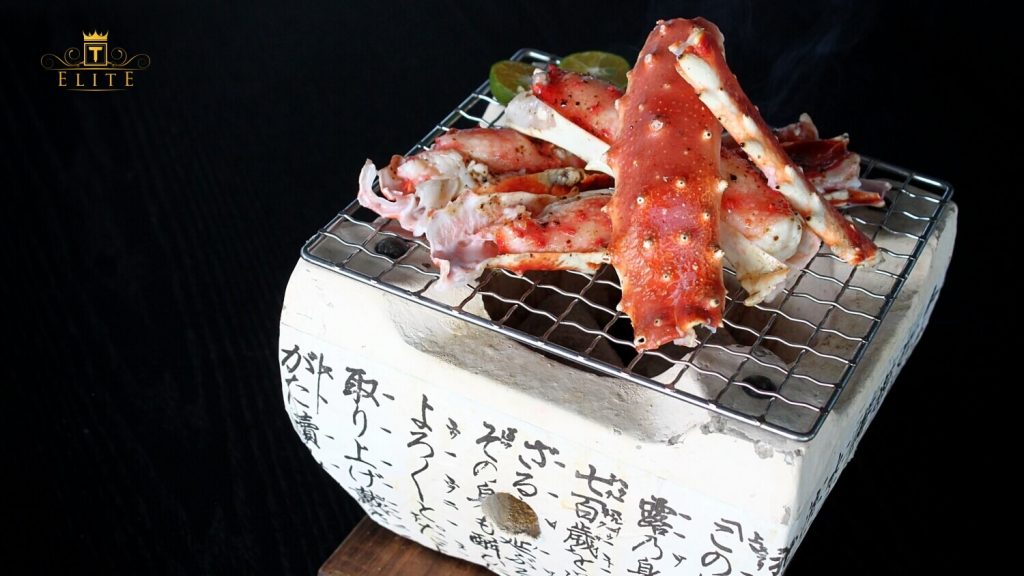 We quickly dived into our share of crab. Unlike other crabs' meat, the texture of Alaskan king crab was so delicate that each bite is irresistible with the natural sweetness of the crab meat. I was not surprised when I was informed that Alaskan King Crab is the most sought-after crab species in the world. Not only does it taste great, it also provides one-of-a-kind health benefits as it is rich in high-quality protein.
This dish is voted as the favourite dish among the three new ELITE dishes among the few of us. Overall, the dish was sophisticated and immeasurably enjoyable. Oishi!
3. Truffle A5 Wagyu Sukiyaki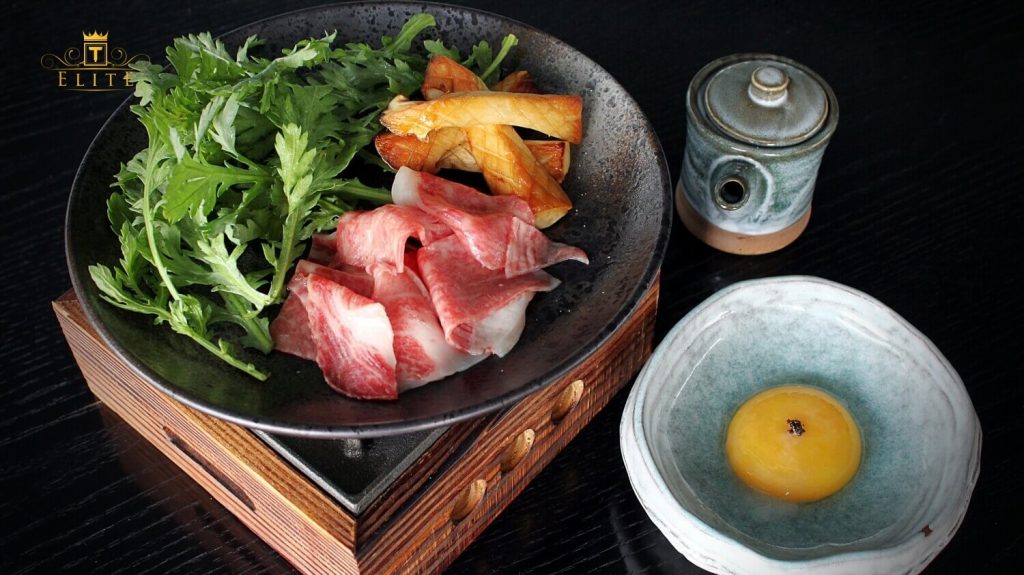 The Sukiyaki dish honours Babe's concept of using fresh produce and seasonal discoveries. Beautifully marbled strips of A5 Wagyu beef were presented neatly with Japanese vegetables and mushrooms. This sukiyaki also comes with a perfect truffle egg yolk. The Japanese vegetables were grown from the chef's rooftop garden so it's absolutely fresh.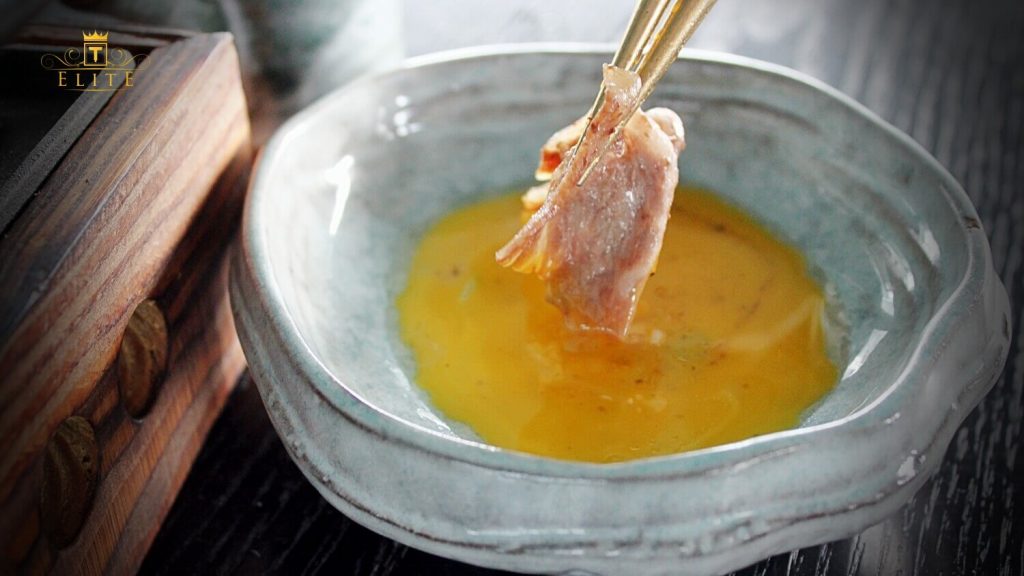 I wondered for a moment: what made Wagyu beef one of the most expensive beefs in the world? Visually, the beef possessed a soulful goddess look – beautiful pink with gorgeous marbling. The beef also stands out from the rest for its health benefits. Pure Wagyu contains mostly monounsaturated fatty acid rich in Omega-3s. To have the best dining experience of this dish, first, pour a bit of sukiyaki sauce over the beef and vegetables before dipping the cooked meat and vegetables into the egg. It was lip-smacking! The wagyu beef which cooked to our preferred doneness, soaked up the sukiyaki sauce and the truffle flavour infused in the egg yolk. Simple perfection!
If you would love to experience dining at Babe, it is worth noticing that the restaurant have limited seats available! Hence, reservation in advance is highly recommended!
You will also get all of these signature dishes for free using TABLEAPP ELITE Membership! Sign up here.
Babe
Location: 11th Floor, Work@Cleanwater, Jalan Changkat Semantan, Damansara Heights, Kuala Lumpur
Operating Hours: Tuesday – Sunday: 6:00 pm – 11:00 pm, Closed on Mondays