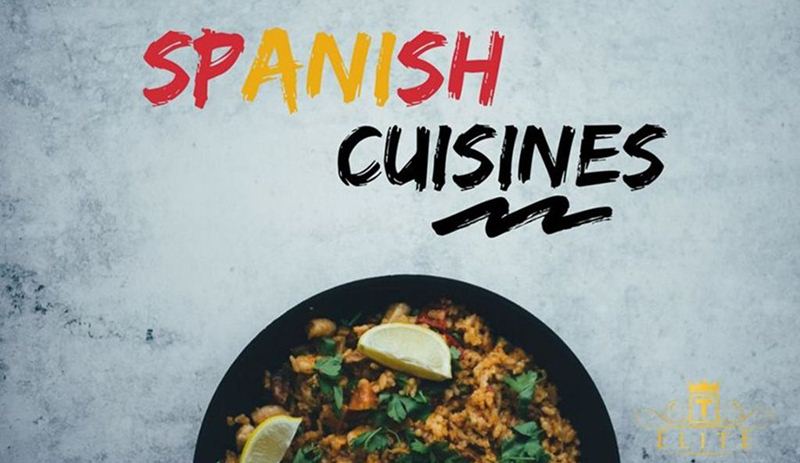 1/ Cava
Scouting for authentic Spanish and Mediterranean cuisine around Bangsar? One should not miss out Cava! Located on the peaceful Jalan Bangkung, the restaurant is where Spanish and Mediterranean food lovers come by to unwind and savour exotic delights including tapas, paella and steaks.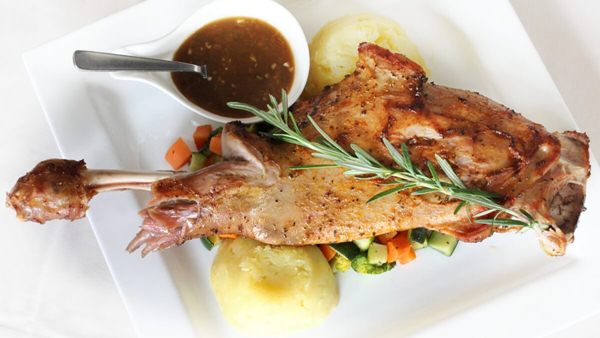 The Baked Sucking Lamb is a signature dish that lamb aficionados simply cannot ignore. The enormous and mouth-watering piece of suckling lamb, served along with mashed potato and fresh vegetables, will immediately satiate your craving. The lamb has a satisfying airy light crackling skin outside and juicy, flavoursome meat inside. An irresistible delight!
The Cava's Specialty Arroz Negro Paella is an eye-catching signature dish served in a big portion to be shared by 2 – 3 pax. A fair amount of squid ink is used to make the outstanding black color for the paella while the prawns give it a mild briny kick in flavor. Dip the fresh prawns in the mayonnaise or a bit of spicy chili sauce that comes along and their refreshing taste will enliven your dining experience.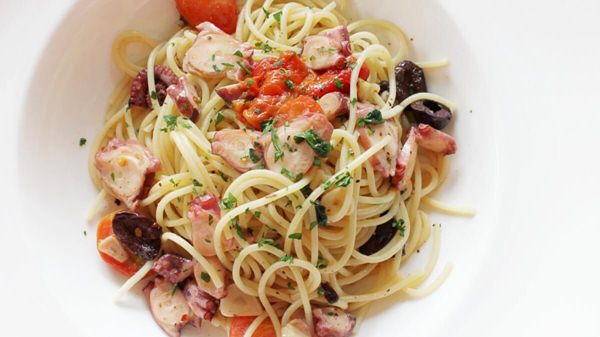 The Spaghetti Aglio Olio Pulpo a la Gallega, in a not-so-fancy yet elegant presentation, will entice your taste buds with its piquant flavor. A good dose of paprika is used to sprinkle on the aglio olio which results in a true burst in the mouth. The fresh Spanish octopus tentacles have a crunchy and juicy texture that goes well with the spaghetti. A soul-satisfying dish!
TABLEAPP ELITE Members can redeem these 3 signature dishes for free.
Opening Hours: Mon – Sat: 12:00pm – 3:00pm, 6:00pm – 12:00am; Sun & Public Holidays: 6:00pm – 12:00am.
Location: 71, Jalan Bangkung, Bukit Bandaraya, 59100 Kuala Lumpur.
>> Click here to book a table at Cava
2/ Sentidos Gastrobar – The Latin Grill
Located at the well-known Starhill Gallery, Sentidos Gastrobar – The Latin Grill is a perfect dining spot for those who seek authentic Latin flavours with an exceptional Sentidos twist. Owning a long bar with a plethora of drinks and a comfortable dining room with classic specialties, the restaurant will give diners a unique and dynamic culinary experience with its vibrant cuisine.
If you have a knack for paella, this classic Mariscos Paella might be one of the top of your list. The dish is served generously in a pan with a variety of fresh seafood including prawns, clams, mussels and squid with a touch of chili. The delectable paella is perfectly cooked until it's "al dante" (firm to the bite) and the Spanish rice soaks up a moderate sweet taste from the saffron and roasted garlic, making it a satisfying indulgence.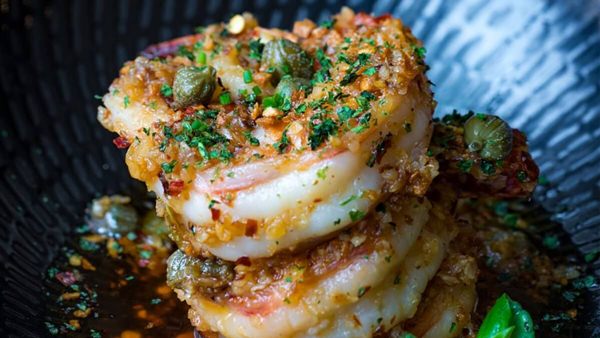 The next dish, Sautéed Garlic Tiger Prawns is a palate-teasing delight of which the flavors do all the talking. Three mouth-watering pieces of juicy tiger prawns, smothered in a mix of chili, garlic and olive oil, are set to entice the palate with their burst of flavors – a perfect start before the main course. A piece of garlic bread would be a perfect combination for the dish.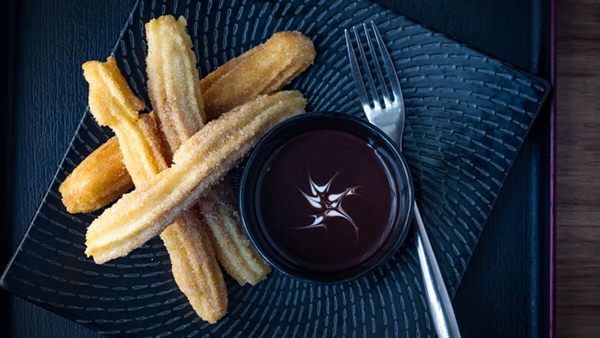 This Churros Mexicanos is a splendid dessert to end your meal. Coated with a moderate amount of sugar, the crowd-pleasing churros has a delicate sweetness that mixes well with the dark chocolate fudge dipping sauce which goes along. A crispy and luscious dessert to enjoy after a wonderful culinary journey.
TABLEAPP ELITE Members can redeem these 3 signature dishes for free.
Opening Hours: Sun – Fri: 12:00pm – 3:00pm, 5:00pm – 11:00pm; Sat: 12:00pm – 12:00am.
Location: Feast Village Starhill Gallery at JW Marriott Kuala Lumpur, 181, Jalan Bukit Bintang, 55100 Kuala Lumpur.
>> Click here to book a table at Sentidos Gastrobar – The Latin Grill
3/ La Bodega
If you are looking for amazing Spanish breakfast spreads, a wide array of hot and cold Spanish tapas and classic delights, come to La Bodega! Being the first authentic Spanish Tapas and Wine Bar in Malaysia since its opening in 1999, the éclat restaurant is not only iconic for its mouth-watering food but also for its exlusive wines that are hand-picked from Spain and Chile.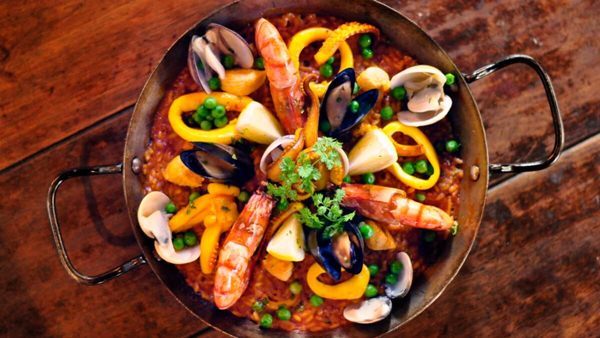 The Paella Valenciana Mixta is a perfect epitome of the union between the Romans and the Arab. The Spanish rice is perfectly seasoned with saffron for a mild sweet taste and skilfully cooked with a variety of ingredients, including prawns, chicken, clams, squid, mussels and peas. Embellished with a distinct combination of meats and vegetables, this fascinating paella will gratify diners "to the moon and back".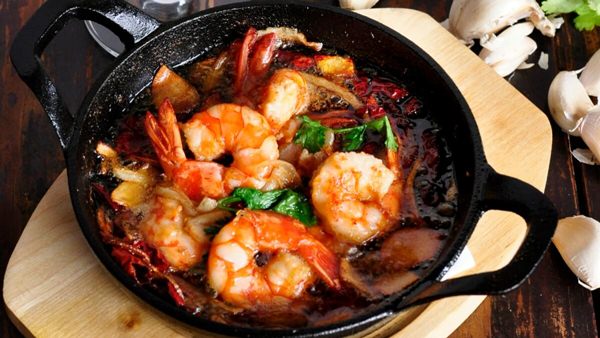 If you are a true fan of prawns, here comes a dish you should keep an eye on. The Gambas al Ajillo is a sumptuous delight that is in high demand at La Bodega. Perfectly sauteéd with gloves of fine garlic, chili and olive oil, the tiger prawns are not only filled with flavor but also have a firm and fresh-to-the-bite texture that would make you crave forever more.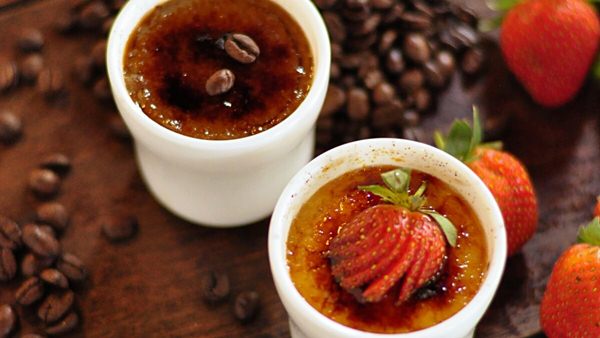 It would be ideal if your taste buds are delighted with something sweet at the end of the meal and the Duo de Cremas Catalanas is the perfect dessert for a fulfilled dining experience at La Bodega. The Cremas Catalanas, also known as the Spanish version of crème brûlée, are prepared in classic and coffee flavors with the sugar atop perfectly camarelized. This melt-in-the-mouth dessert is all you could ask for.
TABLEAPP ELITE Members can redeem these 3 signature dishes for free.
>> Click here to check out all La Bodega outlets and reserve a table
4/ El Cerdo 
Stand out as the most porky-licious restaurant on the crowded Changkat Bukit Bintang street, El Cerdo is truly a home for pork flavours around the world, especially Europe, Carribean and Mexico. If you consider yourself a true pork enthusiast, pay the restaurant a visit for a superb lip-smacking porky ride.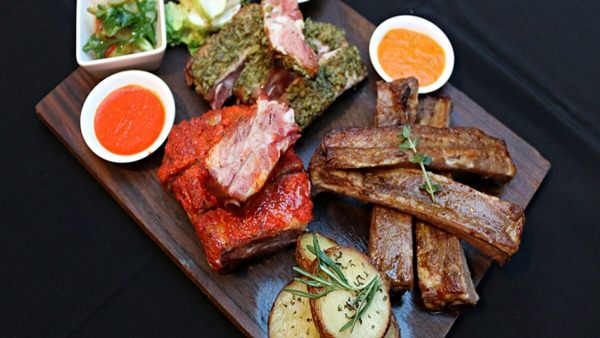 The Spanish Ribs Platter has everything you could ask for. Three different types of ribs, namely Spicy Baby Back Ribs, Green Salsa Ribs and the highly sought-after Ibérico Ribs, are placed together on a sharing plate to satisfy even the most discerning diners. Each type of ribs is uniquely marinated with well-matched fine condiments and sauces. A dream come true!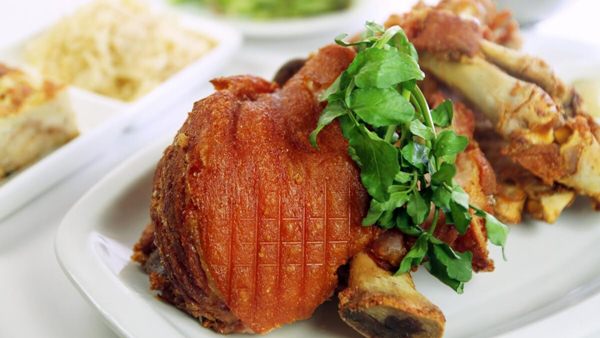 The Crispy Pork Knuckle is a must-order signature dish when you come to the restaurant. The New Zealand Cured Ham Knuckle is marinated simply with black pepper and salt before being roasted to perfection to bring out the best of its taste. Take a bite into its crispy skin yet tender meat and you would not want the feeling to end. Potato dumplings, sauerkraut, apple mousse and mustard beer sauce are served along to well-balance the pork knuckle's rich nature.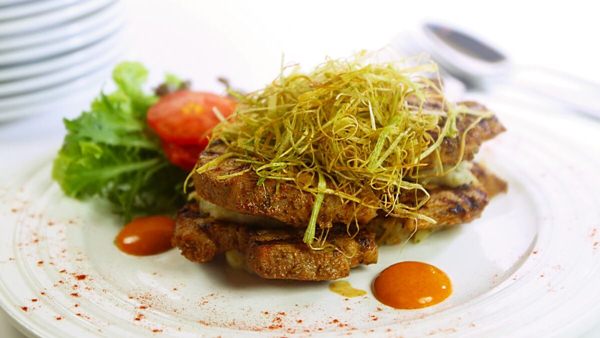 If you wonder why the Grilled Pork Shoulder Steak is so flavorful, here comes the answer you might be looking for. The steak is marinated for 48 hours to absorb the piquant flavour from paprika and the aroma from fine herbs before being grilled to "à point" (the perfect degree of doneness). Sink your teeth into the steak and you might be awestruck with the tasty juice oozing from the tender pork meat. Served with jalapeno and smoked paprika sauce, this Grilled Pork Shoulder Steak is a sumptuous treat.
TABLEAPP ELITE Members can redeem these 3 signature dishes for free.
Opening Hours: Tue – Sun: 6:00pm – 10:30pm; Closed on Mondays in August 2018.
Location: 43 & 45, Changkat Bukit Bintang, 50200 Kuala Lumpur.
>> Click here to make a table reservation at El Cerdo