Who would ever feel happy getting stuck in the rain? I would because I had such a great experience getting stuck in a heavy rain last week in the busy street Changkat Bukit Bintang. As the rain was lashing, it somehow brought my friends and me to The Steakhouse – a 40-seater steak joint located along this notable street and adjacent to The Whisky Bar. The staff were friendly and the restaurant's warm and lush interior quickly caught my attention so we decided to have our dinner in this cozy and intimate ambiance. With our ELITE Membership, we can redeem free signature dishes here, so why not? Of course, we had a lot of expectation as well because The Steakhouse is known as the true heaven for beef lovers.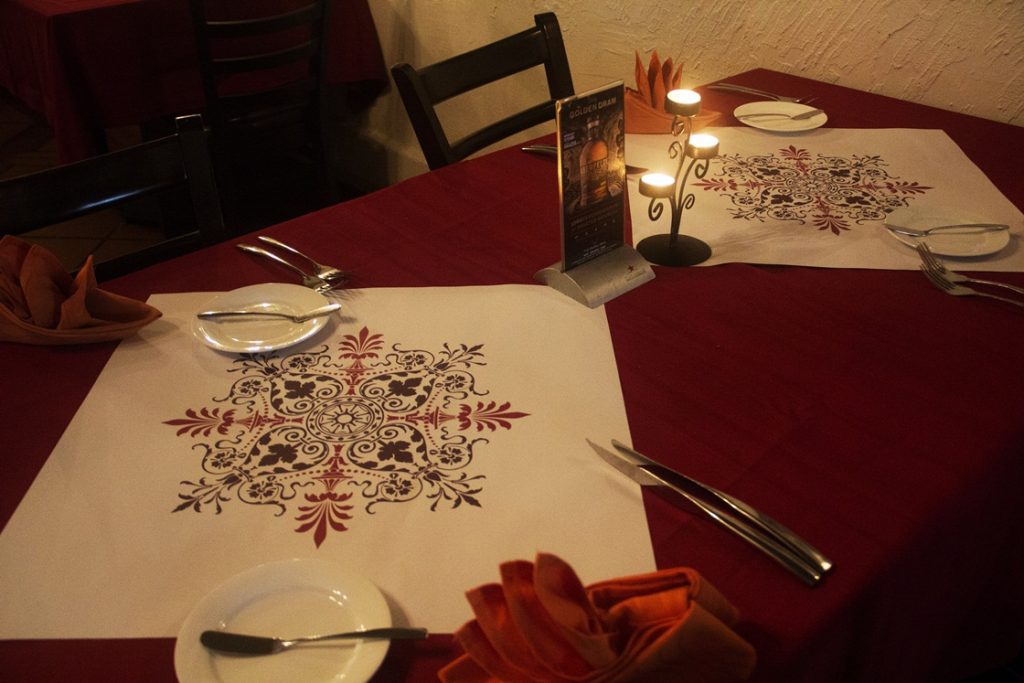 1/ Josper Charcoal Grilled Premium Grass Fed Rib Eye (RM 139)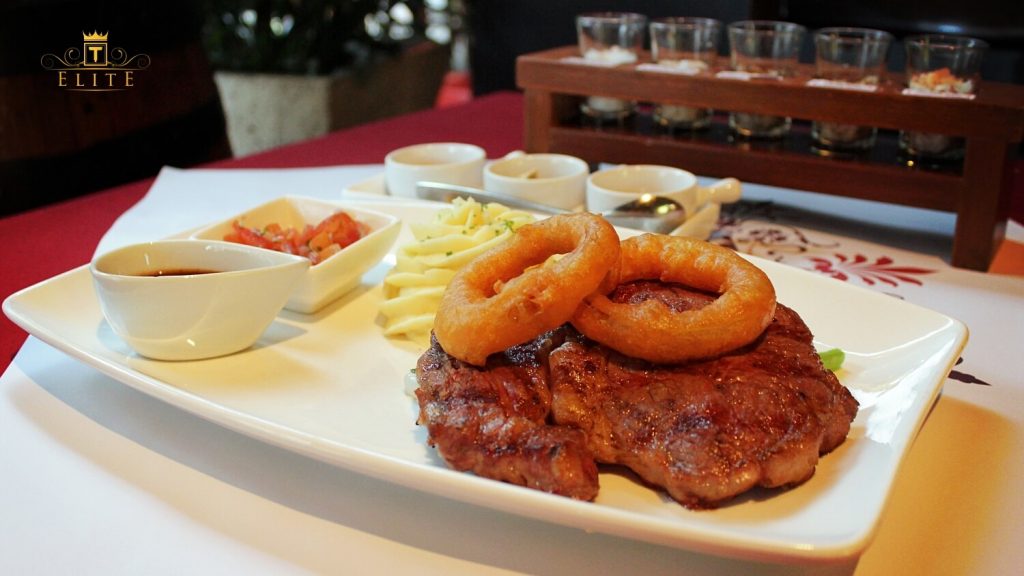 Rib eye is the juiciest and most flavorful steak among all and it is definitely the choice of real steak aficionados. The rib eye here is 100% grass-fed imported from Australia which means it is high-quality meat with amazingly fat marbling. The dish looked uncomplicated yet enough to whet our appetite. On a bed of sautéed vegetable and next to creamy mashed potato was the steak with some golden crispy onion rings atop. The rib eye was smoky as it was grilled using the Josper Oven – which you will not easily see in many restaurants in KL. The charcoal heat from the oven will make the steak juicy and create impeccable char along with caramelized crust, striated texture.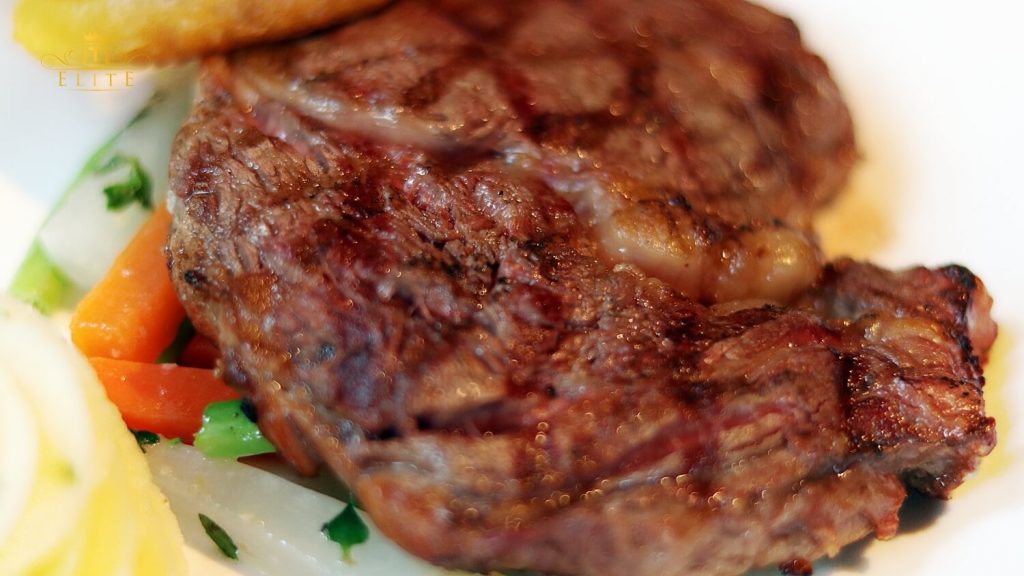 Fat outside yet so tender inside, the steak's flavor, tenderness and juiciness blended well together in a combination equaled by no other meat. I took a bite into the sautéed vegetables, they were quite crunchy and palatable. You can choose up to 4 different types of potato like wedges, fries, mashed potato or baked potato. And don't be overwhelmed yet because there are a lot more! The dish will be served along with 5 types of salt including garden salt, chili salt, garlic salt, sea salt and onion salt and 3 types of mustard which are Dijon – salty, Horseradish – spicy and sour, and Medium-hot mustard – sour and bitter. I would recommend you to try the Horseradish mustard which has a comfortable hint of spiciness and it blends well with the steak.
2. BBQ Short Ribs (RM 129)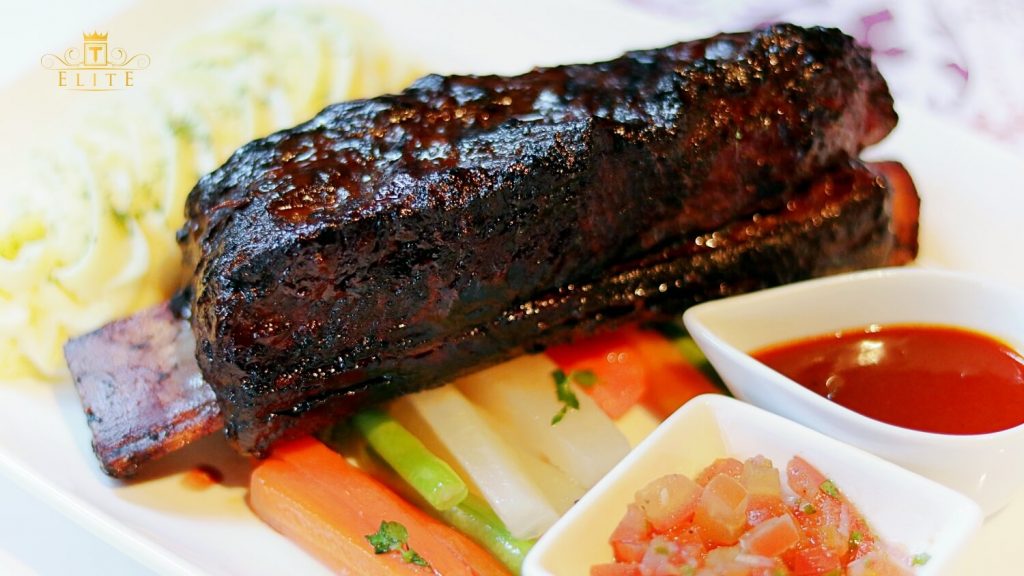 Here comes my favorite dish of the day – the BBQ Short Ribs! Beef short ribs are often-overlooked cuts yet I am truly interested in it, simply because it has the best of both worlds – beautiful marbling of rib steaks and a deep beefy flavor of chuck roast. A real indulgent treat for anyone who loves beef. As disclosed by the staff, the ribs were cooked using sous-vide technique to create the perfect texture. The magic of sous-vide is that it transformed a tough, rugged texture of short ribs into fork-tender meat. I have to say that the short ribs at The Steakhouse will melt the heart of any beef lovers for its irresistible tenderness and meaty texture.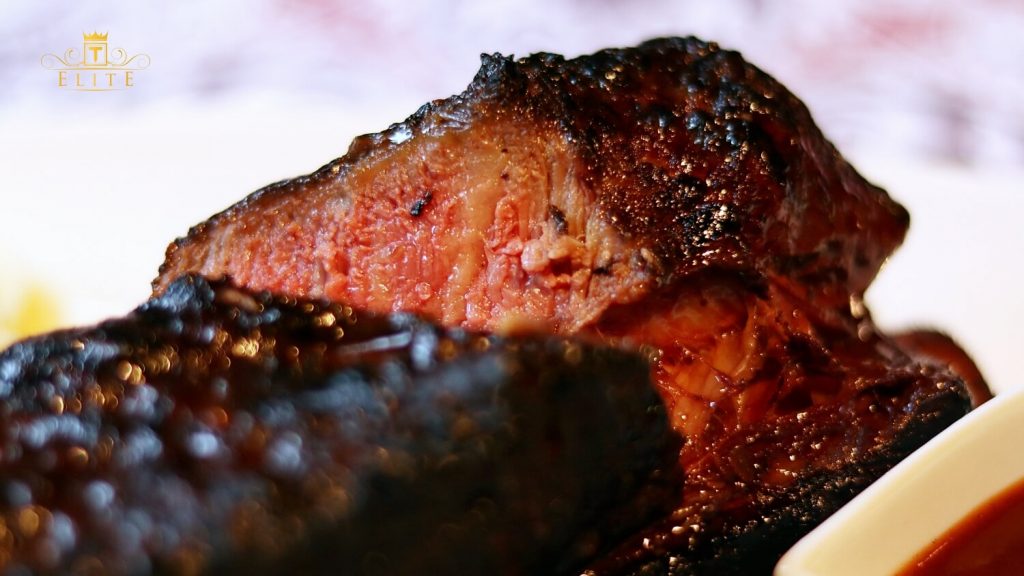 I could not take my eyes off this enthralling piece especially when I cut through it! Its pink flesh was so mesmerizing that I couldn't stop admiring. Every shred of the beef will melt in your mouth and you would not be able to do it without closing your eyes in mere satisfaction. The beef was one of the most delicious morsels given to me. It is the fulfillment of my gustatory dream!
3. Beef Bourguignon (RM 108)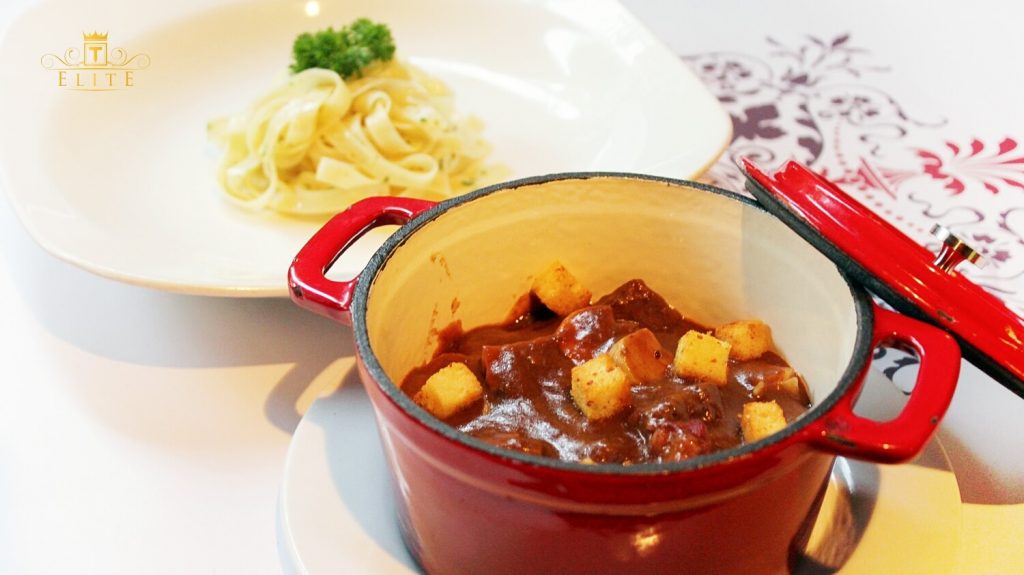 We ended with a hearty French comfort food which is the Beef Bourguignon. Put nicely in a small pot, the beef was served with Fettuccine – a type of pasta popular in Roman and Tuscan cuisine. I was excited to know the scrumptious beef belly was marinated for one night with liquid seasoning. Red wine and gin were added to bring a deep and rich flavor taste for the beef. I could not wait any further but quickly savored this delicacy. The cubes of beef mingled with carrots, Cipollini onions, bread and button mushroom in a rich and savory stock. This flavorful sauce blended so well with the appetizing pasta which was cooked to perfection. I love how fresh and smooth the pasta was! Don't hesitate to give the Cipollini onion a bite as its tangy, sweet and mild flavor will comfortably linger in your mouth for a while. This rustic peasant-style yet hearty French dish won my heart. It is a truly heart-warming dish for a rainy day.
If you would love to dine at The Steakhouse, please notice that the restaurants are often filled with crowds every day. You can reserve a table in advance here.
Of course, we would want you to get free signature dishes like how we did. You can check out information about the ELITE Membership here.
The Steakhouse
48, Changkat Bukit Bintang,
50200 Kuala Lumpur.
Daily: 6 PM – 12 AM